Winston Honored by German Government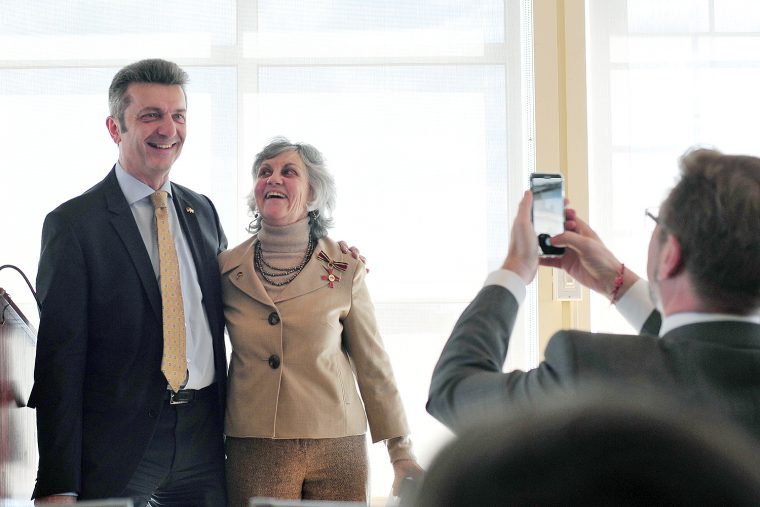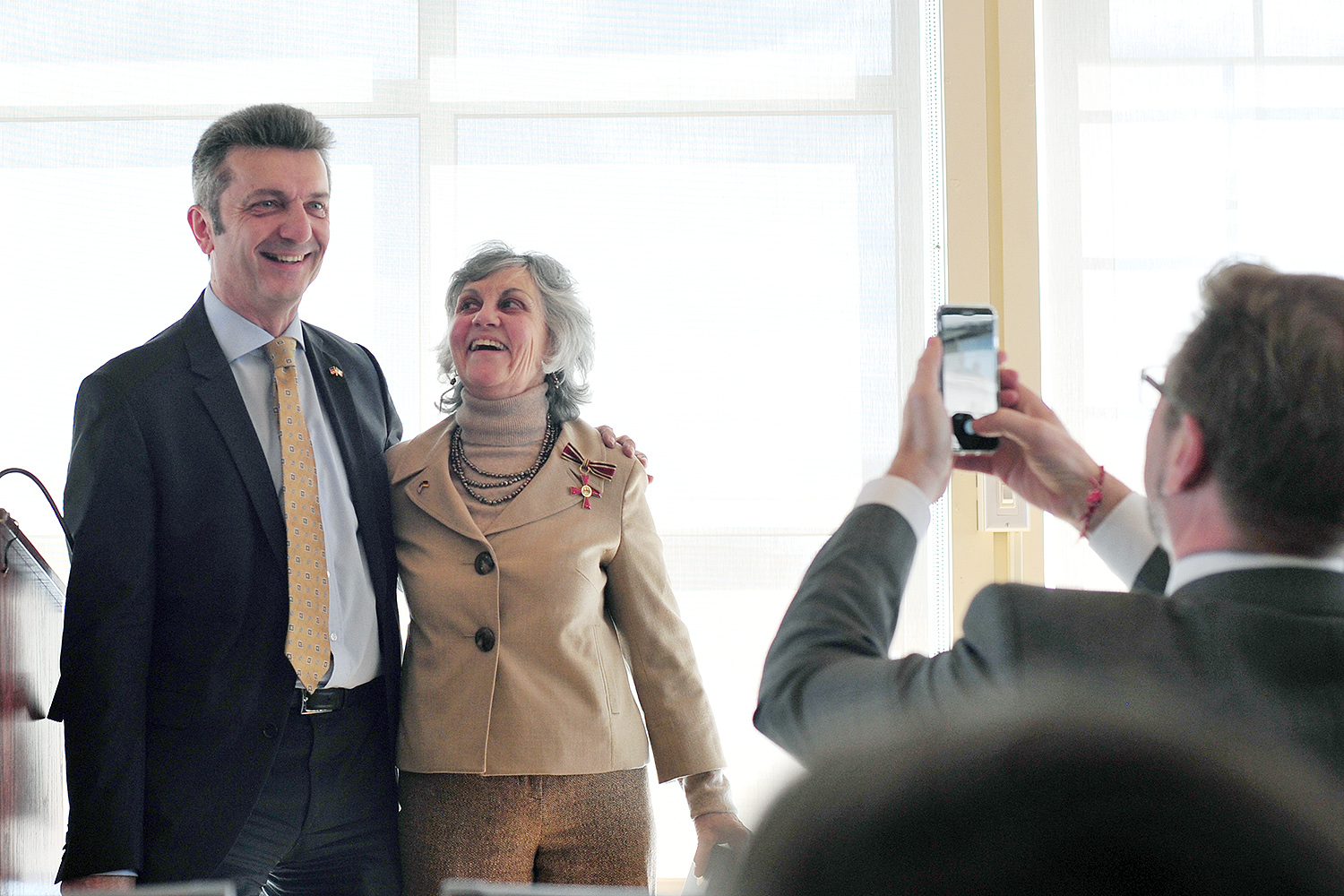 Krishna Winston, the Marcus L. Taft Professor of German Language and Literature, professor of environmental studies, received a lifetime achievement award from the German government on Feb. 13.
Ralf Horlemann, the Consul General of Germany to New England, bestowed the Order of Merit of the Federal Republic of Germany on Winston after a ceremony held in Allbritton Hall. The Order of Merit is the highest tribute the Federal Republic of Germany pays to individuals for services to the nation or contributions to enhancing Germany's standing abroad and its relations with other countries.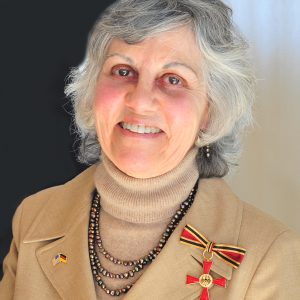 Winston received the award for her scholarly and literary translations of more than 35 works of fiction and non-fiction by Werner Herzog, Peter Handke, Johann Wolfgang von Goethe, Günter Grass, Christoph Hein, Golo Mann, Rainer Werner Fassbinder, Hans Jonas and others. Her translations make available to the English-speaking world works originally written in German, and she has received three major literary prizes for her work.
"Since 1968, you, Krishna Winston, have educated generations of students and helped make the German Studies Department at Wesleyan University what it is today," Horlemann said during the ceremony.
Horlemann called her 658-page translation of Two Far Afield, by Gunter Grass, "a masterpiece." Winston's work, he noted, is "awe-inspiring. Translation is a daunting task." He also praised her for supporting social justice and environmental issues. "These are also important in Germany," Horlemann said.
The Order of Merit of the Federal Republic of Germany was instituted by Federal President Theodor Heuss in 1951. The Order of Merit may be awarded to Germans as well as to foreign citizens for achievements in the political, economic, social, or intellectual spheres and for outstanding service to the nation in the field of social, charitable or philanthropic work.
Several faculty from the German Studies Department, colleagues and President Michael Roth attended the ceremony. The event concluded with a champagne toast and celebration.
Growing up as the child of a couple who collaborated as freelance translators, Winston had the advantage of seeing her parents at work and learned about the self-discipline and habits of mind this profession required. They also discussed specific challenges they were confronting—with translations, authors and editors—at the dinner table.
"Language and languages figured prominently in our family conversations, and often my father would run upstairs to fetch a volume of the 11-volume Century Dictionary that would help resolve a question involving word usage or derivation that had just come up," Winston recalls. "Sometimes authors would visit us on our farm in southern Vermont. Most of them were refugees from Hitler's Europe, living from hand to mouth, and at a young age I could already sense how difficult it was for them just to get their work published and translated in the U.S., let alone understood and appreciated by critics and the reading public."
Those early lessons on the importance —and complexity—of mediating between languages and cultures have stayed with her.
In high school and college, Winston and her sister and gravitated toward studying languages, and Winston's first translation contract came to her while in in graduate school. Her parents were approached by the University of Chicago Press, which wanted them to translate a scholarly book on Thomas Mann's novel Doctor Faustus (1947). They had more than enough projects under way at the moment, and recommended their daughter in their stead.
The fit was perfect: Mann's novel was one she had studied closely for a long paper written during her time at the University of Hamburg. While working on her PhD at Yale, Winston also translated a contribution to a Festschrift for the comparatist René Wellek. Soon after her arrival at Wesleyan, Winston's colleague A.S. (Jerry) Wensinger asked her to take over a translation of the letters and diaries of the Bauhaus artist and instructor Oskar Schlemmer for Wesleyan University Press.
"When people tell me they would like to get into translation but do not know how to go about it, I tell them they need Vitamin C—connections," Winston says.
As an established translator, Winston always remembers the value of Vitamin C, and has quite often recommended aspiring young translators to publishers for whom she can vouch with confidence. She's also advised many students who have chosen to undertake translation projects as senior theses. Elisabeth Lauffer '07 won the 2014 Gutekunst Translation Prize and has since translated Alexander Pschera's Animal Internet: Nature and the Digital Revolution (New Vessel Press, 2016) and is working on two translations for MIT Press, due out in 2018. Last year, Winston used excerpts from thesis translations by four of her students as texts in her course on Germany as a Multicultural Society.