Wesleyan Named A Fulbright Student Top Producer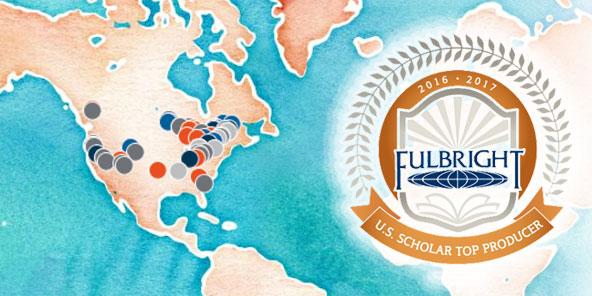 Wesleyan University has recently been recognized as a Fulbright Student Top Producer for the 2016-2017 academic year.
As the flagship program for international research, study, and teaching, sponsored by the U.S. Government, the Fulbright U.S. Student Program is available for recent graduate and graduate students to explore their research topics, as well as cultivate a meaningful cultural experience in over 140 countries.A bachelor's degree (or equivalent) is generally required by the start of the Fulbright grant period. Wesleyan has produced more than 140 Fulbright students from 1943 – 2015, with seven more recent graduates and alumni making up the 2016 – 2017 class of mentioned below:
Leah Bakely '16 is a teaching assistant Fulbright in Spain. She wants to use her teaching skills in Spain because it offers her the opportunity to meaningfully engage with her academic interests and career aspirations, and improve her language skills.
Stephanie Blumenstock '16 is a teaching assistant Fulbright in France. She wants to fully immerse herself in the French culture, and make a difference by helping students from underprivileged backgrounds learn English.
Abigal Gruppuso '16 is a teaching assistant Fulbright in Taiwan. She is exploring her love for Chinese culture, and transfers her experiential language learning to students.
Tenzin Kyisarh '16, is a teaching assistant Fulbright in Thailand. She is learning about Thai culture in greater depth and create a mutual exchange of knowledge with students about their respective cultures.
Colfax Phillips '16, is working on a research grant in Jordan. He is analyzing how and why the norms for participating in public life are changing among the younger generations of East Bank Jordanians, with a focus on East Bank Jordanian tribal communities in the northern and southern areas of the country. The project focuses on the shifting role that youth play in Jordan and how Jordanian policy can adapt to these changes, with policy implications for youth-state dynamics in the region.
Nellie Triedman '13, is working on a research grant in Chile. She seeks to improve understanding of the psychological factors and developmental problems associated with childhood obesity, which has become a major public health problem in Latin America. She is collaborating with a research team to develop and incorporate measurements of mental health, behavioral health and well being into the Growth and Chilean Cohort Study, a large longitudinal study in Santiago, Chile.
Emily Weinstock-Collins '16, is a teaching assistant Fulbright in Spain. She intends to pursue a career in education, with a particular interest in teaching English as a second language. She returned to Spain, where she previously studied abroad, to more fully immerse herself in the community and culture.
To see the full list of colleges and universities named as top producers click here.