Ulysse Authors Because When God is Too Busy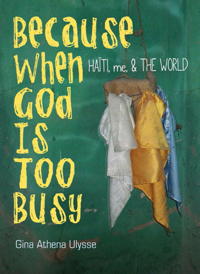 Wesleyan Professor of Anthropology and Feminist, Gender and Sexuality Studies Gina Athena Ulysse's newest publication, Because When God Is Too Busy: Haiti, Me, & The World, (Wesleyan University Press, April 2017), is a collection of poems, performance texts, and photographs that explores longing for a sacred and ancestral past—now entangled by Western and postcolonial inheritances. Both a lyrical and meditative work, the publisher calls it "a poetic journey through silence, rebellious rage, love, and the sacred." In it, Ulysse blurs the lines between genre and medium, as well as the personal and geopolitical.
Edwidge Danticat, a former MacArthur Fellow and National Book Critics Circle Award recipient, lauds Ulysse as "a force of nature…Fierce, fearless, and passionate, she delights us, shakes us up, educates us, and after reading her poignant and powerful book, she becomes indispensable to us as her amazing work."
Ulysse, an artist-anthropologist-activist originally from Pétion-Ville, Haïti, is a frequent blogger, a poet, and author of numerous essays and books, including, most recently, Why Haiti Needs New Narratives: A Post-Quake Chronicle (Wesleyan University Press, 2015). In 2008 she published Downtown Ladies: Informal Commercial Importers, a Haitian Anthropologist and Self-Making in Jamaica with the University of Chicago Press.
Ulysse's artistic and academic practice also incorporates spokenword, performance art, and installation pieces. Her performance VooDooDoll Or What if Haïti were a Woman: On ti Travay sou 21 Pwen or An Alter(ed)native in Something Other than Fiction debuted at Encuentro in Montreal in 2014.