Finn, Rubenstein, Roberts Honored with Binswanger Prizes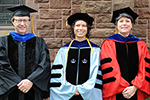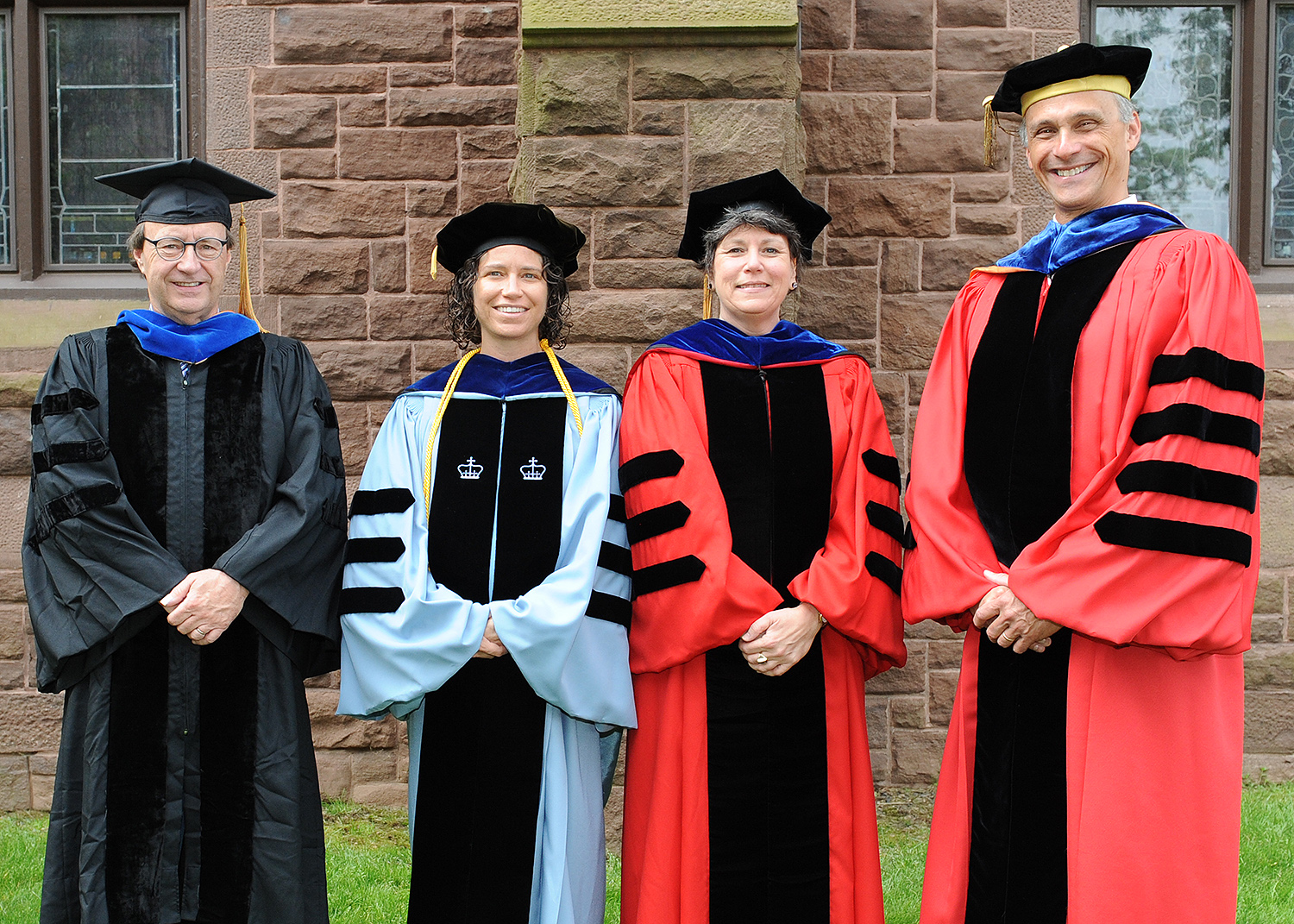 During Wesleyan's 185th commencement ceremony on May 28, Wesleyan presented three outstanding teachers with the Binswanger Prize for Excellence in Teaching. These prizes, made possible by gifts from the family of the late Frank G. Binswanger Sr., Hon. '85, underscore Wesleyan's commitment to its scholar-teachers, who are responsible for the university's distinctive approach to liberal arts education.
Recommendations are solicited from alumni of the last 10 graduating classes, as well as current juniors, seniors and graduate students. Recipients are chosen by a selection committee of faculty and members of the Alumni Association Executive Committee.
This year, Wesleyan honored the following faculty members for their excellence in teaching:
John E. Finn, professor of government, has been a member of Wesleyan's faculty since 1986, serving as chair of the Government Department in 2007 and from 2009–11. He has a BA in political science from Nasson College, a JD from Georgetown University, a PhD in political science from Princeton University, and a degree in culinary arts from the French Culinary Institute. Finn is the author of three books on constitutional law, including Peopling the Constitution (2014), and numerous articles and book chapters. Finn's scholarship also encompasses the study of food, recipes and politics, and includes his most recent book, The Perfect Omelet: Essential Recipes for the Home Cook (2017). At Wesleyan, Professor Finn's courses have included American Constitutional Interpretation, The First Amendment, The Judicial Process, and Culture and Cuisine. He is the recipient of five distinguished teaching awards at Wesleyan, including two Binswanger Prizes, two Caleb T. Winchester Awards for Excellence in Teaching, and the Carol A. Baker '81 Memorial Prize. He is retiring from Wesleyan this year.
Andrea Roberts, associate professor of the practice, chemistry, began teaching in Wesleyan's Chemistry Department in 2004 as a visiting instructor while pursuing her graduate research at Wesleyan. She earned a BA in chemistry from Cornell University, an MS in polymer chemistry from Polytechnic University, and a PhD in organometallic chemistry from Wesleyan, where she studied under the direction of Professor Emeritus Joseph Bruno. She has written two theses, is the author of several publications, and holds more than 30 U.S. and international patents. In July 2010, as a graduate student, Roberts rewrote the entire organic chemistry lab curriculum, making it safer and more relevant for students and greener for the environment. Using her 15 years of experience in the industry, she has developed curricula for the general, organic, and the advanced integrated laboratory courses. She also teaches science outreach classes that introduce STEM lab activities to Middletown-area school children. In 2016, Roberts was awarded a teaching and pedagogical grant from the Andersen/Rosenbaum Teaching Endowment, which she used to create a tutorial for graduate and undergraduate students interested in teaching and curriculum design. The result was the development of a new introductory chemistry lab manual, which was piloted this spring.
Mary-Jane Rubenstein, professor of religion, joined Wesleyan's faculty in 2006. She also is a core faculty member in the Feminist, Gender, and Sexuality Studies Program, and an affiliated faculty member in the Science in Society Program. She holds a BA in religion and English from Williams College, an MPhil in philosophical theology from Cambridge University, and a PhD in philosophy of religion from Columbia University, where she also received a certificate in comparative literature and society. Rubenstein's courses at Wesleyan include Christianity and Sexuality, and Worlding the World: Creation Myths from Ancient Greece to the Multiverse. Her research interests include continental philosophy, theology, gender and sexuality studies, and the history and philosophy of cosmology. She is the author of Strange Wonder: The Closure of Metaphysics and the Opening of Awe and Worlds without End: The Many Lives of the Multiverse, as well as numerous book chapters, magazine articles and online essays. She serves as cochair of the Philosophy of Religion Section of the American Academy of Religion and on the Smithsonian Institute's advisory board for the study of science and religion.
Previous Binswanger recipients are online here.