Palmer '98, Pope to Teach Wesleyan Students about "The Art of Doing"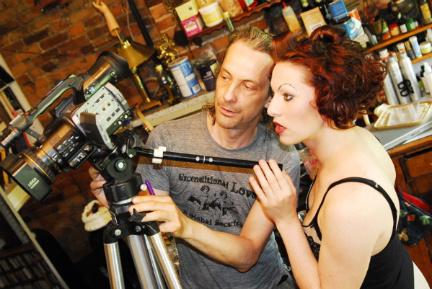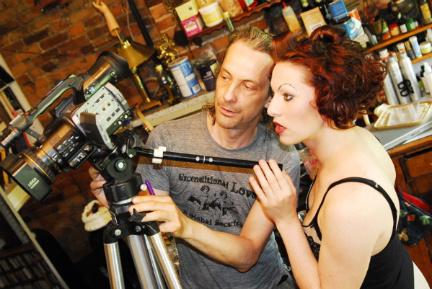 Wesleyan students will have the opportunity to learn collaborative filmmaking skills before being transported to a metaphoric desert island with nothing but a camera phone and a song when award-winning independent filmmaker Michael Pope and singer-musician-writer Amanda Palmer '98 team up for a new course this fall: The Art of Doing: Creative Project Production and Making It Happen. The studio class, which will be limited to 15 students, will focus on non-traditional video production techniques resulting in a class-created video featuring music and performance by Palmer.
The idea for the class was hatched during a phone call between Palmer and Wesleyan President Michael Roth. "Michael Roth called me and said: You should do a 'Thing.' And this is the 'Thing' I came up with," says Palmer. "I actually came up with the idea while talking to him on the phone. That's how most of my ideas happen."
The Art of Doing won't be Palmer's first foray into teaching. In addition to several university talks and her first hands-on teaching experience collaborating with students at Bard College on a workshop piece a few years ago, Palmer has also worked with students at her high school alma mater, Lexington High School in Lexington, Mass., an experience she describes as "exhilarating." Still, she finds teaching college students to be a special case. "College students are way more of a challenge—they know too much to just go with the flow. Which is probably how it should be," says Palmer.
While Pope and Palmer have a longstanding relationship—with Pope directing music videos for The Dresden Dolls and Palmer's first solo album, as well as working on other projects under the Dresden Dolls banner—this will be the duo's first time teaming up to teach. "We both have a talent for enthusing people and roping in strangers, but we've never really tried to teach," says Palmer. "It's going to be a learning curve for both the students and for us, and that excites me."
Students will co-create every aspect of the music video—from conceptualization to editing and screening. The finished product will be released to the more than 11,000 members of Palmer's Patreon community—a fan-funding site that allows fans to become patrons of their favorite creators—and screened as part of a Wesleyan-hosted Amanda Palmer concert on Dec.9.
What does Palmer hope students gain from the experience?
"I hope that every single student leaves this class and drops out of Wesleyan to go make crazy impossible performance art," says Palmer, with a wink. "Wait, I'm not allowed to say that. Just kidding. Maybe."