Winslow Remembered for Establishing World Music Program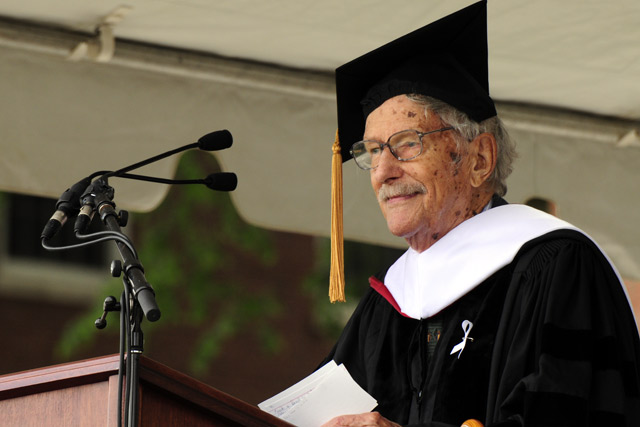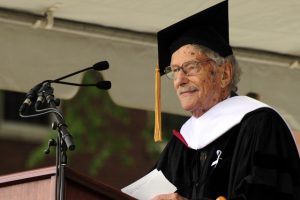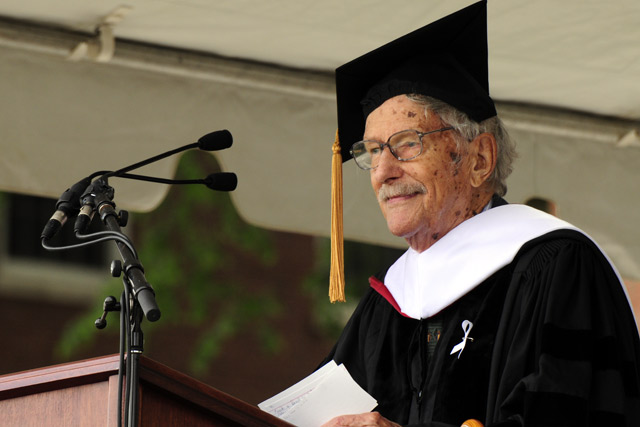 Richard Winslow, the John Spencer Camp Professor of Music, Emeritus, died July 24, 2017 at the age of 99. A service will be held at 2 p.m. Sunday, Oct. 1 at the Antrim Baptist Church, 85 Main St. in Antrim, N.H. All are welcome.
Winslow received his BA in English from Wesleyan with the Class of 1940, and his BS and MS from the Julliard School. He joined the Wesleyan faculty in 1949 and taught music here for 34 years until he retired in 1983. During this time, he advocated for and oversaw the establishment of Wesleyan's renowned program in world music and had a profound influence on the lives of many students and colleagues.
His friend and colleague, Mark Slobin, the Winslow-Kaplan Professor of Music, Emeritus, said "Without Winslow, Wesleyan would never have had the visionary music department of such ambition, scope, and radicalism that it continues to enjoy. He was a kind of radical Yankee in the spirit of Thoreau and Ives. Dick was a figure from an old Wesleyan who ensured that music would have permanent prominence in a small liberal arts college, affecting the world of music in countries, institutions, and concert halls around the globe as the 'energy' (his favorite word) of the place radiated outward."
Winslow was a prolific composer of exceptional breadth, depth and originality. He was a composer of operas, including Gertrude Stein's Dr. Faustus Lights the Lights, T.S. Eliot's Sweeney Agonistes, and Samuel Beckett's Endgame. He also composed the musicals Alice and Her Father The King, along with numerous choral works and songs. He had an intellectual curiosity and boundless enthusiasm for exploration in the worlds of music and ideas, along with a sharp wit and a love of jokes. He provided guidance for many students and friends with a remarkable capacity to engage with them in their own explorations, maintaining strong connections and continued correspondence with many students, colleagues, and friends for over 50 years. The memory of taking Winslow's famous course, Introduction to Music, was enough to move alumnus Bert Kaplan '62 to endow a chair in music in his honor.
He is survived by his children, Richard Winslow Jr. and his wife, Andrea; John Winslow and his wife, Emily Bailey; Susan Bedell and her husband, Paul; Sandra Sherwood; and Laurence Winslow and his fiancée, Jena Skinner; as well as 12 grandchildren and 16 great-grandchildren; a brother, Edward Winslow; and many nieces and nephews.