Update from the President's Office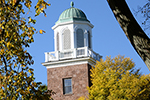 Wesleyan President Michael Roth shared these remarks with the Wesleyan Community on Aug. 29:
Dear friends,

Welcome to our university's 186th academic year!

This fall marks my 10th year as president of Wesleyan. I'm using this occasion to try to look at our university with fresh eyes: What could we do better? What should we preserve, and what should we change? I look forward to feedback from all around campus and will be meeting with a wide variety of groups throughout the fall.

In recent months, we've worked to strengthen the curriculum – hiring new faculty and preparing new programs such as the minor in integrated design, engineering, and applied sciences. I'm also particularly excited about changes to the Shapiro Writing Center (now located at 116 Mt. Vernon) that reflect the importance we place on writing here. There have also been positive developments in the Theater Department, including the hiring of Kathleen Conlin as the new department chair, and several additions to the curriculum.

Promoting equity and inclusion on our campus remains a primary focus. Thanks in large part to input from students, faculty and staff, our new Resource Center will open Sept. 11 at 167 High St., the former home of the Shapiro Creative Writing Center. We're pleased to welcome Demetrius J. Colvin as the director, and invite everyone to visit the Resource Center. An open house will be held in the fall.

The good folks at Allbritton are hard at work on a Civic Action Plan, which will guide Wesleyan's future engagement with Middletown. Based on conversations on campus and in the city, this plan will determine how to best allocate our resources in order to have the greatest impact on the surrounding area.

We have begun preparations for some major facilities projects, beginning with the Film Studies, the CFA and the PAC. We are also starting long-range planning for a new science building. As you might guess, given these projects and the ongoing need to raise funds for financial aid, we are beginning to plan the next university fundraising campaign.

Wesleyan has the well-deserved reputation of being a caring community, and I am confident that we will all be looking out for one another. Sometimes a friendly, helping hand is all someone needs to get on the right path.

As the academic year begins, our hearts go out to those facing the consequences of Hurricane (and Tropical Storm) Harvey. As I write this message, the waters are still rising and the forecasts are not promising. My blog has some links to how one might help.

Let's make the university's 186th year a great one. If we take care of one another, the boldness, rigor, and practical idealism of a Wesleyan education will surely come through!
In addition, President Roth recently announced two changes to staff titles within his office. Effective July 1, Andy Tanaka has added Vice President to his former title of Chief of Staff. And Charles Salas is now University Editor.
In a note to his Cabinet, Roth described the changes as follows:
"You all know the importance of Andy's role here, and this change reflects how extensive his responsibilities have become. Most issues of consequence in the President's Office cross Andy's desk at some point. He watches over much of Wesleyan's operational, administrative and financial affairs. He has a wealth of experience and seasoned advice on matters ranging from immediate crises to long-range planning and risk management. He works closely with the Board, manages the daily operations of Cabinet and the President's Office, and is a liaison to many of our external constituencies, including COFHE and the Middlesex Chamber. While managing all this – and more – Andy recently completed Cornell University's Executive MBA Program, graduating with distinction. Our university counts on him for a lot and this title change reflects his invaluable role."
Roth continued, "Charles is an excellent writer and editor, and I see it as especially important that he focus now on how Wesleyan represents itself. He will continue his strong collaborations with University Communications, and he will continue to work closely with Admissions and University Relations as needed. I will assign special projects to Charles, and I've already asked him to begin to put together a plan for the research and writing of Volume III of the history of Wesleyan."
Roth adds: "Please join me in thanking both Andy and Charles for their excellent work on Wesleyan's behalf."