CNN's Santana '98 Reports from Puerto Rico: Desperate Shortages, Little Relief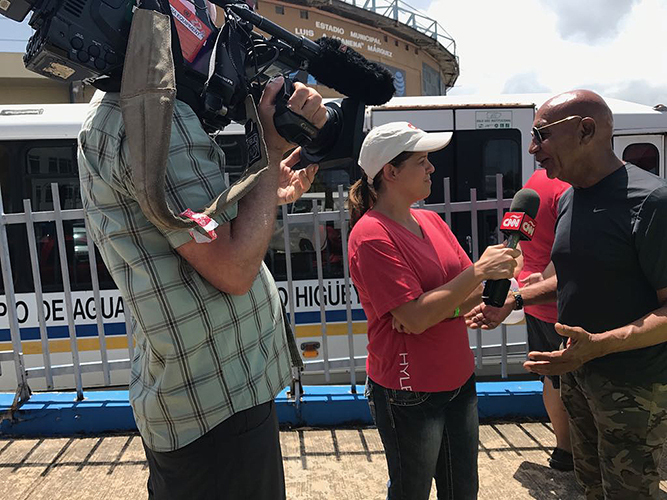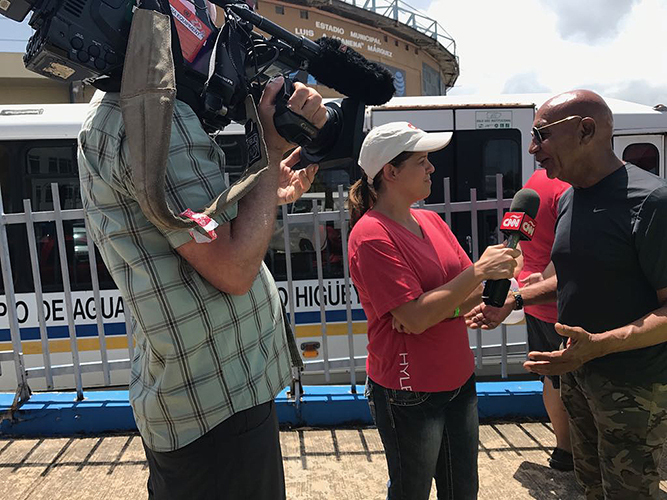 When CNN en Español journalist Maria Santana arrived on the island of Puerto Rico on Sept. 25, five days after category 4 Hurricane Maria tore over the land, she was eager to do her work—tell the stories of those in the center of the devastation and report on the efforts to support the victims and rebuild. But the situation was not what she expected, and—though her job has taken her to many places in the United States that had been ravaged by natural disasters—this was nothing like what she'd seen before.
While she and the crew stayed at a hotel in San Juan—with internet accessibility to transmit her reports—even short trips into the countryside showed massive devastation, but little aid reaching the people.
Instead of government Jeeps and FEMA workers, she saw a restaurant owner climbing a tree. His zinc roof had blown off and wrapped itself around the trunk. He and his neighbors were wresting it down, hoping to reclaim it, rebuild and open for business again.
"I'd never seen the disaster victims themselves doing the cleanup," she said. "The people would ask me, 'Where's FEMA? Where is the National Guard?' It was hard for me to reconcile the fact that these were U.S. citizens, that we were in a U.S. territory."
For the eight days they were there, Santana and her crew would leave the hotel by six a.m., on trips that would take two hours, sometimes along barely passable roads.
"They were long days," Santana recalls. "We'd go out, we'd tape and we'd head back to feed material. I'd usually get a story in by 4 or 5 p.m. and I'd do live shots for the evening news shows, sometimes until 10 o'clock."
Then Santana would add another four hours on social media, contacting families of people she'd met during the day.
"I'd ask people how they were doing, and they'd say, 'I'm okay; I don't have water yet,' but then they'd start talking about their family—that they hadn't been able to tell them they were okay. That's when I'd see them start to cry.
"The lack of communication—that was the worst for people. It wasn't the lines, nor the scarcity of food or water. It was being out of touch."
Santana would hand over her CNN satellite phone to let people call their loved ones—but she discovered often even that wasn't helpful.
"Nobody memorizes numbers now," she says. "And if your cell phone has no power, you don't know how to reach your family." The tip she passes along to all of us: Write these numbers down and keep them with you.
For people without crucial contact information, Santana recorded videos to share through social media, hoping they'd reach the families they were meant to reassure.
"It was the best way I knew to help," she said.
As the days of her trip counted down, Santana kept waiting to see improvement. "The gas lines were three miles long and not getting any shorter," she recalls. "People waited for six hours to get ice. There were lines for the bank, lines for the supermarket, but when they'd get inside, nothing was left on the shelves."
Her search for answers brought her to interview one of the managers of a shipping company. "He told us there were three thousand containers stuck in San Juan that he couldn't get out: No drivers, no fuel, impassable roads."
She checked in with other correspondents, too. "I asked them: 'Have you seen an improvement; have you seen things getting better?' The response was, 'Honestly, no.'
Still Santana kept searching for the "good news" story—and she thought she'd found it: FEMA trucks parked in a town when she arrived. The mayor concurred. Yes, the trucks were from FEMA. However, for a town of about 40,000, these trucks held food and water for maybe 12,000.
"We'll have to ration it very strictly," he told Santana, explaining that he'd set up points of distribution to which they were now headed.
Santana and her crew decided to follow along—and here, the happy story ended.
"We were traveling in a caravan: the trucks, the mayor in his van, police escorts, and our car behind—it wasn't a quiet thing, and we were driving these supplies through communities that weren't on the distribution network.
"People came out of their homes, begging the caravan to stop—'Please, we want water! Can you give us some of that water?'
"And I'm watching these desperate people trying to stop the caravan, but it wouldn't stop until we got to the place where the mayor had said he'd make the delivery."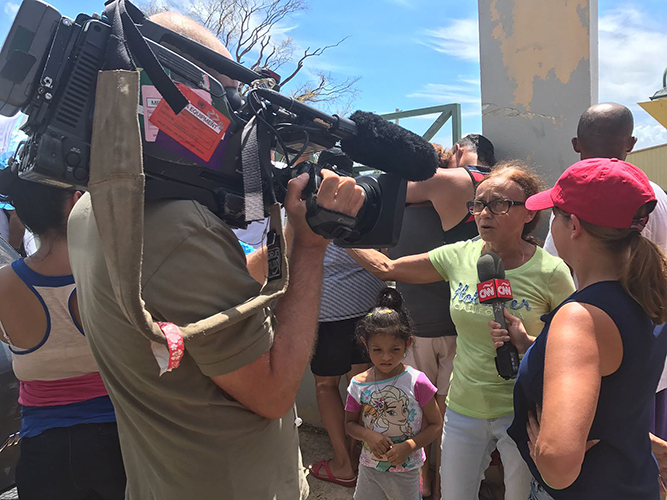 They arrived to find people already waiting in line—small children, parents and grandparents.
The mayor spoke, Santana recalled, trying to encourage his constituents, telling them that this was the beginning of the relief efforts: Six bottles of water, a can of tuna and a protein bar per household.
It's her interview with an elderly woman, Maria Rosada, that stays in Santana's mind. "She was telling me, 'I don't understand what's going on, why we're not getting the help we need. I left my husband home alone so I could stand in this line; he has a heart condition, he just had surgery. He needs food more than I do, so I'll give him mine and I won't eat.'"
Santana approached the mayor to asked what resources he lacked. "He needed help getting and distributing supplies directly to people's homes. It was too large a disaster for the small community networks."
The next day, her own flight back to the continental United States was delayed three hours—a long wait in a tropical airport with no air conditioning.
Santana, now back in New York City, looks forward to returning to Puerto Rico and stays in touch with those she met and about whom she remains concerned—as the crisis in the hurricane aftermath continues to unfold.
"The problem we ran into in Puerto Rico was that the alarm bells didn't ring loud enough at the beginning and we can't let this drop off the news cycle. Don't lose focus on the people who are going through a humanitarian crisis on a large scale. It's going to take months," she says. "People need to keep pressuring the leaders, 'How is everybody doing? What's happening?'"
She also encourages people to consider working together in a community. "I think Wesleyan has a very strong network of people," she says, "And some are planning to take trips to rebuild houses and schools—which is wonderful if folks have that time." Donation of goods, she notes, still are not reaching the people for whom they are intended, as fuel is still in short supply and roads not yet fully functional
"And when you hear Puerto Ricans say, 'I'm okay, I'm good,' don't believe them," she adds, recalling the efforts by those on the island to put on a brave face and reassure relatives. "I saw that a lot: I'd hear people tell their families, 'I'm fine; don't worry about me.' But no! I'd seen that their houses were destroyed, that they'd told me they had no water or food for three days, and then they'd tell their families far away, 'I'm okay; everything's fine; don't worry about me.' But I'd seen them So, no. No one is fine.
"We hear that only 48 people died as a result of the storm, but the expectation is that the death toll will go up in the coming months—people who were sick, diabetic, had compromised immune systems, who will not be able to withstand the continued deprivations. Sadly, it seems we're going to lose many more."
To find out more about campus and local initiatives to aid those in Puerto Rico, please contact Diana Martinez and Bonnie Solivan.
Follow Maria Santana on social media:
Twitter: @mariasantanacnn
Instagram: msantana_nyc
Facebook: facebook.com/mariasantanacnn