Black Agency: Finding Freedom Topic of Black History Month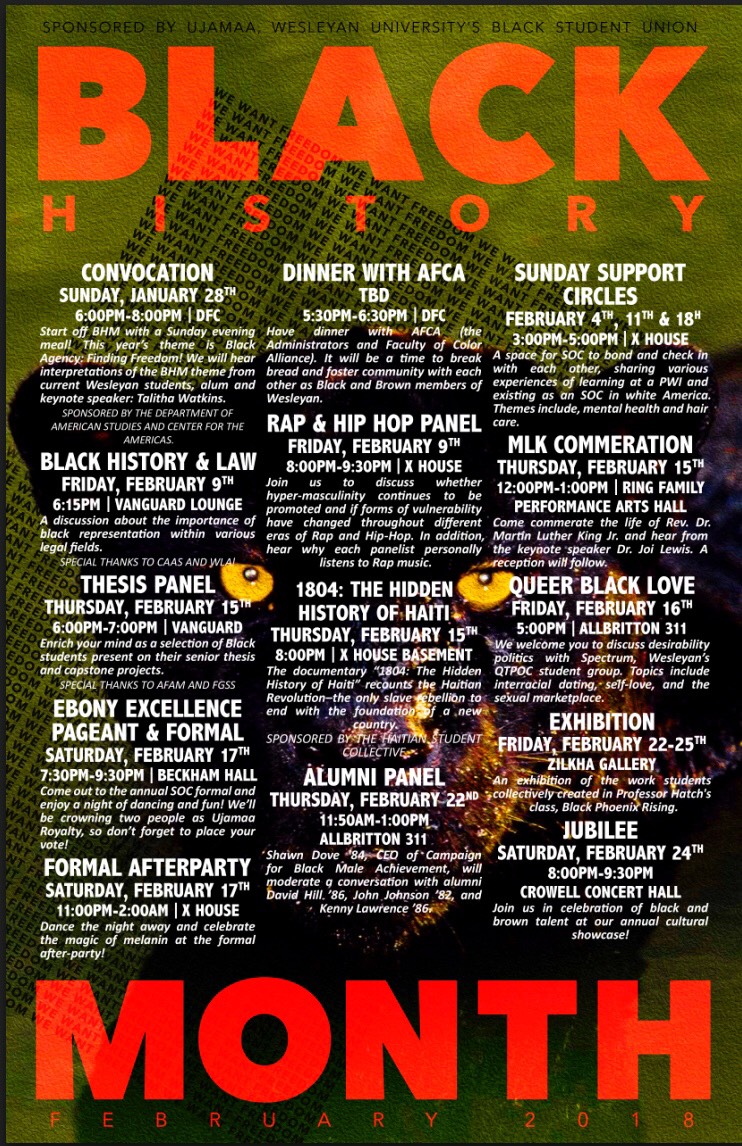 On the 50th anniversary of the death of Dr. Martin Luther King Jr., Wesleyan is celebrating his legacy with several commemorative events focused on the theme "Black Agency: Finding Freedom."
"Dr. King, of course, spoke on our campus on several occasions and had a profound impact on efforts here to promote equity and inclusion," wrote Demetrius J. Colvin, director of the Wesleyan Resource Center, in an all-campus email. "I encourage you to take advantage of the powerful programs developed for Black History Month. Students have put a lot of work into these programs, providing us all with the opportunity to engage with core aspects of our history and Dr. King's living legacy to us all."
On Feb. 15, Joi Lewis, the CEO and founder of Joi Unlimited Coaching and Consulting and the Orange Method, will deliver the annual Dr. Martin Luther King Jr. Celebration speech on "From Hollering to Healing: Black to the Future."
Utilizing the Orange Method framework, which is grounded in the concept of healing justice to invite, inspire, explore and unpack the practice of radical self-care, she will use poetry, song and stories to illuminate how individuals and institutions transform and move towards true liberation, even against the backdrop of racism and oppression-induced toxic stress and trauma.
Lewis will invite the audience to draw on the wisdom of the legacy of Dr. Martin Luther King, other amazing activists, and the community to create a blueprint for wellness: healthy boundaries, falling in love with our beauty, and healthy expressions of grief, pain and joy. Despite oppressive socio-political realities, Lewis will encourage her audience to exercise their agency as U.S. citizens, and in the process, model what it means to be free.
Joi completed her doctoral work at the University of Pennsylvania and had a 20-plus year career in higher education working as the vice president of student affairs and chief diversity officer as well as a faculty member at Minneapolis Community and Technical College, dean of student life and vice provost at Mills College and dean of multicultural life at Macalester College.
This year's MLK Commemoration will be held from 12:15 to 1:15 p.m. in Crowell Concert Hall with a reception to follow. Free tickets are available at the Wesleyan Box Office. For more information, visit the MLK website.
Black History Month also will include a dinner with the administrators and Faculty of Color Alliance, Sunday Support Circles, an alumni panel, a thesis panel celebrating research by black students, a discussion about black history and law, an exhibition featuring work created in the Black Phoenix Rising course, a Jubilee and more.
"Let's get 2018 off to a strong start as we work together to create a campus climate and engaged culture where all may find the necessary tools and support to thrive," Colvin wrote.
Events are sponsored by Wesleyan and Ujamaa, Wesleyan's Black Student Union.