Student-Athlete Bledsoe '18 Says Rebounding Is about Positioning, Luck and "Wanting the Ball More than the Other Team"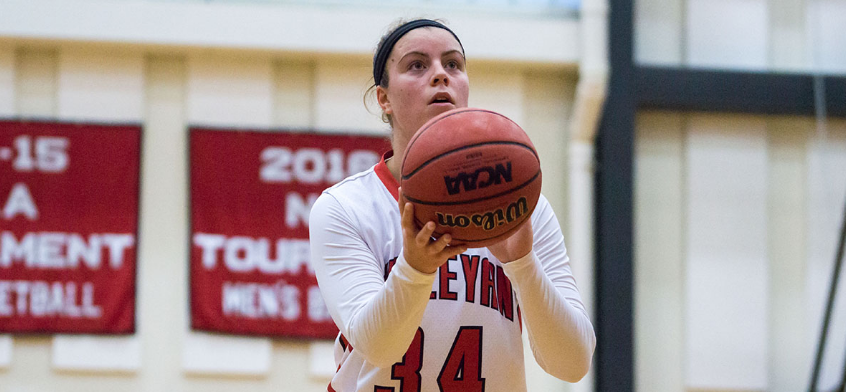 On the basketball court, there really is nothing that Maddie Bledsoe cannot do. The senior captain on the Wesleyan University women's basketball team averaged 7.5 points and 5.4 rebounds during her junior campaign, but during the 2017-18 season, she has taken the next step and become a truly elite, game-changing type of player for the Cardinals.
The evolution began with the versatile athlete becoming a dominant rebounder on both ends of the floor, increasing her boards per game to 10.8, which is the most in the NESCAC. Bledsoe corralled a career-high 21 rebounds, to go along with 18 points, during an 88-76 victory over Westfield State on Dec. 2 en route to earning MVP honors, as the Cardinals won the Courtyard by Marriott Tournament in Middletown, Conn.
Grabbing 21 boards once was not enough for the Newton, Mass. native, as Bledsoe accomplished the feat again during a 69-64 triumph at Connecticut College on Jan. 20. She also recorded her first career 20-point, 10-rebound game, finishing with a career-high 22 points and 10 boards during a thrilling 74-65 overtime win over Little Three-rival Williams on Dec. 9 at Silloway Gym.
For the Cardinals, Bledsoe's personal improvement has coincided with a new team dynamic, as Wesleyan boasts a 15-6 overall record and a 4-4 mark in the tightly-contested NESCAC Conference.
During this past offseason, Bledsoe spent an ample amount of time on her shooting touch, extending her range beyond the 3-point line. She has gone 17-for-40 (42.5 percent) from beyond the arc, after not hitting a single 3-pointer during her first three seasons.
The competitive student-athlete maintains the second-highest scoring average on the squad during the 2017-18 campaign with 10.6 points per game, while being incredibly efficienct, shooting 50.0 percent from the floor (70-for-140). She has also been a consistent source of point production, scoring 11 or more points on 11 different occasions, en route to being named NESCAC Player of the Week on Dec. 4 and Jan. 22.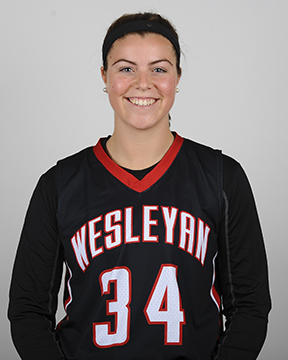 In this Q&A, Bledsoe talks about her team's success and the personality types of some of her teammates.
Q: Both of your parents graduated from Wesleyan. Did they have a considerable impact on your decision to enroll at the institution?
A: My dad graduated in 1978 and my mom in 1983. My dad did not play any sports while at Wesleyan, but my mom played four years of soccer and lacrosse. During my college search, they did not make me feel any pressure to come here or give any biases toward Wesleyan, but after I made my decision, I definitely think they were happy about it. I have gotten a few stories out of them, but they have mainly been sports stories from my mom.
Q: What have been the keys to the team's success this season?
A: Returning players and freshmen came into this year after working hard in the offseason with the right mindset and a willingness to work hard. This showed in our preseason and has continued to show throughout our regular season. We have higher expectations for ourselves, and as a team we have shown a lot of resiliency. I think the best way to capture our team identity this year is with the energy we have on our bench every game. That energy is what has helped us close out close games, and spark comebacks when the game is slipping out of reach.
Q: As you head down the stretch of your conference schedule, what are the keys going to be to keep growing as a basketball club?
A: The season is long and there are always ups and downs, so it is really important that we stay together and pick each other up. One of the most important things for us is to play our game, and not allow other teams to dictate the way we play. We have shown that when we do that we can compete with any team in our conference.
Q: What are the keys to being a strong rebounder?
A: What I focus on in rebounding is making sure I hit my player, and then just hunting after the ball. There definitely are many factors involved, like positioning and luck, but generally what it comes down to is wanting the ball more than the other team.
Q: Can you compare your on-court mindset and your off-court personality?
A: I would say that I am not a very loud, outgoing person in general, but I tend to be far louder on the court. I am also very competitive and can get caught in the heat of the moment in ways that do not happen outside of sports.
Q: Which professional basketball player do you admire the most and why?
A: One of my favorite basketball players is Draymond Green. I like how he has a really diverse skill set, and can contribute in many different ways. Also, I am a huge fan of the intensity and energy he brings at all times.
Q: Who is the funniest person on the team? Who is the most likely to succeed? Who is the nicest?
A: We have a lot of great personalities on our team, which is one of the things that has made this year so great. I would have to say the funniest person is Rylee White, most likely to succeed is our manager Brandon Morris, and anyone who has met Tara Berger would agree that she is the nicest.
(Trevor Wenners, athletic communications assistant, contributed to this article. The story origionally appeared on the Wesleyan Athletics website.)