Price '18 Delivers Senior Class Welcome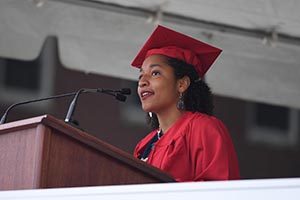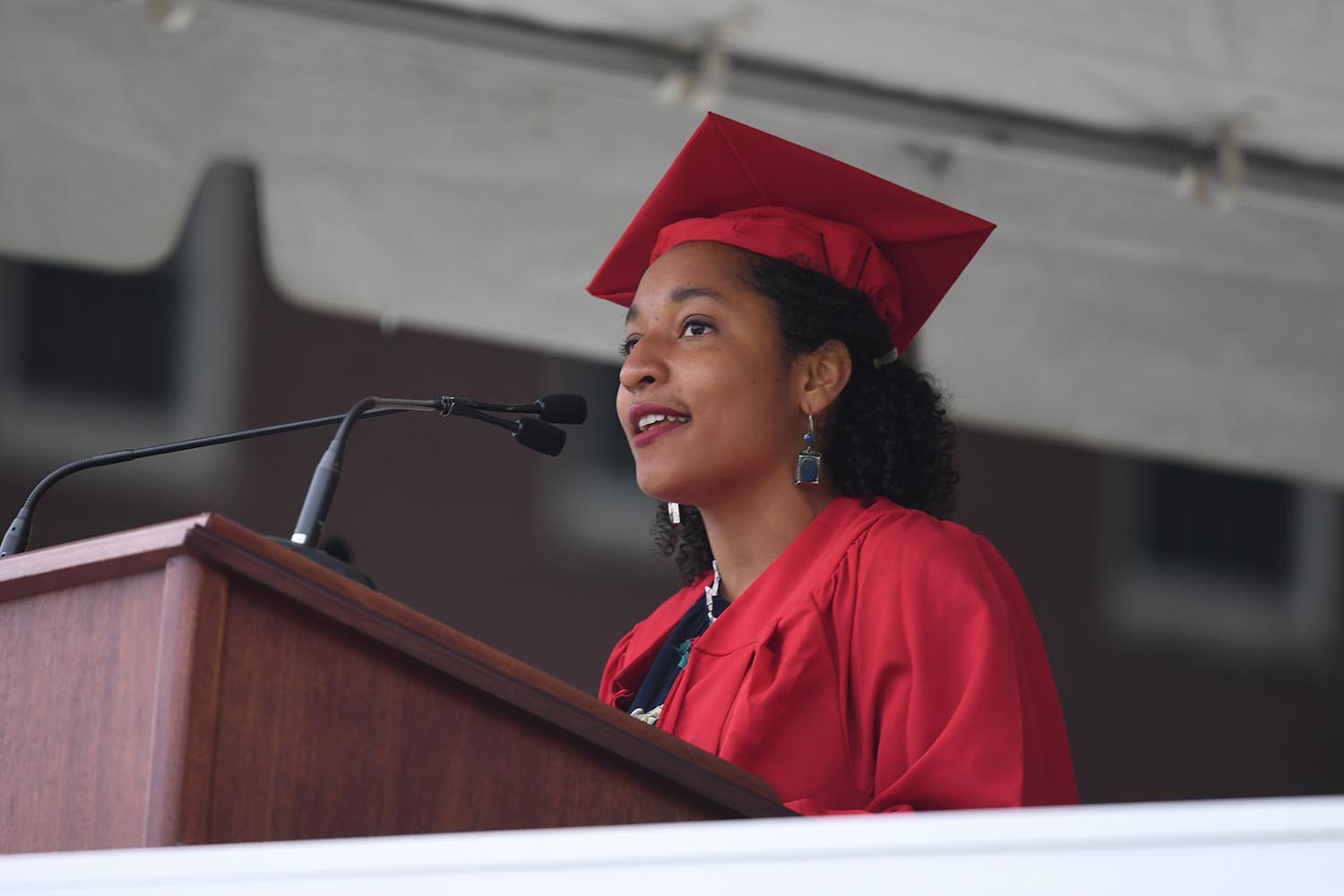 Zenzele Price '18 delivered the following remarks during Wesleyan's 186th Commencement ceremony on May 27.
Hi, my name is Zenzele Price, and I'm the 2018 Commencement speaker.

I'm trying to be optimistic, but right now graduating from college feels like being told to jump out of a plane. Standing here, with the wind battering my face, staring out at the great, terrifying expanse of the future, it's easy to want to step back. Back to the cocoon of Usdan and Red and Black, back to saying "points please," back to a sea of familiar faces.

But, in reality, there is no stepping back. In reality, we are dispersing, seeds cast to the wind, tumbling into the real world with painful, exhilarating, hopeful gravity. And it's hard to trust my parachute.

I find myself asking—was this all a dream? What about who I was while I was here? What about what I believed in?

We can probably agree that college isn't the "real world." But it wasn't a dream either. It was life. Wesleyan isn't going anywhere, but I am. And standing at the brink, I am grateful for those four years. Grateful for the endless opportunities I've had to form and reform my identity. To create. To question.

I'm leaving, but not empty-handed. I'm taking the person I created while I was here, the idealism that I cultivated. A belief in a better world that I will wear proudly—not as a weakness, but as my secret weapon. And when I remember this strange time in my life, I'll remember who I spent it with. And standing here, at the end, at the beginning, you're all right there with me. Connected by time and proximity and a shared skepticism of New England Microfridge Rental emails.

And here we are, clutching our memories, our friendships, four years of tests and papers and presentations, scars and hopes and inside jokes and grudges and late night Athenian trips, and dreams and the person we are now, in this moment, the person we made each other, in this moment, this glittering, flickering moment in time. And that's not nothing. That's my parachute.

There is no stepping back. The door has opened. The wind is howling. It's time to jump. The world is beckoning. It's time. The world is here. Thank you.