Physical Plant Begins Tackling 120 Maintenance, Renovation Projects on Campus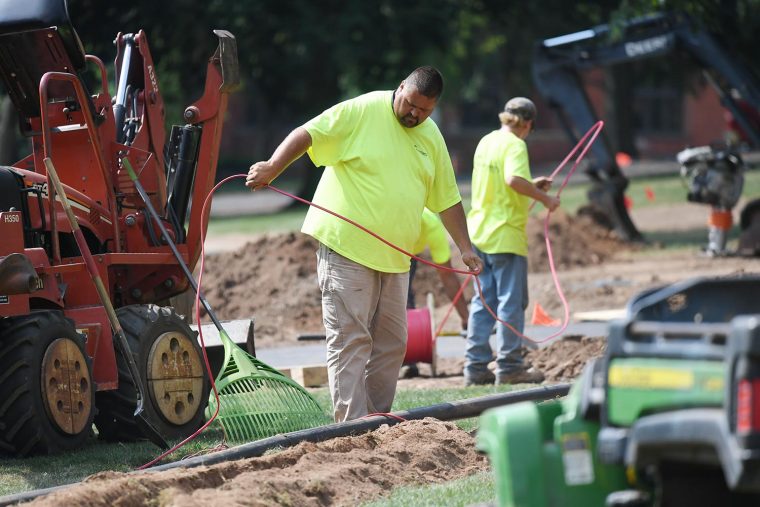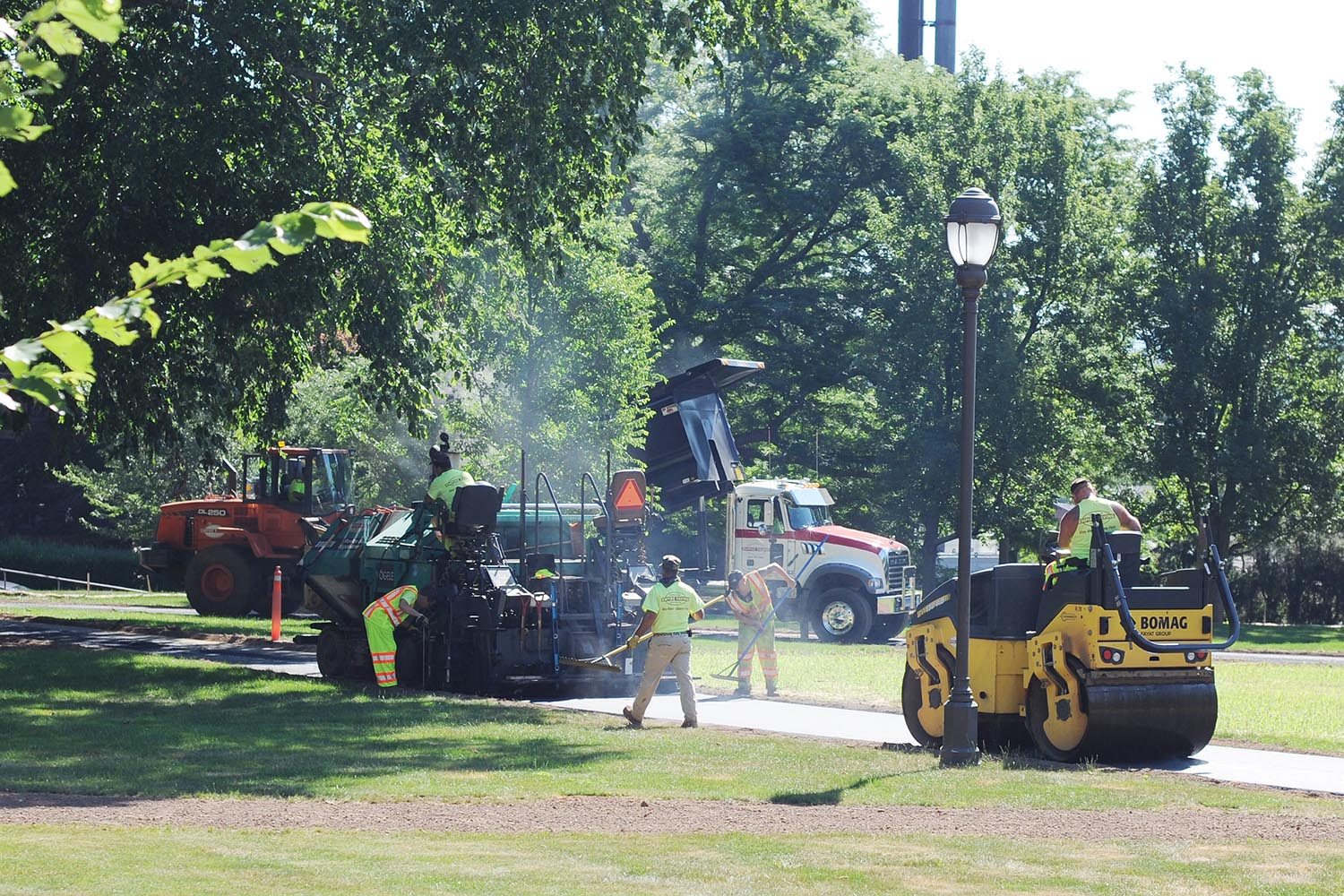 On May 29, Wesleyan's Physical Plant–Facilities personnel began their 2019 fiscal year major maintenance and capital projects. The University is investing in projects at 120 locations on campus, which are described in this interactive map.
"Each year the work is prioritized, then scheduled to minimize the impact on the academic calendar," said Joyce Topshe, associate vice president for facilities. "Consequently, much of the work is done during the summer. Projects include modernizing our infrastructure, energy conservation, structural repairs, replacing roofs and windows, and renovating dozens of buildings."
Projects this summer include:
Demolition and renovation of the second-floor bathroom at 146 Cross Street.
Replace flooring, acoustic ceilings, and lighting in basement corridor at 200 Church Street.
Install new flooring in 44 rooms in Foss Hill Unit 8.
Laminate existing walls with gypsum wallboard, install new flooring, and paint the fourth floor of Judd Hall.
Replace floors in clinical exam rooms in the Davison Health Center.
Begin window restoration and interior perimeter window finishes at Olin Library.
Replace both passenger elevator controls and interior finishes in Exley Science Center.
Replace roof on Butterfield A.

Replace existing quarry tile walkway surface and install a waterproofing system below new tile installation in the Foss Hill Unit 2–3 Connector.
Replace roof on the Exley Science Center / Hall Atwater Connector.
Plant trees in various areas near Foss Hill, Olin Library, College Row, and Center for the Arts.
Remove cracked, deteriorated, or spalled sections of the existing concrete sidewalk near Usdan.
Repave parking lot at the Neighborhood Preschool.
Install new 8-foot-wide asphalt sidewalks on College Row.
Replace asphalt driveway to 272–278 Court Street with new base and asphalt.
Replace passenger elevator controls and interior finishes in High Rise.
Renovate the bathroom on the second floor of South College.
Renovate Foss Hill 5.5 and Nicolson Lounge. The project includes renovation of Foss 5.5 lounge, new flooring, reconfiguration, paint, kitchen and bathroom renovation, and an accessible entry walkway.
Perform classroom renovations in Downey 113, VVO B11 and 110, CAAS, ESC 113 and 201, ESC 058, Olin 327B, MS301, RS105, Fisk 410 and 412, and CFA Ring Hall.
Replace first-floor carpet in common areas in Olin Library.
Repair porches at 146 High Street, 124 High Street, 124 High Street Alternate, 258 Court Street, 264 Court Street, 203 Pine Street, and 5 Vine Street.
Perform framing repairs and structural reinforcement at 202 Washington Street, 64 Fountain Avenue, 63 Fountain Avenue, 58 Fountain Avenue, 57 Fountain Avenue, 56 Fountain Avenue, 46 Fountain Avenue, 42 Fountain Avenue, 41 Fountain Avenue, 40 Fountain Avenue, 35 Fountain Avenue, 29 Fountain Avenue, 24 Fountain Avenue, 15 Fountain Avenue, 14 Fountain Avenue, 10 Fountain Avenue, 261 Pine Street, 251 Pine Street, 215 Pine Street, 211 Pine Street, 207 Pine Street, 131 Cross Street, 115 Cross Street, 5 Vine Street, 7 Vine Street, 9 Vine Street, 19 Vine Street, 21 Vine Street, 23 Vine Street, and 126 Knowles Avenue.
Install new base material on the center curved stair in Usdan.
Install new drainage piping, reset catch basins for positive drainage, install sod on Jackson Field.
Replace roof on the Foss Hill 4 Connector and Foss Hill 6.
Interior renovations at 255 Williams Street, 259 Williams Street, and 45 Lawn Avenue.
Repair stairs at Human Resources.
Perform a campus-wide fire extinguisher inspection, maintenance, and removal.
Perform a comprehensive energy-lighting installation in Freeman Athletic Center, Usdan, Boger Hall, Shanklin, Hall Atwater, and Olin Library.
Replace steam pipe under the area between College Row and High Street, the sidewalk across Wyllys Avenue from Usdan to the CFA, the sidewalk south of Fayerweather, and more.
A full list of Major Maintenance projects, projected start dates, awarded contractor, scope of work, photos, floor plans, and related construction schedule can be found at Major Maintenance FY19.
Additional project photos are below: