Staff Spotlight: Andrew White Takes on Library's Top Job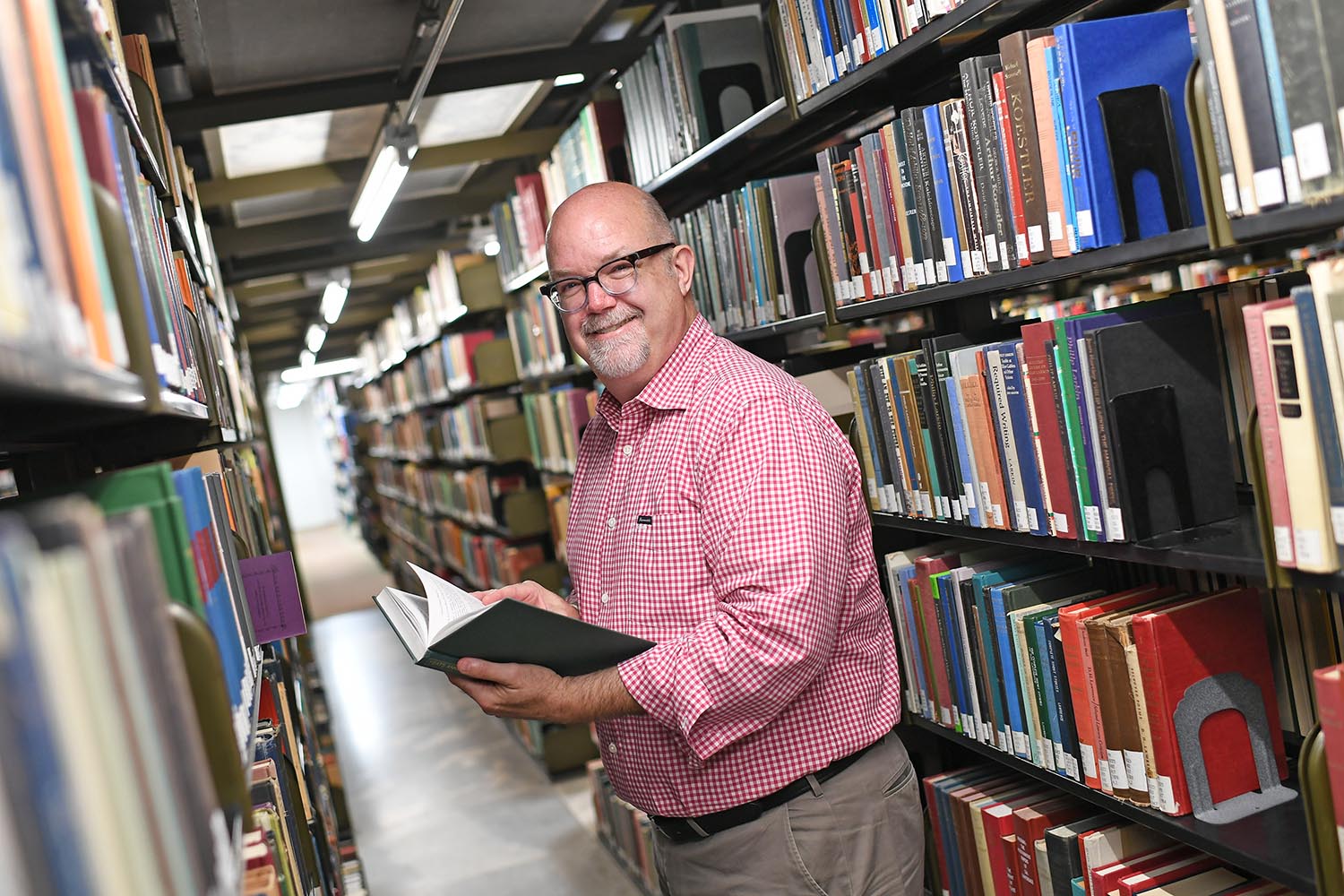 (By Christine Foster)
Imagine being chosen to oversee a vast treasure trove, including more than a million items ranging from art and music to government documents and—oh, yes, books. Such is the job set before Andrew White, who was chosen in April to be the University's next Caleb T. Winchester Librarian.
Provost and Senior Vice President for Academic Affairs Joyce Jacobsen wrote in a campus-wide email announcing White's appointment that the search committee was drawn to his experience working collaboratively with different groups of people. The previous librarian, Dan Cherubin, died suddenly last September, after having made an outsized impact in just a year in the post.
White is being asked to be the "cheerleader in chief" for the library, but also to mind the budget, to consider how best to use the physical spaces, and to invite different constituencies in to effectively access the rich resources Wesleyan has amassed over the years. White took some time from his busy first few weeks to share his history and vision in a Q&A for the Connection.
Q: What attracted you to Wesleyan's libraries? What makes us special?
A: Wesleyan is an amazing place and I immediately felt at home when I stepped onto campus and into Olin Library. Wesleyan is a significant name in American higher education and that significance is reflected in both the scope and breadth of the collections, not only in the libraries, but across campus. We are one of the largest libraries among national liberal arts colleges and I could not pass up the opportunity to help make our resources more visible and relevant.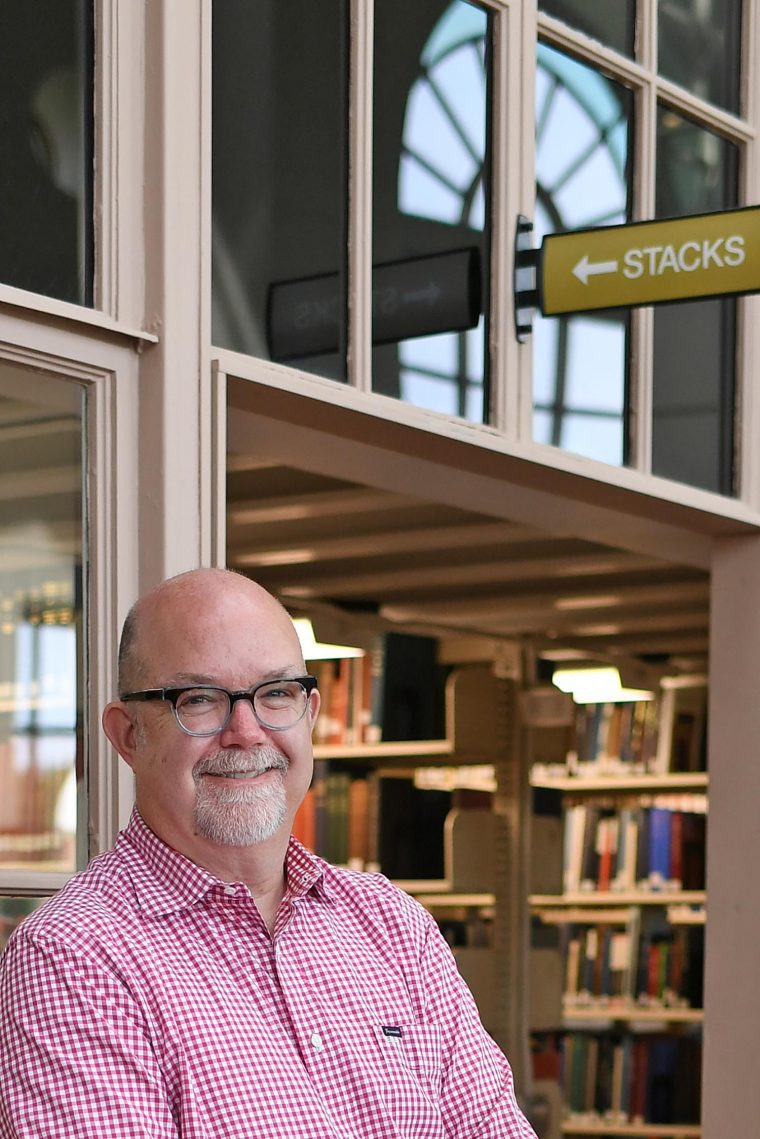 Q: What challenges do you think you will face in this job?
A: Matching ambitions with reality and defining the role of the library and collections in a way that's meaningful and practical for Wesleyan. We have much work to do around space design and collections access and storage.
Q: What do you think might be most surprising about a college library to someone who hasn't been in one for decades?
A: That libraries are the academic crossroads for most campuses. Whether student, faculty, or independent scholar, a library is a place to discover, transform, and produce information —whether the written word or data, on both screens and pages.
Q: Where are you from and what has your path been to this point?
A: I'm from central New York state originally and grew up between there and the Jersey Shore. After college in Buffalo I went to graduate school at Indiana University, where I had my first library job at the IU undergraduate library. In addition to doing instruction and reference, I was responsible for public and staff computers. This was in the mid 90s—practically pre-Internet—so think CD-rom towers, text-based library catalog, no Google. I was offered a grant-funded position at Connecticut College, where I worked for three years helping faculty integrate technology into their courses. Conn was among one of the first merged IT and library organizations and my position was designed to launch a new kind of professional who could bridge the then-dividing line between technology and information. We've come a long way. Conn was also where I discovered my love of the liberal arts environment. I then moved to Bates College, where I started out as a systems librarian, morphed into the founding director for academic technology and curricular support, and ended my career at Bates as interim CIO and College Librarian. And now I'm back in Connecticut!
Q: You have a strong background in IT. How does that play a part in your job as a librarian?
A: Technology has been woven into the fabric of my job for so long it's hard for me to separate it out. As a result, I tend to embrace constant change as the norm—that's one of my key leadership principles. Whether managing technology or library operations and services, you have to lead folks forward and keep connecting their work to the larger institutional context.
Q: What is a typical day like in your job so far?
A: Starting at a relatively slow time on campus has allowed me to get up to speed quickly. Daily, I meet and talk with people, both inside the library and across all parts of the campus, to find out about their work and how we can best work together to support Wesleyan. But everything will change once students and faculty return to campus!
Q: What do you hope to accomplish during your first year? What kind of goals do you have over time?
A: My overarching goal is to make the Wesleyan libraries the academic crossroads of campus. In order to do this, I need to understand the needs and aspirations of Wes students and faculty. This work will start in earnest this fall.
Q: Where in a library might we find you? What genre are you most often drawn to?
A: Likely wandering the P range—I have two degrees in literature, but I also love GovDocs: the sheer amount of information produced on behalf of the public is amazing to me—especially the older guides to National Parks and historic monuments.
Q: What else do you do when you aren't at work?
A: Not surprisingly, I read—a lot. And podcasts—lots and lots of podcasts. There's nearly always a disembodied voice somewhere in the house. And food. With adult beverages. My husband and I love to hike with our two labs, Mable and Olive. We're also looking forward to exploring Connecticut, New York City, the Berkshires, and Vermont once we're settled in. We're also both fans of old Hollywood movies, so the Bette Davis summer film series was a dream come true.