Wesleyan Faculty, Students Teach Local Girls about Science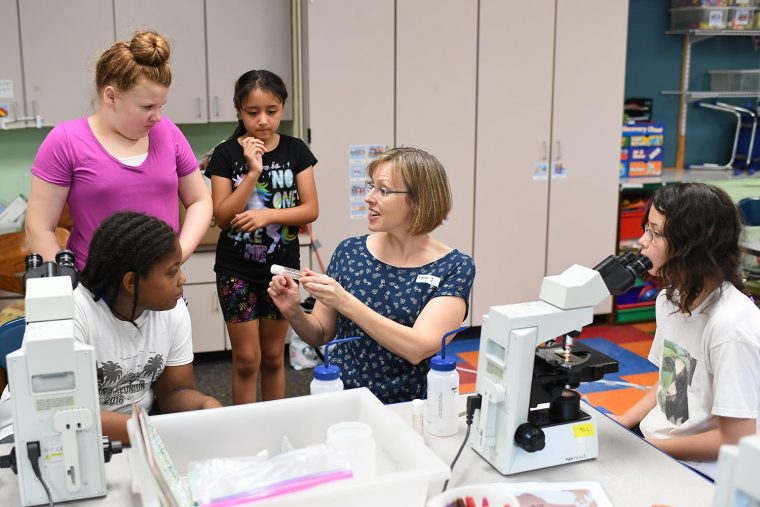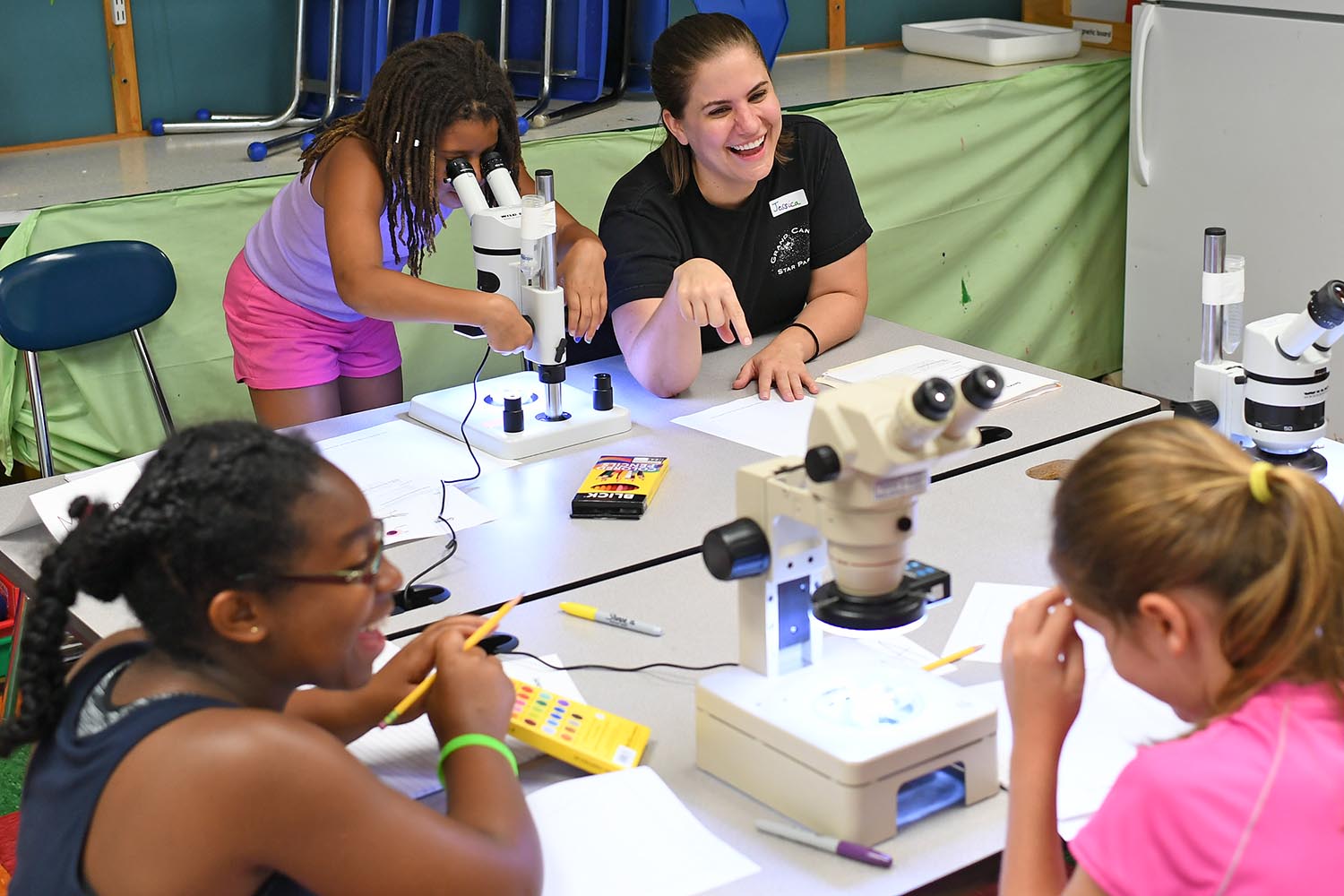 Four girls squint one eye and with the other eye gaze intently into a microscope. One says she sees caterpillars or string or pink spaghetti. Another says she sees small frogs.
"You're actually looking at tissue that's been smashed," says Ruth Johnson, associate professor of biology. "Do you see those dark spots? Those are chromosomes."
Johnson, a developmental biologist who studies how tissues and organs are shaped during development, is one of five Wesleyan faculty who taught workshops during the fifth annual Girls in Science Summer Camp, Aug. 6–10. The camp is open to all girls in grades 4, 5, and 6. The campers and instructors spent three days at Macdonough Elementary School and two days on Wesleyan's campus learning about scientific theory, bacteria, planetary science, solar cars, nanoparticles, chromosomes, bubbles, and DNA. They also toured multiple labs and worked with college student mentors and learned about science careers.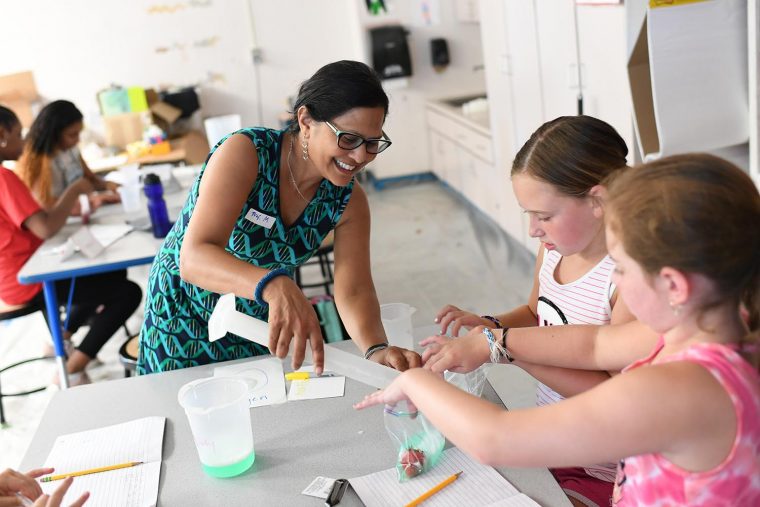 During "DNA Day" on Aug. 7, the students not only observed Drosophila chromosomes with "Professor J," but they also learned how to extract DNA from strawberries with Ishita Mukerji, the Fisk Professor of Natural Science. Mukerji also is professor of molecular biology and biochemistry and director and professor of integrative sciences. In between experiments, Mukerji presented "fun facts" about DNA.
"How much of your DNA is the same as the person sitting next to you?" Mukerji asked.
Multiple hands raised and the girls called out their guesses: 10, 40, 60 percent. Eleven-year-old Ameerah nailed it with a guess of 99 percent.
"That's right," Mukerji said, "Ninety-nine percent. You're almost all the same."
Martha Gilmore, the George I. Seney Professor of Geology, taught campers how to catalog the planets and calculate the distances for a model solar system. They also discussed comets, meteorites, and craters, and created a homemade comet. Gilmore also is professor of earth and environmental sciences, co-coordinator of planetary science, and director of graduate studies.
Girls in Science co-founder Erika Taylor, associate professor of chemistry, taught the girls about differences between bacterial and human cells, showed them that they are growing everywhere (on us and around us, especially in places that are moist). She also helped them make polymers in the form of bouncy balls. Taylor also is associate professor of environmental studies, associate professor of integrative sciences, and the faculty director of the McNair Program.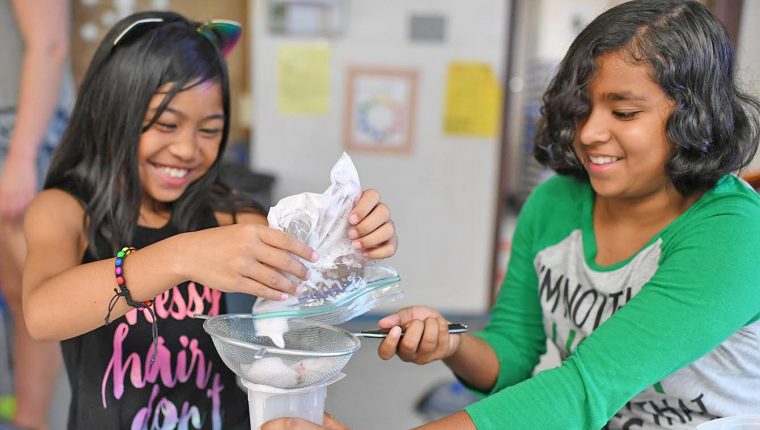 Michelle Personick, assistant professor of chemistry and integrative sciences, offered an introduction to nanoparticles and taught the girls how to make triangular nanoprisms and stained "glass" suncatchers. They also delved into microscopy and looked at a penny with a scanning electron microscope (SEM) and a transmission electron microscopy (TEM). Personick also taught the campers about polymer materials with an Oobleck demonstration.
In addition, teaching artist Meredith Arcari, who worked at the Green Street Teaching and Learning Center for eight years, led multiple arts activities including a t-shirt tie-dye, drawing a scientist (before and after camp), designing a bacteria, constructing a giant DNA molecule, notebook writing, and more.
Wesleyan undergraduates Brynn Assignon '20, Sonja Welch '20, and Arielle Ashley '19, and astronomy graduate student Jessica Klusmeyer assisted the Wesleyan faculty with the lessons and experiments.
"When we started this camp we were determined to make it inclusive – wanting any girl interested in attending to be able, regardless of their financial means," Taylor said. "As a result, each year we have had 1/2 to 2/3 of our girls on full or partial scholarships. To enable this, all of the faculty participants volunteer their time and bring with them materials for the experiments as a donation to the camp. We wanted to ensure that we helped recruit girls before middle school, in the hope that we could impact their desire to persist in science – making the pipeline of future scientists more diverse."
The coordinators also wanted to make sure that the participants were exposed to a diversity of women scientists. Every day began with Awesome Women in Science Presentations, so the girls could see that female scientists are from all over the world, from a diversity of ethnic backgrounds, and that they are all wildly different – some are scientists and cheerleaders, some are moms, some are politicians.
"We wanted to make sure that there would be exposed to enough women scientists that they could see someone like themselves so they could imagine that they could be a scientist, too," Taylor said.
Eleven-year-old Raima participated in the program because she is curious by nature. "I like everything about science because I like to ask questions. I wonder why this or that has to happen. I like to study [outer] space the best because there are so many things we don't know about it."
The camp concluded with a Science Showcase. Here, the girls made scientific poster presentations, presented readings from their lab notebooks, displayed their germ plates, and shared a slideshow of photos taken throughout the week.
Additional photos of the 5th annual Girls in Science Camp, including the teaching faculty, are below: (Photos by Olivia Drake)