Ashkin '11, Delany '09, Roginski '87 Confront White Supremacy through Dance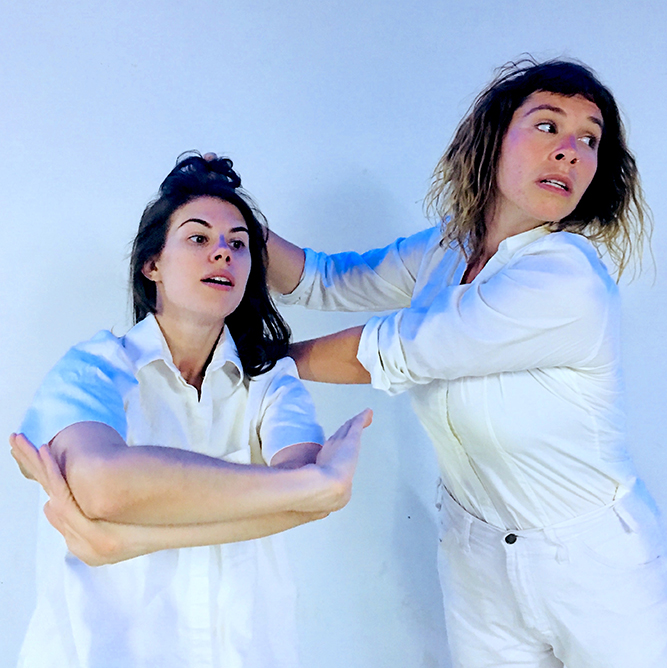 Sarah Ashkin '11, Brittany Delany '09, and Sue Roginski '87 premiered an evening-length dance work, task, on Aug. 17–18, as part of the summer season at Highways Performance Space in Santa Monica, Calif., under the umbrella of GROUND SERIES dance collective. Ashkin and Delany, codirectors of GROUND SERIES since 2012, choreographed and performed the piece, with Roginski providing dramaturgical direction. As codirectors, Ashkin and Delany describe their work as  "collaborating in using dance performance as a tool of embodied intervention and research."
"With our shared background in critical thinking, cultural studies, and artistic risk-taking fostered by the Wesleyan Dance Department, we wanted to create a work that responded to the current political moment," Delany says. "The culmination of our collaboration, task, is a confrontation of white supremacy through dance performance." Treating the theater as a site in this work, Ashkin and Delany continued their research and presentations of site-specific performance with the new challenge to remap and reframe the stage as a racialized space.
In the aftermath of their premiere, the three reflected on the experience for the Connection: 
Q:  What was it like to work with other Wes grads—those you knew on campus, those from different eras. Are there some commonalities, some ways of communicating, some understanding of dance as art and dance in the world, that you all have in common?
Sarah Ashkin: It's wonderful to work with Wesleyan grads. I find the Wesleyan alumni network continues to be one of the most creative, boundary-pushing, careful, and intelligent communities, and I am so grateful to be a part of it. Brittany and I have been working together closely since we were undergraduates, when we were both members of Professor Alejandro's dance company Pedro Alejandro Dance and Dancers. The Wesleyan Dance Department offered us a remarkable toolkit for dance-making, which prioritizes improvisational forms, critical thinking, cultural studies, and artistic risk-taking.
Working with Sue has been a true pleasure. When posing her a dramaturgical question, like "How was that?" "What is reading from this section?" in very much a Wesleyan fashion, she often responds with more questions, such as "Do you want it to be uncomfortable in this section?" or "What is your task for this phrase? What do you want to accomplish?".
I find that there is a basic understanding between the three of us that dance-making is a research process. The work includes constant question-asking: of ourselves, of scholars, of neighbors, of families, of mentors and of our bodies. This way of dance-making as a means of historiography, biography, and ethnography was cultivated through our education at Wesleyan.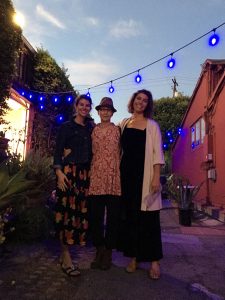 Sue Roginski: To interact with younger Wesleyan grads at a different point in their lives and to work as critical thinkers and dance makers has invigorated and pulled me into a space of alertness. It has been an honor to be an "outside eye" on this particular piece. Their process is rigorous, thoughtful, and challenging. I am energized by the GROUND SERIES project.
Q: What did you feel was most effective about this work? Were there any places the audience responded in ways you didn't expect?
Sarah Ashkin '11:  Our three biggest takeaways from the research and rehearsal process that we hope to share with our audiences are:
1) To take up African-American philosopher George Yancy's call that white people tarry with the idea that white people are the problem in our racist society. To tarry, Yancy explains, is the process of holding or being with something long past the point of comfort. As white artists, "tarrying with racism" feels like a creative lifelong project.
2) To confront the realities of our white privilege, which surface [for us] as dancers in the form of our training, our opportunities to perform, to feel safe and welcome in class and in the theater, and the power to assume the universal body. These privileges are not earned, rather they are a part of an invisible system ushering our white dancing bodies to "the top."
3) To dissect the quote from Claudia Rankine, "Because white men can't police their imaginations, black people are dying" (Rankine, 2014). As we see it, dance training, dance performance and dance funding are all critically linked to our national cultural imagination. Dance has the ability to shape culture and, at the same time, is intrinsically shaped by culture. It is our responsibility as dancers, dance makers, and dance presenters to uncover the ways in which we are complicit in white supremacist practices of privileging the white body and dismantle these practices.
Brittany Delany '09: The work effectively draws in the audience in three ways: the theater frame, critical sense of humor, and our many shifts in characters.
The theater—as opposed to a one-on-one personal conversation at one's workplace, dining room table, or social media feed— offers an accessible space to engage in difficult conversations about racism.
Weaving absurdity, a biting sense of humor, and sharp, comedic timing effectively drew in the audience to participate emotionally and physically. We heard from many audience members how the humor was poignant and confrontational. Our constant tactic of self-deprecating humiliation worked to allow space for white people to be self-reflexive and to be held accountable.
Throughout the work, we shape-shifted through many iterations of problematic white women. Historical, contemporary, satirical, and weaponized—these many "Beckys" emerged, claiming the spotlight, and amassing a many-headed, violent monster.
While we were prepared for a strong negative reaction from audience members, we found that those who were moved to share their experience of the work with us have expressed gratitude and appreciation for the layers of discomfort, tenderness, and humor.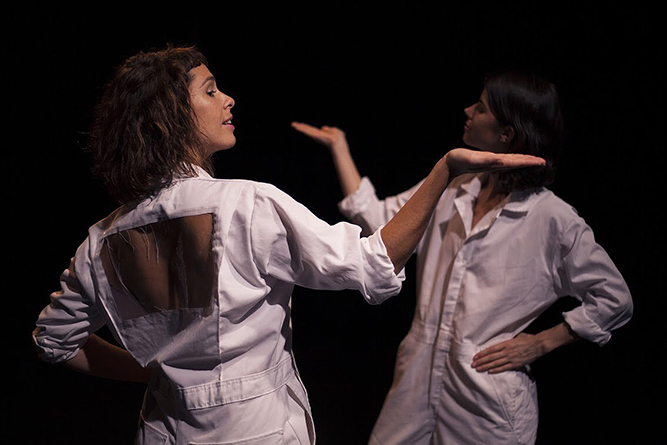 Q: Did this piece leave you seeing your way to another dance that is calling you?
Delany and Ashkin: We've come to a point where we will never make a work in the future without considering the symbol of our white dancing bodies as inherent to the piece. No longer will our rehearsal and creative process be limited to the studio time or framed site for engagement. By incorporating numerous readings, community discussions, and participation in activist gatherings into the process, the research has become more multifaceted and alive with access points. Expanding the "how" of making dance has helped us to critique our tools and habits so we can more effectively and honestly respond to challenging research questions.
In considering a future project, we highly value the role of a dramaturg to help us shape, edit, and clarify the piece. Since our past works have been largely ensemble site-specific pieces, we haven't had the opportunity to take dance works on tour. We are excited to bring task to future audiences and stages.