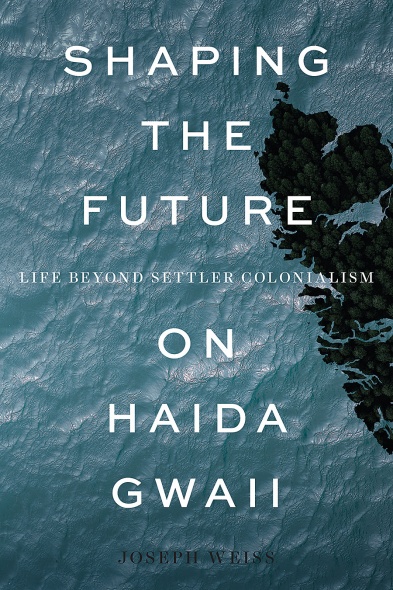 Joseph Weiss, assistant professor of anthropology, is the author of Shaping the Future on Haida Gwaii: Life beyond Settler Colonialism, published by the University of British Columbia Press in September 2018.
Shaping the Future on Haida Gwaii shows how an indigenous nation in British Columbia not only continues to have a future but is at work building many different futures—for themselves and for their non-indigenous neighbors. The project emerges from an almost decade-long relationship between Weiss and the citizens of the Haida Nation of Haida Gwaii, a series of islands off the west coast of Canada.
Weiss explores these possible futures in detail, demonstrating how Haida ways of thinking about time, mobility, and political leadership are at the heart of contemporary strategies for addressing the dilemmas that come with life under settler colonialism.
Too often, Weiss explains, indigenous peoples have been portrayed as being without a future, destined either to disappear or assimilate into settler society. This book asserts the opposite: Indigenous peoples are not in any sense "out of time" in our contemporary world.
"This work was in large part about trying to respond to dominant assumptions—both in the academy and in North American society—about the ways that indigenous peoples experience settler colonialism," Weiss said. "I sought to shift the narrative from one that emphasizes domination and constraint towards telling stories about how Haida citizens and communities are building all sorts of different futures, claiming their right to decide for themselves what should come next and what should not."
From the threat of ecological crisis to the assertion of sovereign rights and authority, Weiss shows that the Haida people consistently turn towards their possible futures, desirable and undesirable, in order to work out how to live in and transform the present. His book breaks new ground in the exploration of the relationship between time and colonialism as experienced in the day-to-day lives of an indigenous community.
Weiss first started visiting Haida Gwaii in 2010 through ties of friendship and a deep admiration for and interest in the work of the Haida Nation in fighting for Haida rights to their sovereign territories and to self-determination. In 2013, he moved to the Haida community of Old Massett to begin a two-and-a-half-year period of full-time fieldwork, focusing on exploring communities' experiences and understandings around political and social change. While there, he worked as a classroom assistant and occasional school play director for the community's primary school, the Chief Matthews School.
Weiss's work was and remains an attempt to engage in respectful anthropological research grounded in dialogue with and accountability to the community of Old Massett and the Haida Nation. This extended both to the kinds of questions that were asked and to the ways interviews were conducted and then approved by Weiss's Haida friends and colleagues.
"Shaping the Future is as much the result of building relationships and this commitment to respect as it is an academic text," Weiss said.
This book will appeal to scholars and students of indigenous studies, particularly in anthropology, political science, sociology, and history. Researchers planning to work with communities will learn from the author's reflections on conducting ethnographic fieldwork with First Nations.