Dachs '98 Receives Sci-Tech Oscar for PIX System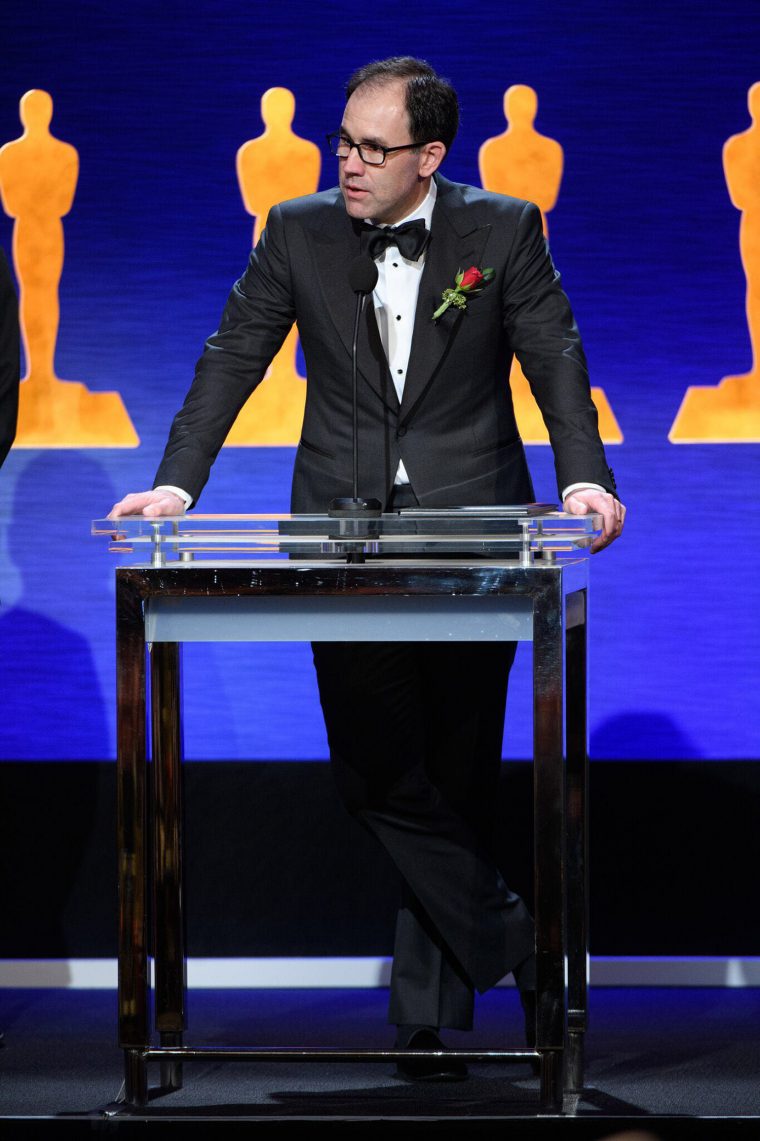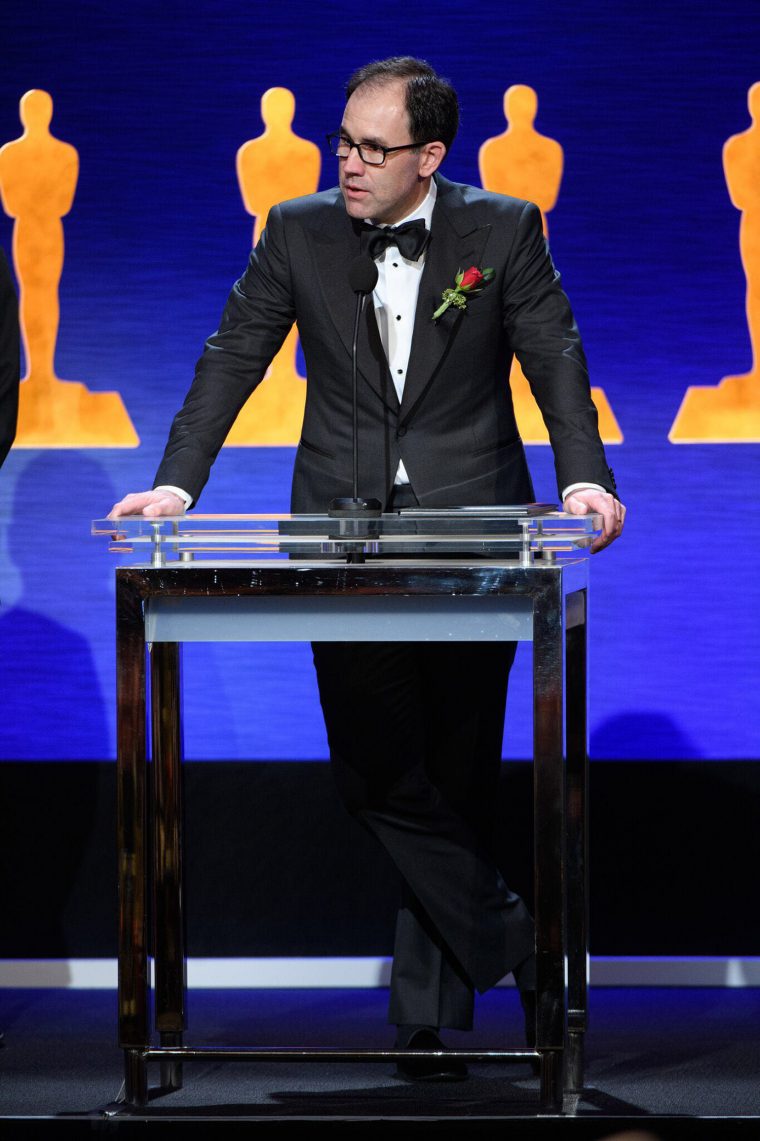 The Academy of Motion Picture Arts and Sciences (AMPAS) honored Eric Dachs '98, the founder and CEO of PIX System, with a Technical Achievement Award at its Oscars 2019 Scientific and Technical Awards Presentation on Feb. 9, 2019.
Since its creation in 2003, PIX System has become the entertainment industry gold standard in providing secure communication and content management capabilities. Dachs, a theater major while at Wesleyan, designed and coded the initial software early in his career when he was an assistant to sound designer Ren Klyce for Panic Room. It was then that he saw the need for an easy, safe digital platform to share revisions and collaborate across locations.
Accepting the Oscar along with three members of his team—director of R&D Erik Bielefeldt, technical director Craig Wood, and Paul McReynolds—Dachs said, "For over 15 years, serving the exceptional talent in this industry has been a profound honor. We are humbled and grateful to the Academy for recognizing our efforts." Among those he thanked were clients, as well as the open-source community "whose often unrecognized critical efforts make PIX possible," and family and friends.
Dachs's PIX System was used in production of eight Oscar-winning films this year, including A Star Is Born, Black Panther, First Man, Green Book, Roma, and Spider-Man: Into the Spider-Verse.
For Dachs, Wesleyan's creative liberal arts education was the basis for his achievement in technology and business. A transfer student, he focused on sound design in both film and theater, using analog and the then-new digital equipment.
"It was an incredibly inventive period," he recalls. "There were very few times I heard 'no' from a faculty member. It was always, 'Well, that's a great idea. How you going to pay for it?' or, "Okay, we'll fund this '92 Theater project, but in three months there better be a good show.' Boy, did we learn how to spend money effectively in order to produce something of quality."
After Wesleyan, he moved to the California Bay Area. His first position was apprentice sound editor on The Sixth Sense. Later, he landed a job as Ren Klyce's assistant for Panic Room, which was directed by David Fincher.
"It was a master class in state-of-the-art sound design," recalls Dachs. "I had a front-row seat for what it looks like to provide creative input to a master filmmaker."
It was also life-changing. From that vantage point, Dachs decided to change tracks: "I wasn't wired the way Ren was."
And in the space that thought created, Dachs asked himself: "Well, what else can I contribute?"
Back then, the early years of digitization were bringing a number of changes into the industry, with highly specialized teams and production taking place around the globe. Yet the collaboration was done in analog. "We would sit in a dark theater to watch the footage with the director and department heads. Time-stamp reference numbers ran at the bottom of the screen," he recalls.
"The director would shout out his notes, and we'd write those down on pieces of paper. As Ren's assistant, I'd distribute the key creative feedback by fax to the people who could act on it—the music notes to the composer in New York, the edit notes to the team in L.A., and the sound notes to Ren's facilities."
As industry budgets and time constraints tightened, Dachs started to wonder if technology could offer easier ways to collaborate. With only a little programming and coding experience, he bought himself two books, one on PHP, a programming language, and one on MySQL, a free, "very powerful" database, he says.
"So with a book in one hand and computer in the other, I began trying to write an application that would exchange all these notes in real time on the internet rather than having to fax pages back and forth. By the end of our work on Panic Room, Ren brought the director to our edit room with, 'Hey, you should check out this thing that Eric's doing.'"
Fincher was impressed and agreed to use it on his next film—which would not be until four years later.
In the meantime, however, many colleagues from Panic Room began working on the Lord of the Rings trilogy and took Dachs's app with them, transferring files between locations in New Zealand and the U.S. PIX System began to gain traction as Dachs added more features and tweaks to his design.
An ad on Craigslist netted him two computer scientists to hire. "The Berkeley grads came in, took one look at my code, and said, 'Look, we're going to throw this all away and start from scratch.' I said, 'Great!' And they are still with the company 15 years later."
Dachs considers his years at Wesleyan to be key in shaping his unexpected career path. "What's great about Wesleyan is you're not stopped by what you don't know, you just go jump in. It's, 'Okay, well you don't know how to program? Fine. Get a book. Get started. Find a friend who can help you out.' I think that's the essence of what is wonderful about the place and what I was able to bring into my career."
He also notes that his father, Alan Dachs '70, P'98, Hon. '07, has not only been a tremendous advisor but also served on PIX's board of directors since its inception. His father's impact on both him and the company has been immeasurable. Teamwork is essential in creating film and theater; this was an integral part of the younger Dachs's Wesleyan education, and it is a value that he cherishes today.
"Here's the metric we use for success at PIX," he says. "The greatest compliment that a production can give us—as a 'vendor'—is that they feel like we're part of their crew. That is second to none."
Ask him for favorite scenes from films that his company has helped to create and he pauses, noting that their volume—nearly 4 billion feet of film—has made it very hard to keep track of such things.
However: "For inspiration, there's always one scene that I go back to, and it's a tiny one, a moment in Fight Club. One of Fincher's unbelievable skills is blending computer graphics with real world, so that it feels very seamless.
"In Fight Club, he's talking about our consumerism as a culture," explains Dachs, recalling a scene that starts in what feels like outer space, but with trash floating through it. The camera pulls back farther and farther, until we see that we're in an office waste can, with its used Starbucks cup and other crumpled paper that's been thrown away. "The space-bloop noises we've been hearing begin to resolve into the sounds from that old IBM professional phone system, and we realize we're in one of those offices where careers go to die."
Dachs keeps that scene on his computer. "At times when I'm getting particularly frustrated with something at work, an idea we can't seem to communicate, I go back and I watch that. Then I remember, 'This is what we're trying to serve with the work that we do; let's just take a beat and go back to that sort of brilliant little moment, of which there are many, many, many—again, and again, and again—across all these types of different films that we are allowed to participate in."