Yannatta '91: Opium Moon Wins Grammy on Her Be Why Music Label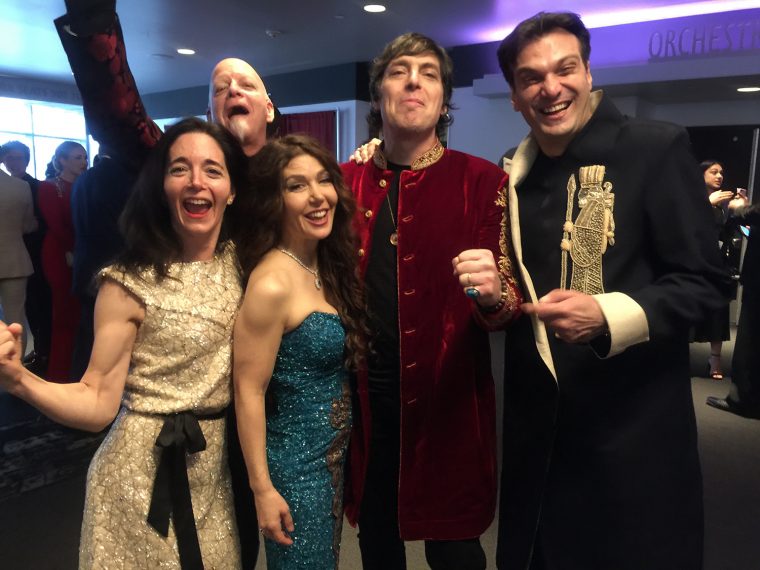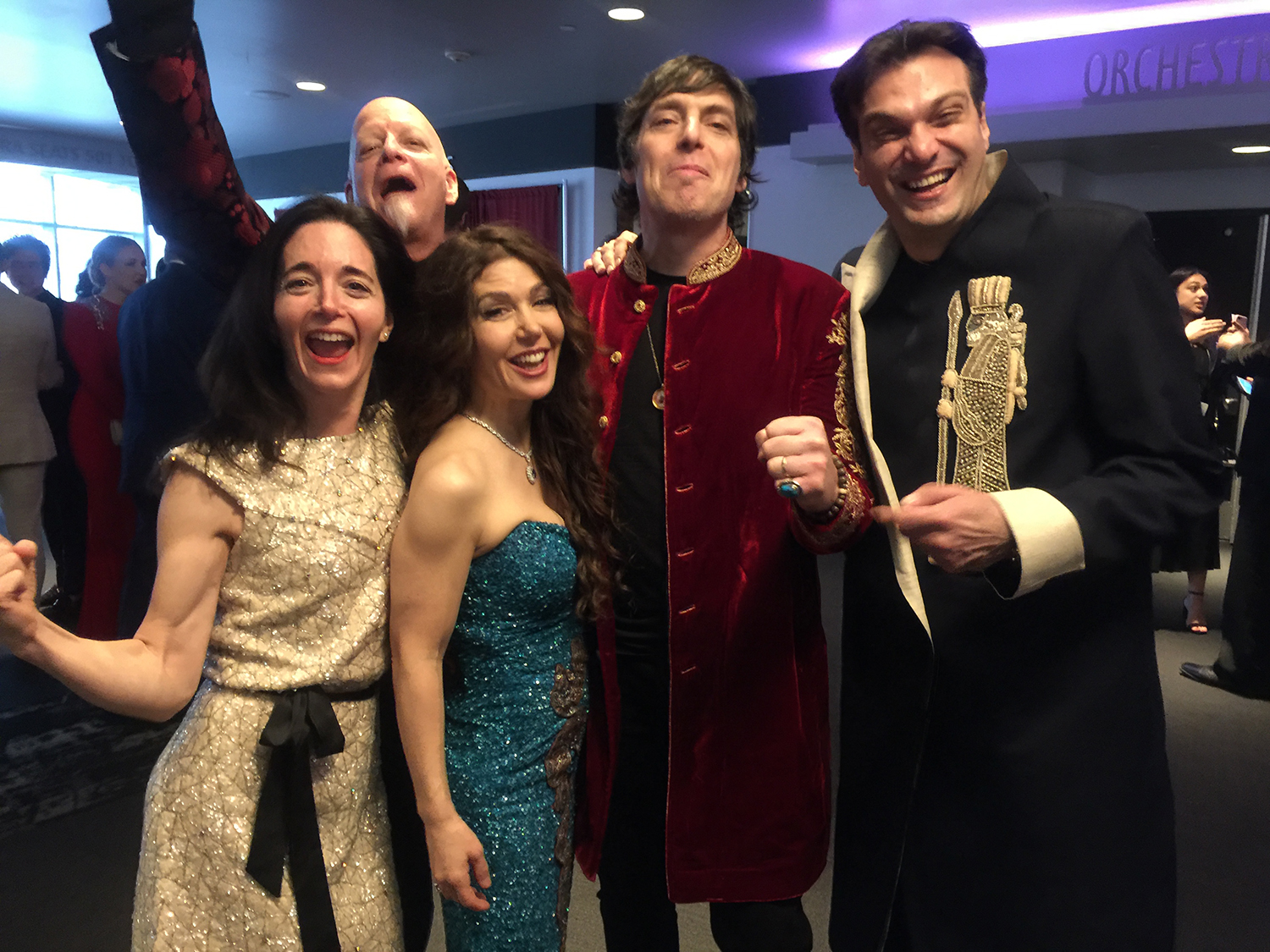 When Opium Moon won the Grammy Award for the Best New Age Album this year, "Thank you, Julie Yannatta…" were the first words from singer/violinist Lili Haydn's lips once she reached the stage.
Yannatta '91 is founder and owner of Be Why Music, the label that released the self-titled debut album by the eclectic band—Lili Haydn on violin/voice, Hamid Saeidi on santoor (Persian hammered dulcimer) and voice, M.B. Gordy on ancient percussion, and Itai Disraeli on fretless bass. Their haunting music draws from each member's cultural traditions: Iran, Israel, Canada, and the United States.
Yannatta, with a career path as eclectic as the roots of this music—a lawyer and musician who moved back to the States from Finland in 2005—calls the variety in her pursuits "the gift of my Wesleyan education: my absolute fearlessness to do whatever it is I'm inclined or excited to do."
This is the second time in three years that Yannatta has heard her name from the Grammy stage: In 2017, another new age collaboration, White Sun, won for their new age album on Be Why Music. That year, theirs was the only album Yannatta produced after a long hiatus, recovering from a 15-foot fall from a ledge. Two of the three musicians in that group had been her Kundalini yoga teachers, a practice she had begun pursuing to help her heal.
This year, friends took a photo of Yannatta, index finger poised Midas-like against the large Grammy statue. "My golden touch," she explains, marveling at the unequivocal acclaim her artists have received, an indication that their music and message is having a profound impact.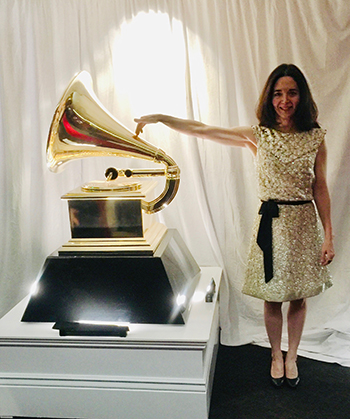 Talking on the phone about these successes, Yannatta's voice is unhurried, her cadence relaxed, yet her words hold a rigor: deep commitment to the quality of intention that is at her core.
"I'm coming to realize as I get older that there are no coincidences. As my grandma used to say, 'What is to be, will be.' Of course, I did my best, and I brought all that I had in the moment into the release of the album. I knew that their music had given me what I call 'the goosebump effect.' I loved the members of the band, and we went out into the world and shared it and won the Grammy."
Yannatta was no stranger to working with musicians. She'd formed a band in Finland, put out a few albums, and had begun to work in the business sector of the music industry when she'd returned to the States. In 2007 Amnesty International enlisted her, along with Jeff Ayeroff P'10, to oversee the creation of their benefit album, a collection of John Lennon cover songs called Instant Karma: The Amnesty International Campaign to Save Darfur. The organization called on the duo again in 2012 to celebrate Amnesty's 50th anniversary with a 76-song collection of covers called Chimes of Freedom: The Songs of Bob Dylan Honoring 50 Years of Amnesty International. The New York Times lauded that effort for the unprecedented high number of well-known artists across genres who took part in the project, like Miley Cyrus, Adele, Maroon 5, Kesha, K'naan, Lenny Kravitz, Ziggy Marley, Patti Smith, and Pete Seeger. Yoko Ono and Bob Dylan donated their publishing rights for the albums, which together have raised over five million dollars.
Asked whether she had found Opium Moon, or they had found her, "It's a little bit of both," Yannatta says. It was a connection through Amnesty International. Invited to an event for the organization hosted by Hans Zimmer, the film score composer and record producer, Yannatta met Lili Haydn, also an Amnesty supporter.
"We know a lot of the same people," explains Yannatta, "and about two years ago a mutual friend, an executive in the music business, called me and said, 'You have to talk to this woman. She has beautiful music, but it's not in my creative wheelhouse.' And I said, 'Who is it?' And she said, 'Lili Haydn.' And I said, 'Lili?!' So I listened to the music, and it was beautiful, but it wasn't ready, and I wasn't ready. We had a couple of meetings, and she sent me some music. I think it was after the third meeting when I had my goosebumps. The first thing for me in any music I release is that it gives me those goosebumps, and then I go from there."
When Opium Moon was released in July of last year, NPR music critic Bob Boilen wrote: "It's a rare pleasure to find music that gives me pause, slows me down from the daily deluge and gives me a moment to think. That's exactly what happened when I first heard 'Caravan' from Opium Moon's self-titled, debut album. This music with violin, santur (a hammered dulcimer,) ancient percussion and bass is spacious and timeless."
"I'm humbled and honored to have contributed to Opium Moon's release into the world," says Yannatta. "Their music is exquisitely beautiful, and its message of inclusion beyond the boundaries of race, religion, state, takes a stand for peace and love and freedom and against war. For building bridges, not walls.
"Music has a way of reminding us both of who we are and who we strive to be. That's one of its powers, perhaps its strongest power. Opium Moon is tolling the bells to remind us of that."