Wesleyan Community Walks in Middletown's Inaugural Pride Parade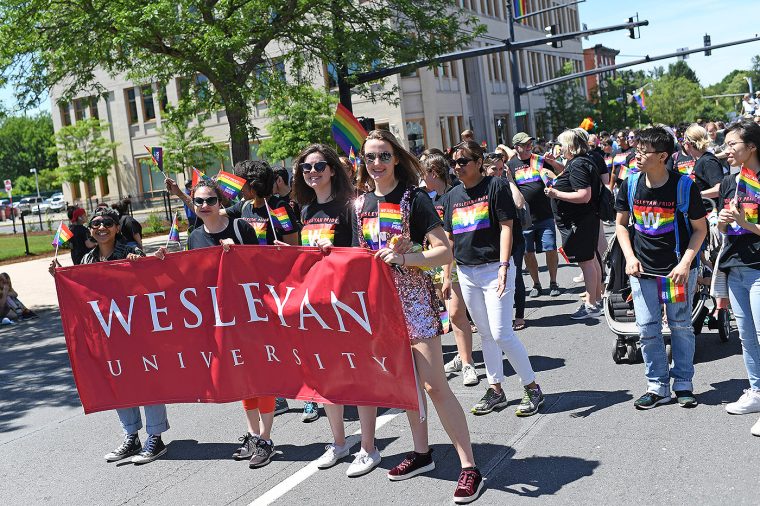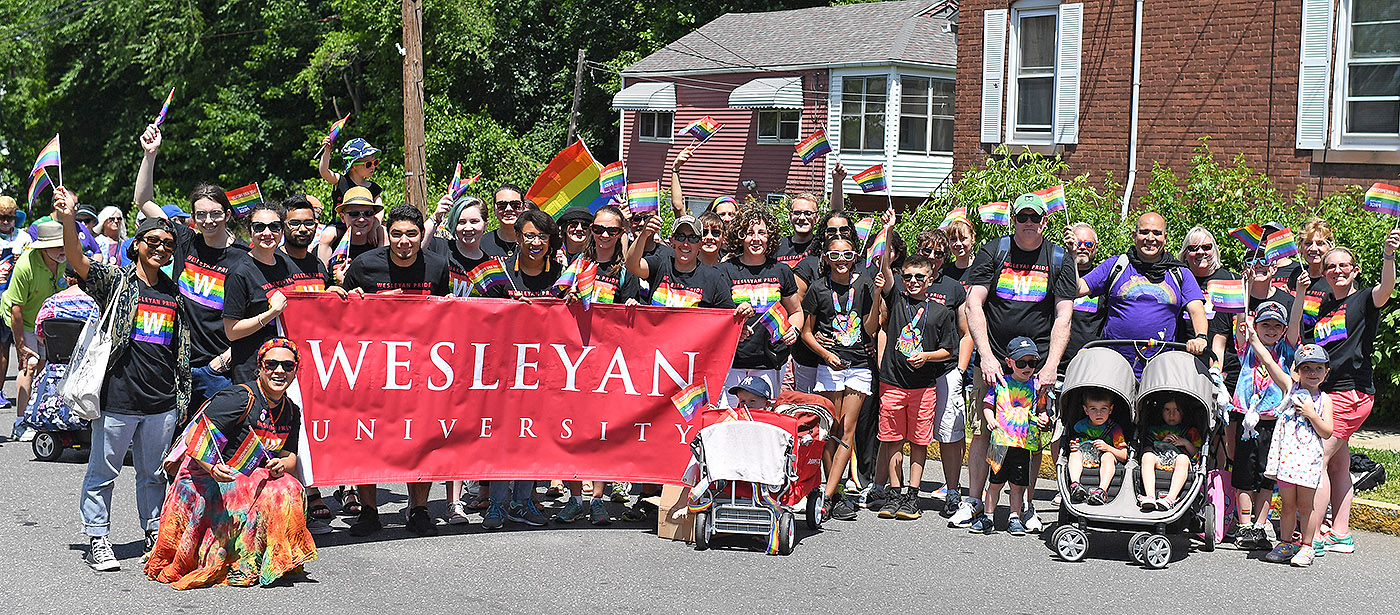 In celebration of Pride Month, more than 50 members of the Wesleyan community showed their support for LGBTQ communities by participating in Middletown's inaugural Pride Parade on June 15.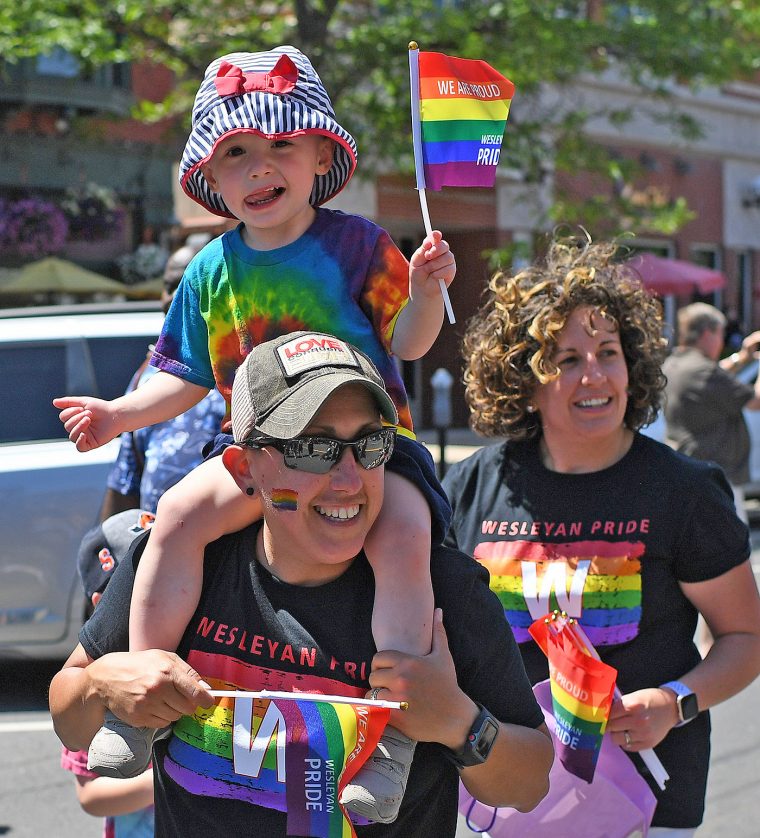 The parade was jointly coordinated and sponsored by the City of Middletown, the Middlesex County Chamber of Commerce, and Wesleyan University. In 2018, the City of Middletown formed an LGBTQ advisory committee to work on the inclusion of Middletown's lesbian, gay, bisexual, transgender and queer/questioning residents.
The parade stepped off at 2 p.m. at St. John's Square and proceeded down Main Street to Union Street. A festival on the South Green followed the parade.
Sitting atop her "ba's" shoulders, 22-month-old Nora Cruz proudly waved a rainbow flag while passing by thousands of cheering spectators lining Main Street. Nora and her 3-year-old brother, Colin, participated in the Pride Parade with their parents Tara and Chris Cruz. Chris, a 17-year Wesleyan employee is manager of fire safety.
"I have always felt like I could be myself at Wesleyan and being able to march as a Wesleyan employee who is gay was an awesome feeling," Cruz said. "My family and I marched not only with other members of the Wesleyan community but with some of our closest friends and we had so many family members and friends at the parade celebrating with us all. It was just an amazing experience and such a great day to be a part of."
Laura Patey, associate dean of student academic resources, helped coordinate Wesleyan's efforts in the parade. She has participated in similar parades in Boston and New York and "knows the power of being at events that celebrate the richness of the LGBTQ community," she said.
"I was thrilled when I heard that Middletown was hosting a Pride Parade and even happier when I found out that Wesleyan was a sponsor for the event," Patey said. "It was wonderful to share this experience with family, friends, students, staff, faculty, and alumni."
Sporting a Wesleyan Pride t-shirt, Penney Jade Beaubrun, assistant director for alumni and parent relations, marched with the Wesleyan group to demonstrate her support for the LGBTQ community. En route, she distributed Wesleyan Pride flags to dozens of parade-goers.
"This (parade) is history in the making," she said. "The first-ever Pride Parade in Middletown gave us an opportunity to show that we are proud to live in a diverse town. The celebration was a testimony of how far we have come and proves that together we are a force to be reckoned with!"
If the parade becomes an annual event, Kian Caplan '21 hopes to see more of Wesleyan's LGBTQ community participate and band together.
"I think that the parade has little to do with sexuality/gender, but rather marks a moment when we can celebrate together our triumphs as a minority (especially those while still discovering who we are)," Caplan said. "To me, it has to do with celebrating the strength we've attained from accepting we are different and overcoming commonly shared adversity, whether that be bullying in school, discrimination, or violent hate crimes, among others. It's a moment when we can show the world that we have bested whatever shit the world has thrown at us and proudly walk down the street in our own skin."
This year also marks the 50th anniversary of the Stonewall Riots, which led to gay liberation movements and LGBTQ rights in the United States.
Photos of the Pride Parade and Wesleyan participants are below: (Photos by Olivia Drake)