Olin Library Receives Romare Bearden Donation in Honor of Director of Special Collections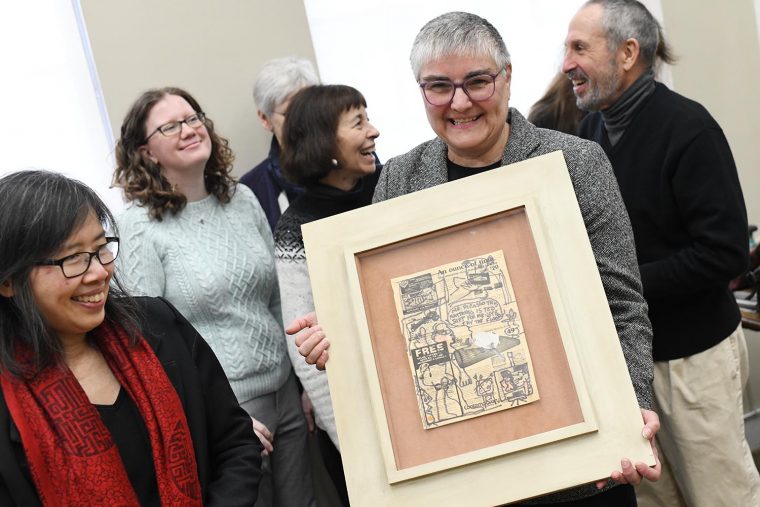 On Jan. 28, Wesleyan's Olin Library acquired a rare collage created by 20th-century American artist Romare Bearden.
Bearden (1911-1988) is best known for his abstract, Cubist-style paintings and photomontage compositions which often make social statements. Bearden also is remembered for supporting young, emerging artists.
Titled MR. PICASSO and measuring 27 by 20 centimeters, the piece was gifted to Olin by Barry and JoAnne Scott, antiquarian and rare booksellers from Rhode Island. The Scotts made the donation in honor of Suzy Taraba, director of special collections and archives, with whom they've worked for many years. Bearden himself originally gifted the collage to Patricia Apatovsky, a Long Island, N.Y., printer, artist, and book illustrator.
Several Olin employees attended the donation ceremony, including Andrew White, Caleb T. Winchester University Librarian; Jennifer Hadley, library assistant for World Music Archives; Amanda Nelson, university archivist; Linda Hurteau, library assistant for the Science Library; Claudia Wolf, library assistant and accounting specialist; Maggie Long, special collections cataloging librarian; and Jenny Miglus, preservation and special collections librarian.
The artwork is now part of Olin Library's Special Collections and Archives, and will be displayed there during the spring semester.
"Bearden has long been one of my favorite artists, so I am thrilled by Barry and JoAnne's wonderful gift in my honor. This is extremely meaningful to me in so many ways," Taraba said.
Photos of the dedication are below: (Photos by Olivia Drake)