Hatch Pens Book on the Secret Use of Drugs to Control Captives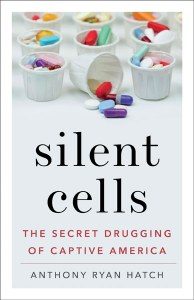 Anthony Ryan Hatch, chair and associate professor of science in society, is the author of Silent Cells: The Secret Drugging of Captive America, published by the University of Minnesota Press in 2019.
The book offers a critical investigation into the use of psychotropic drugs to pacify and control inmates and other captives in the vast US prison, military, and welfare systems.
According to the publisher:
Anthony Ryan Hatch demonstrates that the pervasive use of psychotropic drugs has not only defined and enabled mass incarceration but has also become central to other forms of captivity, including foster homes, military and immigrant detention centers, and nursing homes.

For residents of state-managed institutions, the American Dream too often has been warped into a drug-addled nightmare. Combining novel insights supported by rigorous scholarship with fresh, accessible writing, Hatch presents a powerful indictment of imposing psychotropics upon the caged powerless, building an unimpugnable case that unveils a deeply troubling pattern and also affords us the chance to end it.