Alumni Collaborate on Tapestry of Music Benefit Concert for Guatemalan Women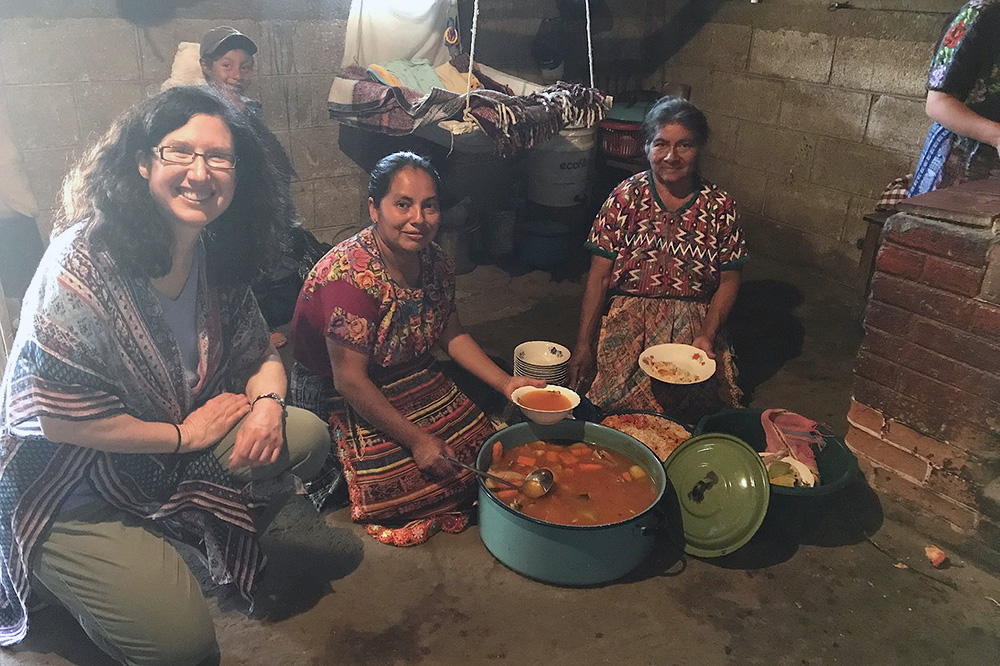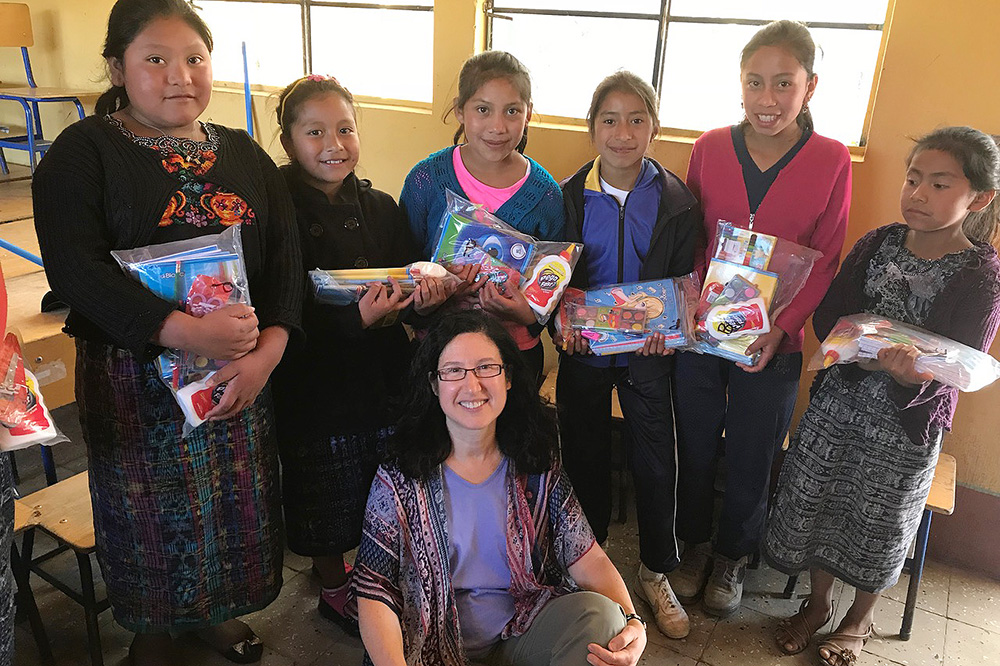 When Diane Goldstein Stein '81, P'16,'21 traveled to Guatemala for the first time in 2018, she became acquainted with a non-profit that empowers indigenous female artisans. The organization, MayaWorks, helps girls, women, and their families achieve self-confidence and economic stability through various financial and educational initiatives.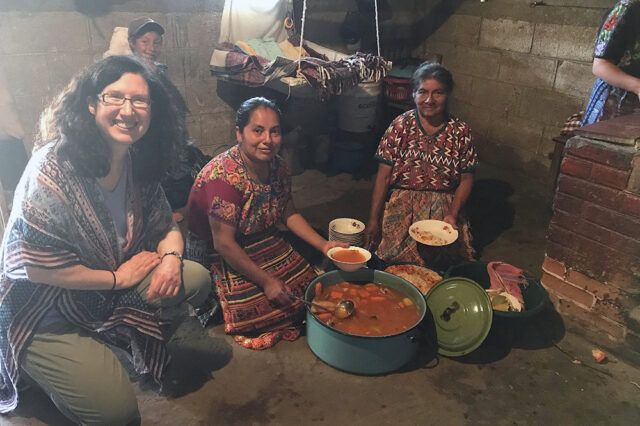 "Seeing the gorgeous and colorful tapestries and other items that they handcrafted wowed me," Diane said. But so did their kind-hearted, warming personalities. "They're making lunch for us [while] we're meeting their friendly, polite, and affectionate children. They melted my heart. And that was just the start."
In 2020, Stein, who had befriended many of the MayaWorks members, learned how hard the COVID-19 pandemic affected the artisans from the lack of tourism and thus a decrease in tours and artisanal sales. From her home in Allentown, Pa., she decided to take action. She held a COVID Emergency Relief Fund drive to continue supporting the organization while also facilitating the launch of MayaWorks's new website, created by volunteers.
But Stein's biggest show of support for MayaWorks is creating a virtual benefit—The Tapestry of Music concert—on Feb. 27.
"With all great challenges, there come great opportunities, and all of us who are volunteering to help MayaWorks get a boost into a more economically sustainable future feel very blessed to be doing this work, meeting very special people—both in Guatemala and here in the U.S.—along the way and gaining precious experiences," Stein said. "This benefit concert is truly a labor of love." 
The Tapestry of Music concert, organized by Diane Stein alongside her daughter Lisa Stein '21, who serves as the benefit's director, aims to raise funds to support educational opportunities for indigenous Maya women in Guatemala, as well as their female descendants. The concert will feature performances from musicians around the globe, including from Argentina, Brazil, China, Eastern Europe, Guatemala, India, and Trinidad and Tobago. Diane and Lisa, both of whom majored in music, have harvested their Wesleyan connections and have several Wesleyan graduates or current students scheduled to perform, including graduate student Suhail Yusuf Khan, Briele Rene Scott MA '20, Tong Kong '20, and Matthew Stein '16, who is Diane's son and Lisa's brother.
"The MayaWorks artisans need the support of as many people as possible; through concert ticket sales, donations, and especially purchases of their handcrafted woven products; so that they can work as much as possible to support their families," Diane said. "MayaWorks provides scholarships and after-school classes to the daughters and granddaughters of the artisans so that they can further their studies, which has been tough during the pandemic with schools being closed until recently and most families not having cell phones or computers to make remote learning possible."
One hundred percent of the concert ticket sales, donations, and sponsorships will fund scholarships and tutoring activities for the girls and skill-building training for the women artisans.
Lisa, too, has been hard at work on the benefit. She spent the past several months conducting dozens of interviews with MayaWorks artisans and their children in order to weave individual stories together with international music, highlighting that Wesleyan prepared her to listen with her heart and to take on the responsibility of sharing people's stories through music.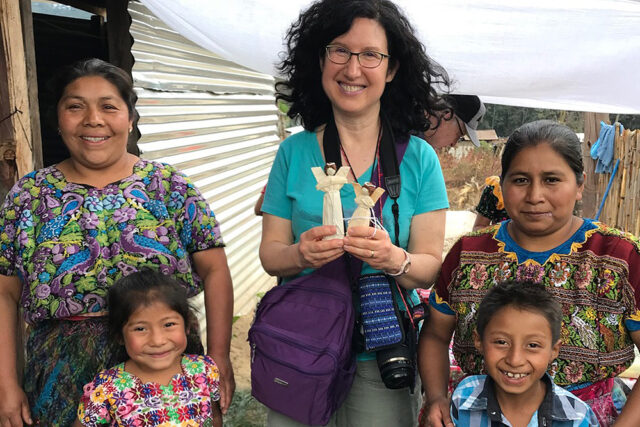 "This concert is a musical tapestry of songs and stories that uplift and support the Guatemalan women artisans and their daughters," Lisa said. "After spending hundreds of hours at Wesleyan studying everything from Central Asian opera to avant-garde jazz to South Indian percussion, I have developed both the desire to share non-Western music with new audiences and the ear to hear the silence between the notes and the story behind the story. Coupled with my experience studying religion, Wesleyan gifted me with the drive and the skills to dig deeper into the beautifully messy interconnectedness of every story."
Matthew Stein, whose klezmer trio, Baymele, will feature in the benefit, traces his musical roots back to Wesleyan, where he majored in music and computer science and played in a variety of international musical groups.
"In addition to being amazing music, this rich patchwork of musical styles was a lens into such a breadth of cultures from around the world," Matthew said. "I quickly learned that music is a universal language that allows us to cross national boundaries and deeply communicate not just musician-to-musician but also person-to-person."
Diane, too, has found her Wesleyan experiences invaluable to the undertaking of this project.
"When I think of my student years at Wesleyan, I think about celebrating diversity, working to help the world become a better place, and being exposed to world music for the first time," Diane said.
The collaboration on this benefit has been a pleasure for both mother and daughter.
"My mom has spearheaded important efforts like this since I was a toddler, but this is the first time we are really working together as adults," Lisa explained. "She's a powerhouse, and her unstoppably hopeful energy is ridiculously inspiring. It's been really special for us to get to support each other throughout this process. My brother is an incredibly talented and thoughtful musician, so it's exciting to get to share his spectacular Klezmer band in the concert."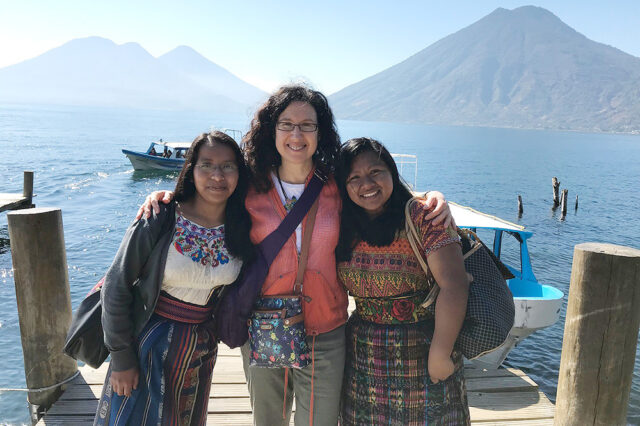 Diane added that Lisa's contributions have been vital to the success of the benefit.
"None of the rest of us would know what to do, especially as this is a virtual concert!" Diane said. "As Lisa recently told me, weaving the music and stories together into a flowing, beautiful, inspiring concert is like making a 'puzzle tapestry' for her."
Sharing a common love of music and Wesleyan, the Stein family has grown closer over planning this benefit.
"It's incredibly special to me that both my mother and sister are also Wesleyan music major alums, and that we share this distinctly Wesleyan-influenced worldview," Matthew said. "I'm inspired by the hundreds of hours of time and love they both are putting into organizing this event."
Diane additionally expressed her desire to work with other interested Wesleyan alumni on this project and hopes some will want to get involved.
Until after the concert, however, both Lisa and Diane are channeling their energy to supporting the MayaWorks community through music and storytelling with the hopes that ticket sales and donations will provide a layer of financial security for the non-profit.
"I love that this organization enables the stunning work of these women's hands and hearts to provide for themselves and their families," Lisa said. "There is a beautiful mutuality about the community that this builds, a giving and giving in all directions."
The Tapestry of Music Concert will take place online at 4 p.m. EST.  For more information, contact Diane Stein at dianesgstein@gmail.com.