In this continuing series, Annie Roach '22, an English and Italian studies major from Middletown, Del., reviews alumni books and offers a selection for those in search of knowledge, insight, and inspiration. The volumes, sent to us by alumni, are forwarded to Olin Library as donations to the University's collection and made available to the Wesleyan community.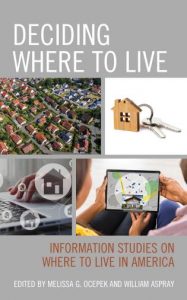 William Aspray '73, MA '73 and Melissa Ocepek (editors), Deciding Where to Live (Rowman & Littlefield, 2020)
In the past year, our choice of residence has become more crucial than ever. In fact, the pandemic has caused many people to house-hunt, pack up and move away, ready for a change of scenery. Deciding Where to Live, edited by William Aspray and Melissa G. Ocepek, comes at a timely moment, as it is a comprehensive guide to some of the more elusive and less recognized aspects of deciding where to call home. The two editors and 11 authors rely heavily on information studies to ground their logic, focusing on specific case studies that demonstrate the various ways in which humans interact with information and how these behaviors affect real estate. The book also explores social and cultural factors involved in decision-making, drawing on race and gender studies, as well as addressing the impacts of the pandemic. Therefore, the work seamlessly combines a variety of disciplines—while it is centered on information studies, the authors also draw on scholarship in psychology, sociology, political science, and more.
As informational as it is thought-provoking, the book compels readers to understand recent shifts in real estate that have been affected by contemporary realities like social media, the internet, and the pandemic. Readers will be drawn not only to the facts and statistics, but also to the cultural and social deep-dives in several of the sections.
William Aspray '73, MA '73 is a senior research fellow at the Charles Babbage Institute at the University of Minnesota, Twin Cities. Prior to his current position, he was a senior faculty member at various information schools, including the University of Indiana (Bloomington), the University of Texas (Austin), and the University of Colorado (Boulder). He earned a BA and MA in mathematics from Wesleyan, and his interests include computer history, information history, everyday information behavior, information policy, food studies, and broadening participation in computing.