Koeppel Fellow Jacqueline Rabe Thomas on the importance of community-based reporting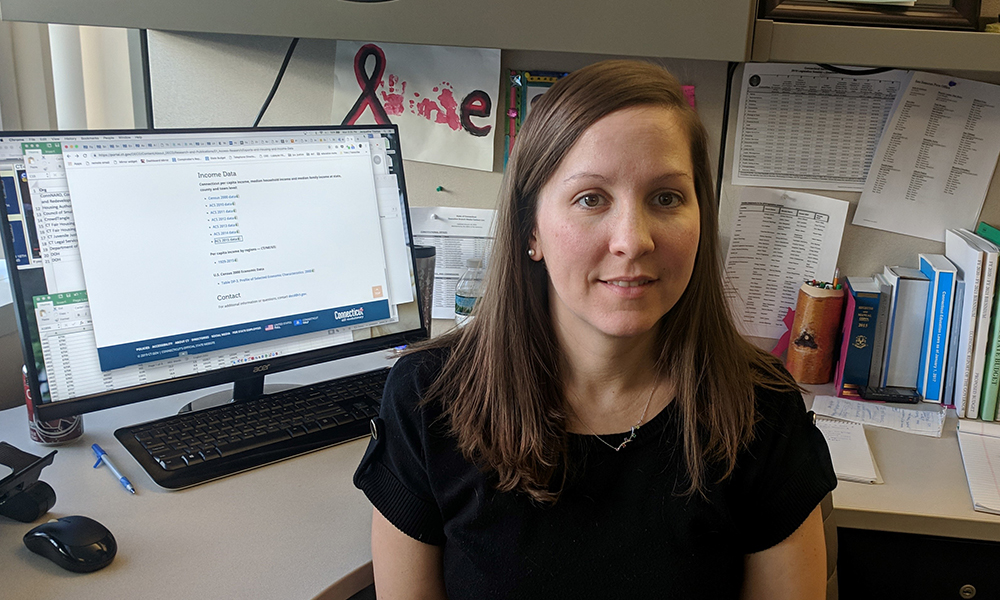 Community-based, data-driven stories are Koeppel Fellow Jacqueline Rabe Thomas' bread-and-butter. Instead of walking into a pitch meeting with a defined story arc, as is often required in the modern media landscape, Thomas prefers to come in with a general topic to take to community members and find the story from there.
"Community-based reporting is sort of just standing on the sidelines and observing what's happening. Listening to people at community meetings or the park or wherever, staying attuned to the Facebook groups that are the communities in the areas you're serving, and then determining what the story is," Thomas said.
Thomas' fellowship has given her an opportunity to do something new in addition to her reporting. Thomas is now teaching a class, CSPL 299: The Rest of the Story: Techniques for Investigative Reporting.
She also weaved her own work into a workshop on writing for a general audience for faculty and staff on March 9. She gave faculty tips on topics like incorporating data sets into written work and how to trim excess words to clarify points. She also conducted another workshop earlier this semester on the daily life of an investigative reporter and how stories topics are chosen in media.
This kind of work can be grueling and takes heavy research and topic-specific knowledge at times. Sometimes it takes 10 hours of research, interviews, and context conversations for just a sentence or two in a story. Other times, it takes months, Thomas said.
"It took a lot of work, months of work," Thomas said. "Thousands of emails, easily, back and forth, of trying to get these records. At the end of the day, it was just two sentences of a story."
For a package of stories on the expiration of housing vouchers in Connecticut for CT Insider in November, Thomas surveyed each of the over 40 housing authorities in the state. It took months working with each housing authority to finally have the complete picture. The result: Thomas found that half of the total vouchers issued in the state in recent years expired before recipients were able to get adequate housing to make use of them.
The survey led to just two sentences of text in the story, but the impact of those sentences could be much broader. Several bills were filed in the state legislature to address issues in the housing voucher program after her piece ran, some of them citing her story and research directly, she said.
"It's sometimes infuriating that you spend four or five days for one sentence, but it also is sort of the lead of your story and why you're writing the story in the first place," Thomas said.
This type of reporting allows her to tell the story of the PTO mom whose child is impacted by cuts to art programs rather than the Board of Education member making the cuts. She says it helps put the focus on the community instead of those in power making the decisions for their constituents.
Thomas said it's "really important" for people to hear how journalists come up with stories and how they get written.
"Whenever given the opportunity, I love explaining to folks how we do our job, what responsible journalists do to make sure we get the story accurate and the due diligence that we do," Thomas said.