Hiroshima Bombing Survivor Toshiko Tanaka Shares Her Story of Tragedy and Resilience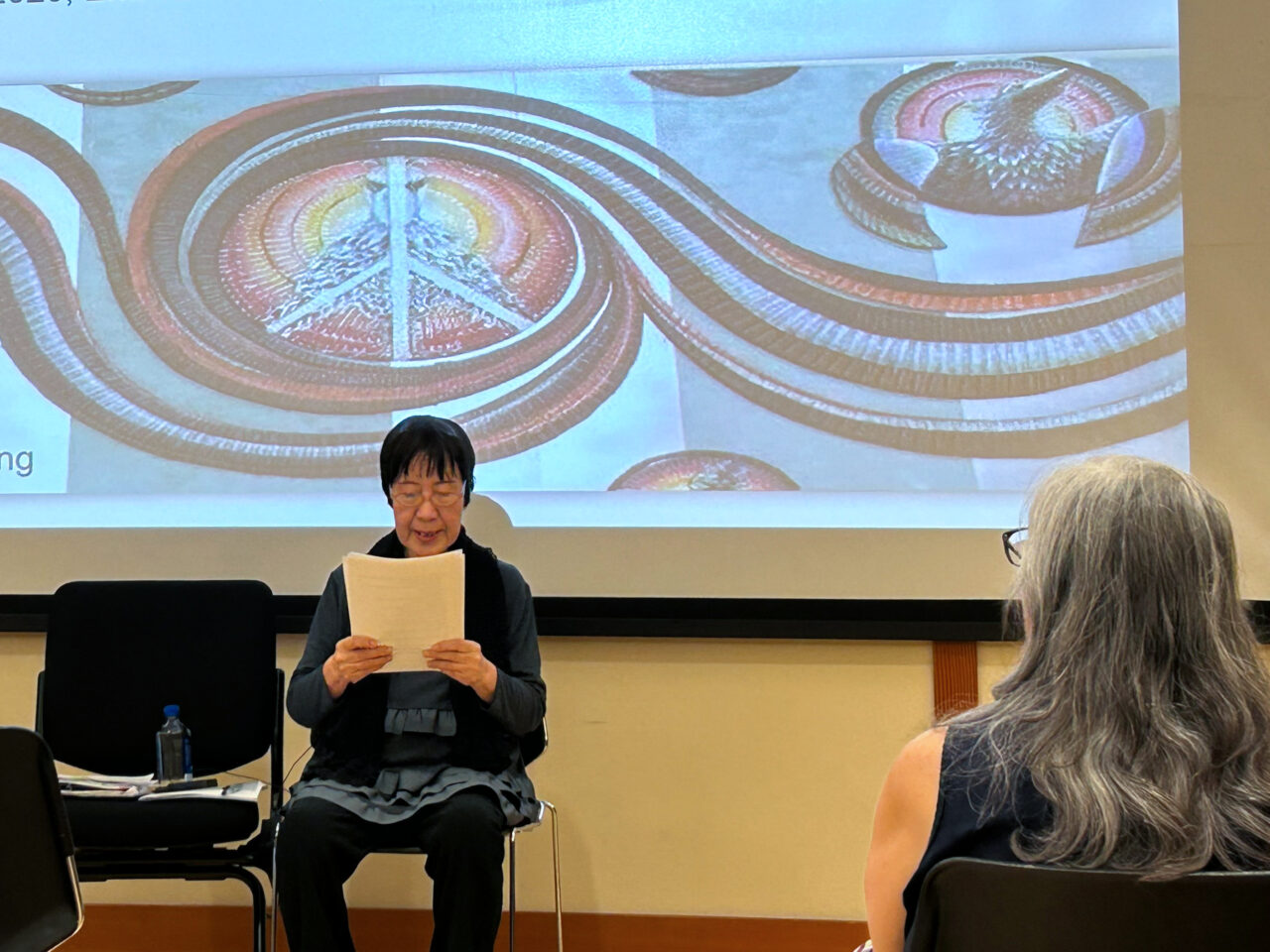 On August 6, 1945, Toshiko Tanaka was a six-year-old on her way to school in Hiroshima, Japan, when, at 8:15 a.m., she looked up and watched the sky overhead turn blinding white.
Tanaka didn't talk about what happened next for more than 60 years: the burns that rendered her unrecognizable to her own mother, the corpses on the city's riverbanks, the illnesses that struck down seemingly uninjured survivors, and the once-unimaginable devastation made real after the US dropped an atomic bomb on Hiroshima—the first of two times nuclear weapons have been used in conflict—near the close of World War II.
"I thought people will not understand," said Tanaka, now 84. "I was not able to talk to anybody about my personal experience of the atomic bombing, not even to my own family."
In front of a packed audience at the College of East Asian Studies' Mansfield Freeman Center on April 6, she recalled that fateful day as well as the life of grace, creativity, and advocacy that followed in Surviving Hiroshima: Testimony from an Atomic Bomb Survivor. Fifteen years after first opening up, Tanaka, an award-winning professional artist, has traveled to more than 80 countries to share her story and work toward a world without nuclear weapons.
"It was very hard to forgive [Americans] for all the suffering caused by the atomic bomb, but I now believe that hatred only creates a chain of hatred," Tanaka said. ". . . Humankind needs to make every effort to cut up this chain of hatred, and instead have love toward humanity as a whole."
With a mushroom cloud rising and with severe burns to her head, neck, and arm, Tanaka returned to her family's damaged-but-habitable residence. They'd been living in a home 500 meters from the hypocenter—the point directly below the bomb's detonation 2,000 feet in the air—before relocating to a residence 1.4 miles from ground zero the week prior. "Because of this, I am alive today," she said.
Tanaka remembers seeing mortally wounded victims walking in silent procession, arms outstretched and skin falling from their fingertips. Her family took in survivors: Tanaka remembers a teenager carrying her severely burned younger sister on her back. "The burned girl survived, but the older girl did not," Tanaka said. "She had been exposed to massive radiation." Tanaka fell unconscious for several days, and when she awoke, the air filled with the smell of bodies being cremated; more than 200,000 victims from the bombings of Hiroshima and Nagasaki, mostly civilians (as well as a dozen American prisoners of war), died before year's end.
Tanaka's family endured—"people are very strong and resilient, and we all made do somehow," she said—and her burns healed, but she later experienced other health problems likely related to the bombing, including cataracts, painful sores, and abnormal white blood cell count. Family members were afflicted with thyroid and colon cancer. Hibakusha, the Japanese word for survivors of the atomic bombings at Hiroshima and Nagasaki, suffered widespread discrimination and lingering anxieties. "My mother once told me that when I was born, the first thing my father had to do was to count my fingers and toes in order to make sure that I had no birth defects," said Reiko Tashiro, Tanaka's daughter, who accompanied her during the talk.
In the decades after the bombing, Tanaka found her way to the arts. She studied at institutions in Japan and New York and took to creating abstract, large-scale murals combining enamel and stainless steel. In 2008, while on a cruise with Peace Boat, a Japanese NGO that sends passenger ships to international destinations, a mayor in Venezuela convinced the then-70-year-old Tanaka to convey what she experienced out of a sense of responsibility to its victims.
"My generation," said Tanaka, who still lives in Hiroshima, "will be the last to talk about this event as direct witnesses."
Today, Tanaka now incorporates symbolism from the bombing into her art and travels widely to tell her story. Along the way, she became involved with organizations like the International Campaign to Abolish Nuclear Weapons, an organization that received the 2017 Nobel Peace Prize and pushed forward the Treaty on the Prohibition of Nuclear Weapons (TPNW), an international agreement aimed at eliminating nuclear weapons.
Though the TPNW went into effect in 2021, the threat of nuclear devastation has grown ever more urgent, particularly since Russia's invasion of Ukraine last year. Against that backdrop, Tanaka implored future generations to pursue diplomacy over militancy.
"If, in the future, there are disputes among the nations, please try to solve them with words instead of wars," Tanaka said. "Once we start wars, we can only see each other as enemies, not as humans, and we kill enemies with ease. Nuclear weapons will lead us to destruction. They are inhumane and should never be allowed on earth."