Wesleyan Students Present at NEURON Conference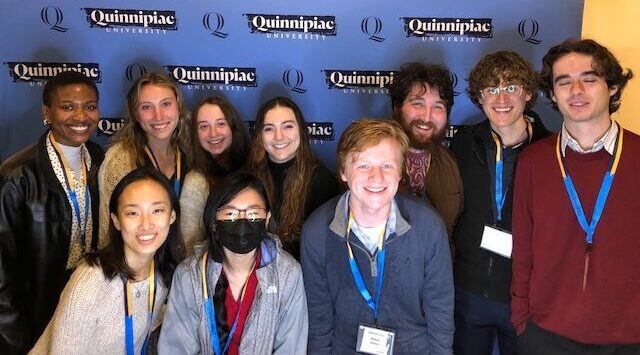 Wesleyan students from four research labs in the Neuroscience and Behavior program (NS&B) attended the 36th annual Northeast Undergraduate and Graduate Research Organization for Neuroscience (NEURON) conference at Quinnipiac University on April 23.
Students presented their research during the poster sessions and attended neuroscience-related workshops. They got the opportunity to meet faculty and students from other neuroscience programs throughout the region, and to discuss and get feedback on their work.
Professor Charles Sanislow, Chair of the Neuroscience and Behavior Program, said, "These kinds of opportunities offer students the experience of sharing their research efforts with the professional community, and highlight the richness of the teacher-scholar model in action. That multiple labs coordinated to attend this event made this a terrific and collectively shared experience among students in the program."
"This was a wonderful, student oriented, neuroscience conference covering all aspects of the field," Assistant Professor of Neuroscience Alison O'Neil said. "Everyone had a lot of fun seeing all the amazing research projects and getting to know their fellow NS&B majors from other labs. Overall, this was a great day of learning and community building."
Professor of Neuroscience Barbara Juhasz said the event reminded her of how beneficial these types of events can be for students. They provide opportunities for "networking, allow students to improve their presentation skills, and learn about new areas of research," she said.
She said students did "an excellent job" presenting their work to their peers and were enthusiastic and engaged throughout the conference.
"It's such a great opportunity for students to showcase their work and a moment to mark and celebrate all they've accomplished in their research," Assistant Professor of Neuroscience Youssef Ezzyat said. "By presenting their work and seeing the work of others, and asking and answering questions about the work, the students make their own contributions to the development of knowledge across the broader scientific community."
There were 10 students in attendance from the four labs. Student Daniel Stein represented Associate Professor of Neuroscience and Behavior, Biology, and Integrative Sciences Gloster Aaron's lab; Federico Somaini '23 represented Ezzyat's lab; Grace Devanny '23, Abby Frankenberg '24, Constance Hirwa '25, Wiralpach Nawabutsitthirat '22, and Meiwen Shao '23 represented Juhasz's lab; and Aidan Jones '23, Aaron Berson '24, and Phyllis Schram '25 represented O'Neil's lab.
POSTERS (Student attendees bolded):
Berson, A., O'Neil, A.L., & Aaron, G.B.: Examination of the N+/K+-ATPase pump as a target of cis-chlordane in sALS development.
Devanny, G.V., Frankenberg, A., Hirwa, C.L., Nawabutsitthirat, W., Shao, M., & Juhasz, B.J.: The Wesleyan Word Experience Project: How experience affects adults' recognition of words.
Jones, A., Van Deursen, S., & O'Neil, A.: Effects of the familial ALS-associated Superoxide Dismutase 1 A4V and C9orf72 Hexanucleotide Repeat Expansion mutations on astrocyte neurotropic and neurotoxic functions.
Nawabutsitthirat, W.: An eye-tracking study: How serif fonts affect reading online and on paper
Somaini, F., & Ezzyat, Y.: Boundaries between events shape human memory organization.