Banned Books Distributed on Freedom to Learn Day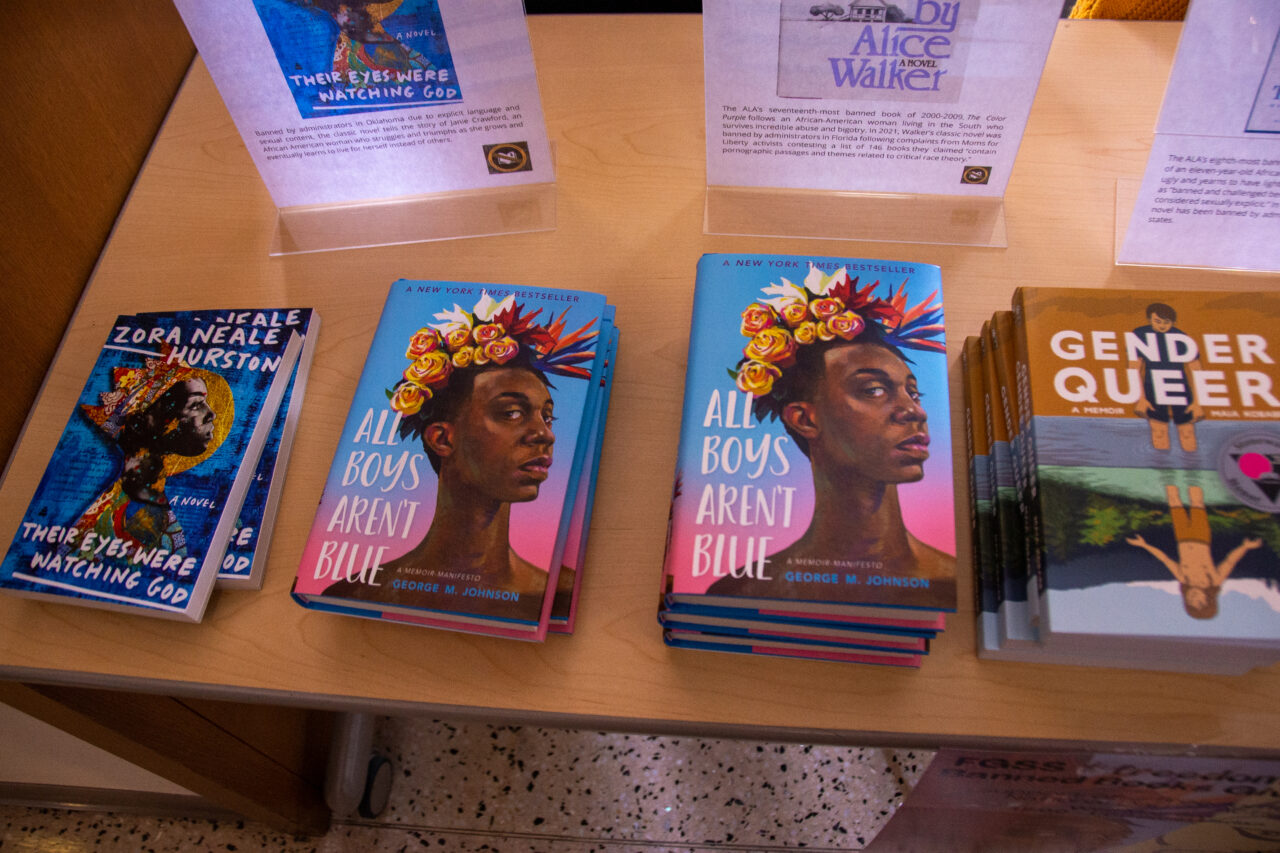 With access to knowledge under assault across the country, the Feminist, Gender, and Sexuality Studies department and the Shapiro Center for Creative Writing and Criticism struck a blow for the freedom to read whatever you like.
Last week, the departments hosted two banned book giveaways as part of the Freedom to Learn National Day of Action. On May 3, 2023, FGSS and Shapiro Center gave away almost 100 banned books to students, staff, and faculty.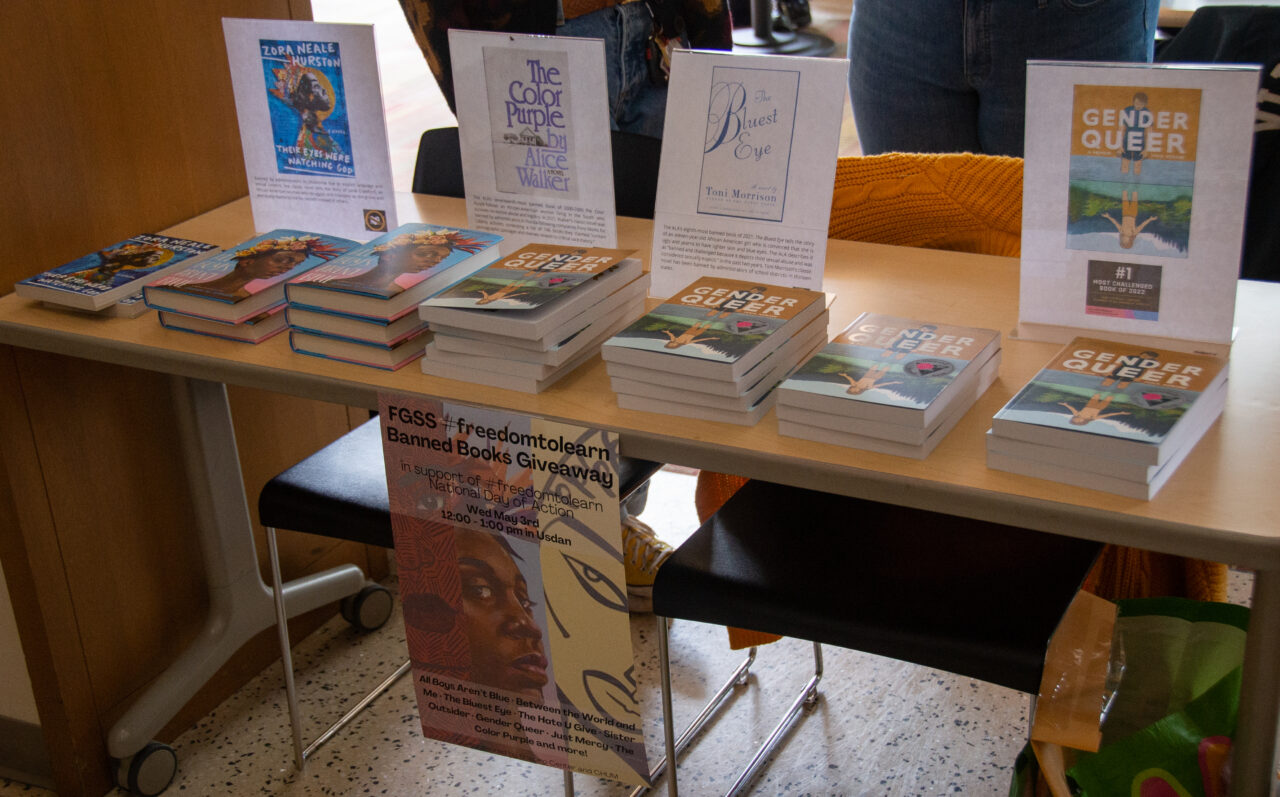 "These actions by FGSS and the Shapiro Center engage the university in a nationwide day of resistance against the banning of books that tell truths about gender, sexuality, and race," said Victoria Pitts-Taylor, professor of Feminist, Gender, and Sexuality Studies, who organized the event with Merve Emre, director of the Shapiro Center for Creative Writing and Criticism.
The books included George M. Johnson's queer of color memoir-manifesto All Boys Aren't Blue, Ta-Nehisi Coates' Between the World and Me, Angie Thomas' The Hate U Give, Just Mercy: a Story of Justice and Redemption, and titles by Toni Morrison, Alice Walker, Audre Lorde and Zora Neale Hurston. FGSS also gave away copies of the graphic memoir Gender Queer, at the top of the list of most banned books in the U.S. for the past several years.
Emre said students responded to the book distribution event with enthusiasm and profound concern. "We didn't want to give the books away without a discussion of why each one had been banned, which meant we spent almost an hour analyzing the dishonest rationales of conservative school boards and governors—the way they code, for instance, writing about both systemic racism and liberatory queerness as 'inappropriate,'" Emre said.
National Day of Action was created by the National Women's Studies Association, the African American Policy Forum, civil rights organizations, and other groups to collectively resist actions restricting free speech and education related to racial justice and gender and sexual freedom.
"Legislators in states across the nation are weaponizing education. They are not only banning books, but interfering in AP courses, preventing the teaching of African American history and gender studies, and censoring speech. The broader aim of these attacks is to quell movements for racial justice and to reverse the political gains made in recent years by gay, trans and other queer people. These attacks on learning undermine not only education, but democracy," Pitts-Taylor said.
"(The attacks are), perversely perhaps, a testament to the power of literature—that people are afraid of it and what readers can do with words," Emre said.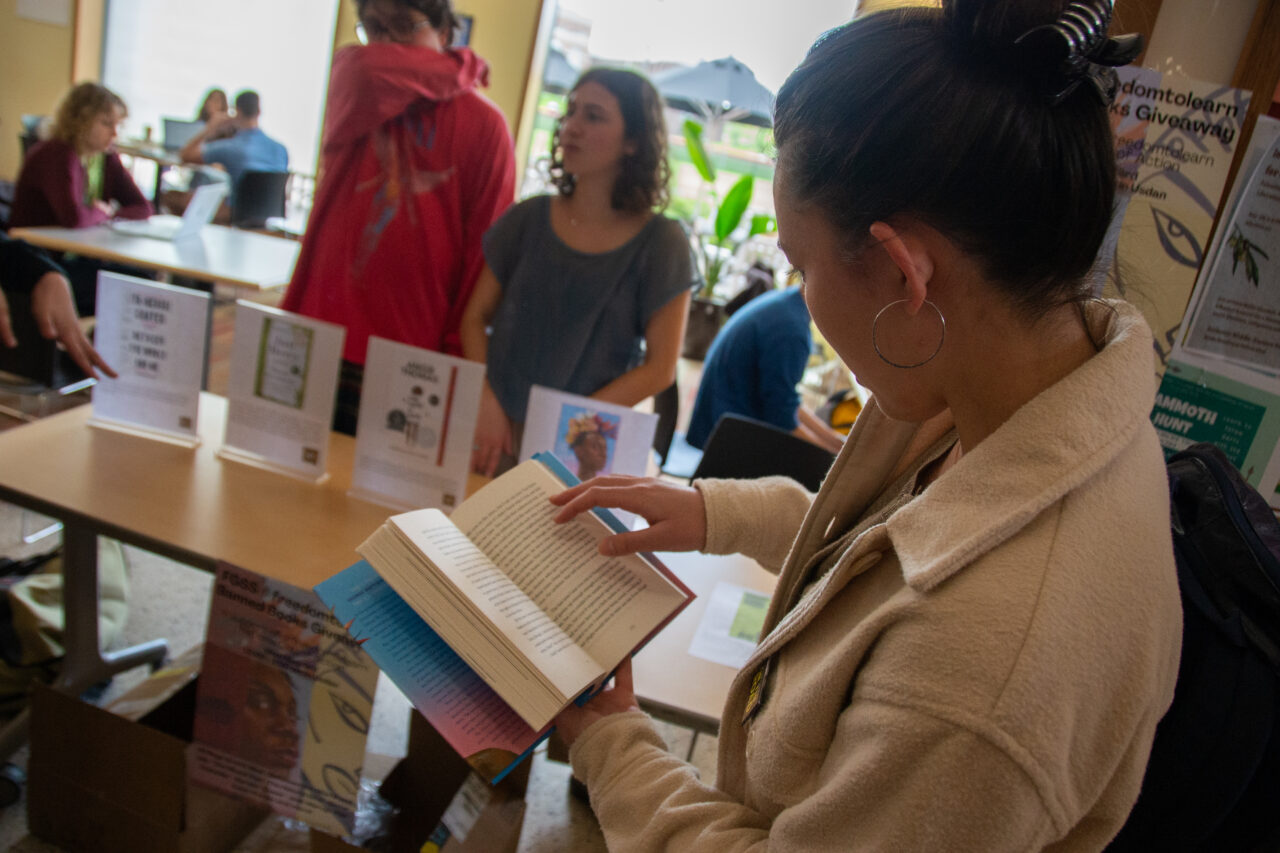 At Usdan University Center and at the Shapiro Center, students huddled around tables, selecting copies of books that would almost assuredly be removed from Florida schools. Chris Hadley '24 was pushing out as many books as possible in Usdan during the lunch time rush. With books, like the ones being given away, being challenged across the country, Hadley felt what they were doing was vital.
"I think the fact that books are being banned is a huge red flag for the way that we think about marginalized people, and about how other people are allowed to conceptualize them. (Because of the bans) they don't have access to their own stories. The books that we're giving out are all about liberation," Hadley said.
Hadley had already read most of these books being offered. One of the books had a personal meaning. "My mom actually gave me Gender Queer because she heard that it was banned. It was her trying to say, 'I see you trans kid, here's a book about you.' That was really sweet," Hadley said.
For Pitts-Taylor, it was the writing of Alice Walker and Audre Lorde that changed her life as a student. "Sister Outsider, a collection of essays by Audre Lorde, shaped my thinking about oppression and social justice when I was still in high school," Pitts-Taylor said.
The banned book distribution day was an act of defiance—and of affection for the written word. "I love books. I just shoved books in people's faces. I'm excited so many people who came to the table. I'm thrilled to see people walking away with the book in their hands. Whether or not they read them, maybe that book's going to be borrowed by someone else. We're just spreading them as quickly as we can," Hadley said.
"Writers and scholars have the same obligation we always have—to keep teaching, keep talking, keeping getting books in the hands of those who might not otherwise have access to them," Emre said.