Alumni Honored for Distinguished Achievements, Outstanding Service at Annual Meeting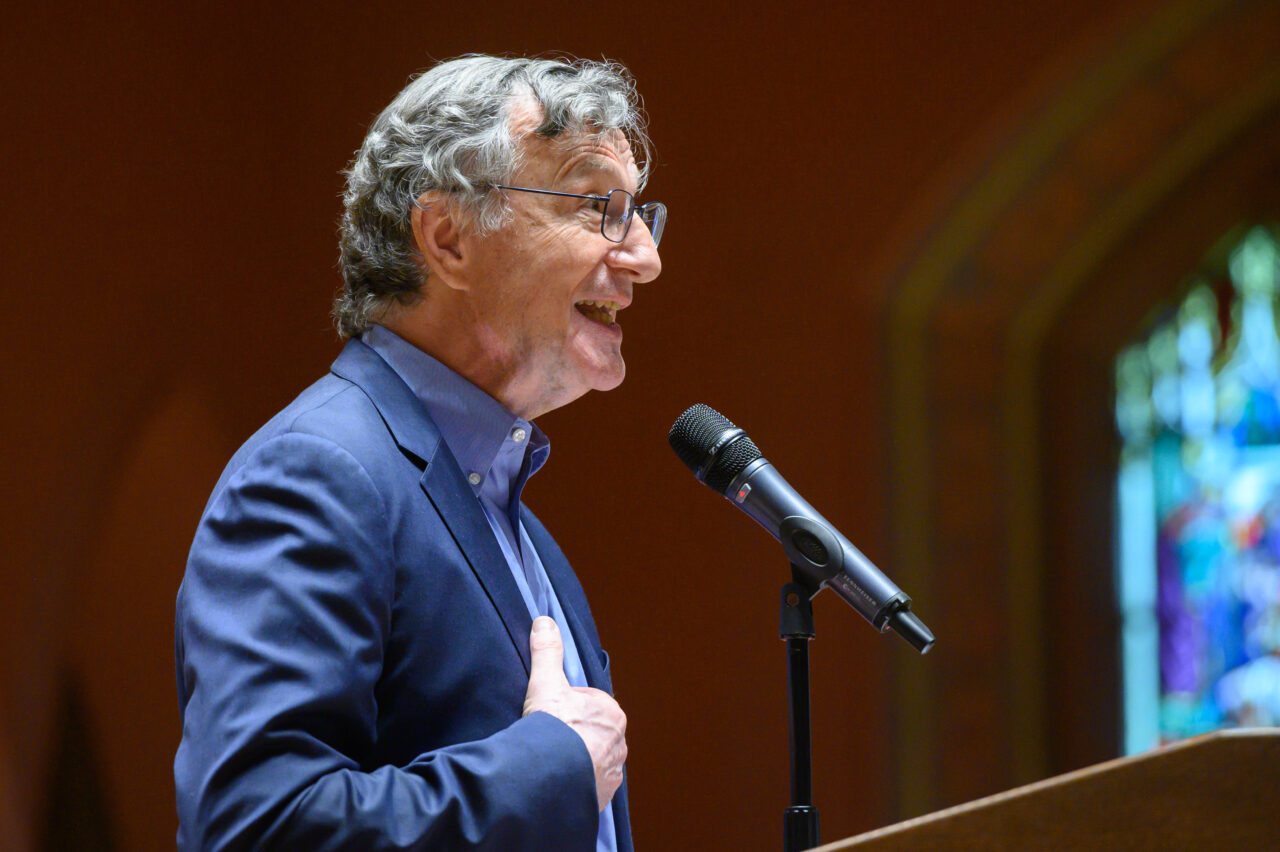 Wesleyan's Alumni Association gathered in Memorial Chapel for its annual meeting on May 27, electing new officers and honoring some of the University's most influential graduates.
The event began with remarks from Alumni Chair David Hill '86, who welcomed alumni back to their alma mater for Reunion Weekend and took a moment to acknowledge David Knapp '49, the eldest registered alumnus in attendance.
Three incoming Alumni Association officers were approved by the assembly for the 2023 slate: Ellen Glazerman '84 P'26; Melvin Acevedo '99; and Key Session '17.
"As we ask these volunteers to step into their leadership roles, I also want to acknowledge so many of you who are here who show your leadership on behalf of Wesleyan in so many different ways—union committees, class agents, admissions volunteers, regional reps, and just proud Wesleyan alums in your personal and professional lives," Hill said.
Hill will complete his term as Alumni Association chair on June 30. President Michael S. Roth '78 praised Hill's dedication to the University. "David has served alma mater in the best possible ways. He has lent his intelligence, his creativity, he has been generous, and he's been loyal. We thank him for that," Roth said.
At this year's event, five alumni received Distinguished Alumni Awards in recognition for their achievements in their professions: David Pollard Derryck '93; Peter B. Ganbarg '88; Kathryn Dickson Haviland '98; Dana M. Peterson '98; and Claire E. Reade '73.
Three alumni were presented with Outstanding Service Awards in recognition for outstanding volunteer service to Wesleyan, their community, or the nation: David G. Davenport '88; Peter G. D'Oench '73; W. Michael McKenna '73.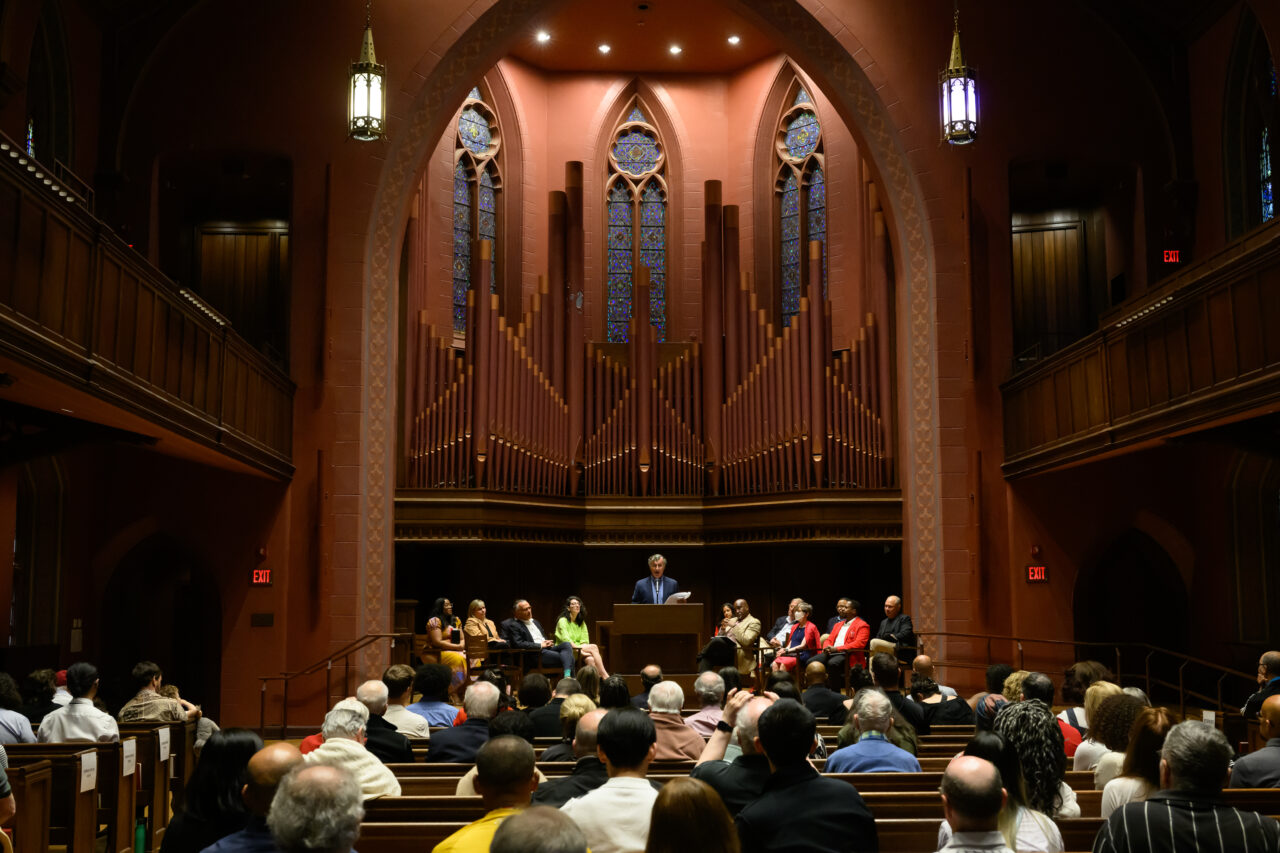 This year's featured speakers, Steven S. Greenhouse '73, P'08 and Emily Greenhouse '08, also received the James L. McConaughy Jr. Memorial Award. This award recognizes members of the Wesleyan community whose writings, or other creative achievements, convey unusual insights and understandings of current and past events.
Emily Greenhouse shares her father's alma mater and his passion for storytelling, serving as the first female editor of The New York Review of Books. "Emily—like her father—knows nothing about resting on laurels and knows everything about using creativity, insight, and fine writing and editorial skills to create publications we care about, and will all remember," Roth said.
Emily said she is fueled by intellectual curiosity for the authors and subjects she encounters every day.
"Taking a venerable institution like The Review and making it even more fresh, making it even more open, making it see the ways in which it has been closed, is what I get to do every day," Emily said. "My job is asking the most expert and lucid thinking people on Earth questions about things that are intriguing or puzzling to me…the whole project exists in a frame of intellectual guardrails mixed with creative freedom that I first experienced [at Wesleyan]."
In his introduction, Roth said Steven Greenhouse has "investigated and probed and written about the powerless in ways that enable them to create social change" throughout his career as an award-winning New York Times labor reporter.
Steven Greenhouse came to Wesleyan in 1969 and was on campus during the tumultuous years of the Vietnam War. His college experience was largely shaped by anti-war strikes and civil rights protests. "The campus-wide strike at Wesleyan [in May 1970] was hugely exciting. It was also an exercise in questioning and critical thinking and in peeling away the government lies to get to the truth," he said. "Wesleyan professors emphasized in course after course the importance of searching for truth, defending the truth, and speaking the truth."
This lesson shaped Steven's journalistic approach, even when public opinion claimed his work was biased or untrue. Steven reminded the audience that for the past several decades we have been fighting a war against conspiracy theorists and political propaganda machines. He challenged everyone to fight against the false narratives that threaten our democracy.
"At a time when truth is under siege and facts under attack, we need universities more than ever. We need places like Wesleyan to teach students, as Wesleyan once taught me, about the vital importance of pursuing truth and the importance of speaking the truth and defending the truth," he said.