Students Inducted Into Phi Beta Kappa Honor Society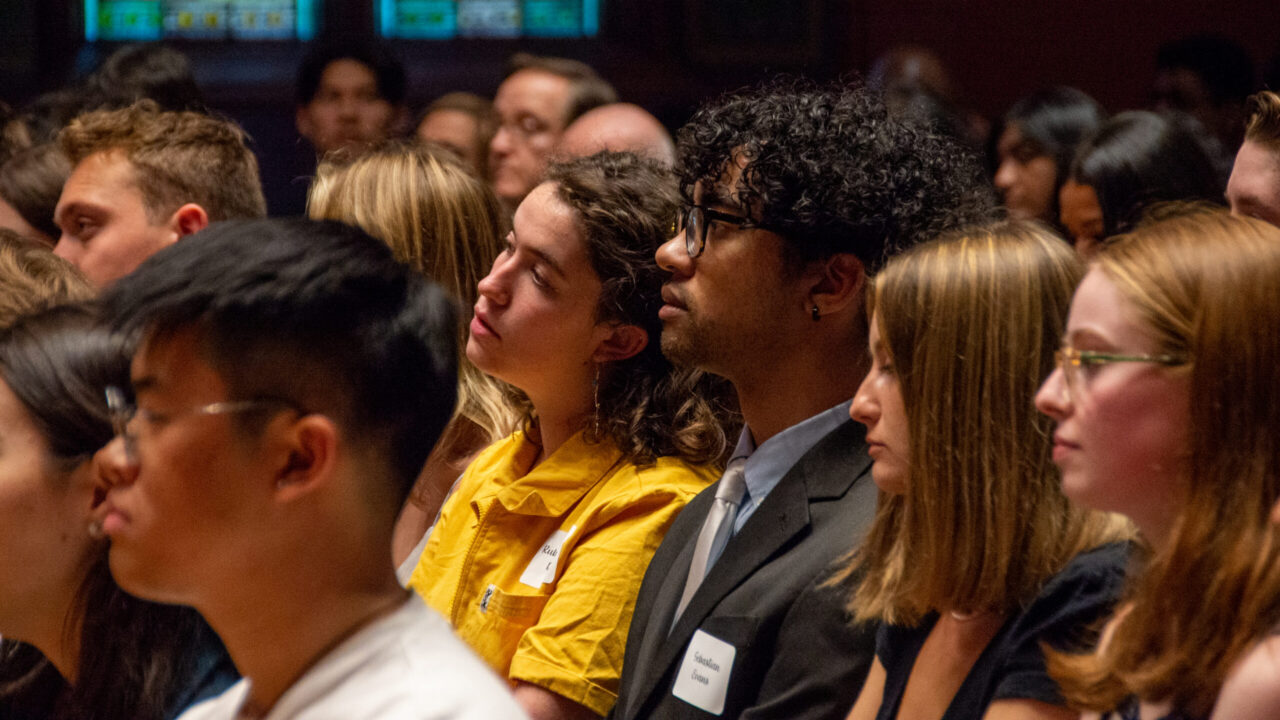 On July 4, 1776, the Continental Congress adopted the Declaration of Independence—a document written by a group of five men. Five months later, five different people gathered at the College of William & Mary to form Phi Beta Kappa, the oldest academic honor society in the United States.
Now 246 years later, 93 new and current members from Wesleyan's student body—78 nominated from the spring semester and 15 inducted last fall—packed into the Memorial Chapel on May 27 to be inducted into the honor society. They join an estimated total of over 500,000 living members. Throughout Phi Beta Kappa's history, 17 U.S. presidents and 42 Supreme Court justices have been members.
"You have exceeded all the academic expectations, breadth expectations, and our commitment to character at this University," President Michael S. Roth '78 told students and their loved ones. "I feel so joyful in celebrating your accomplishments in the context of a community that has supported you, that cares about you, and that cheers you on."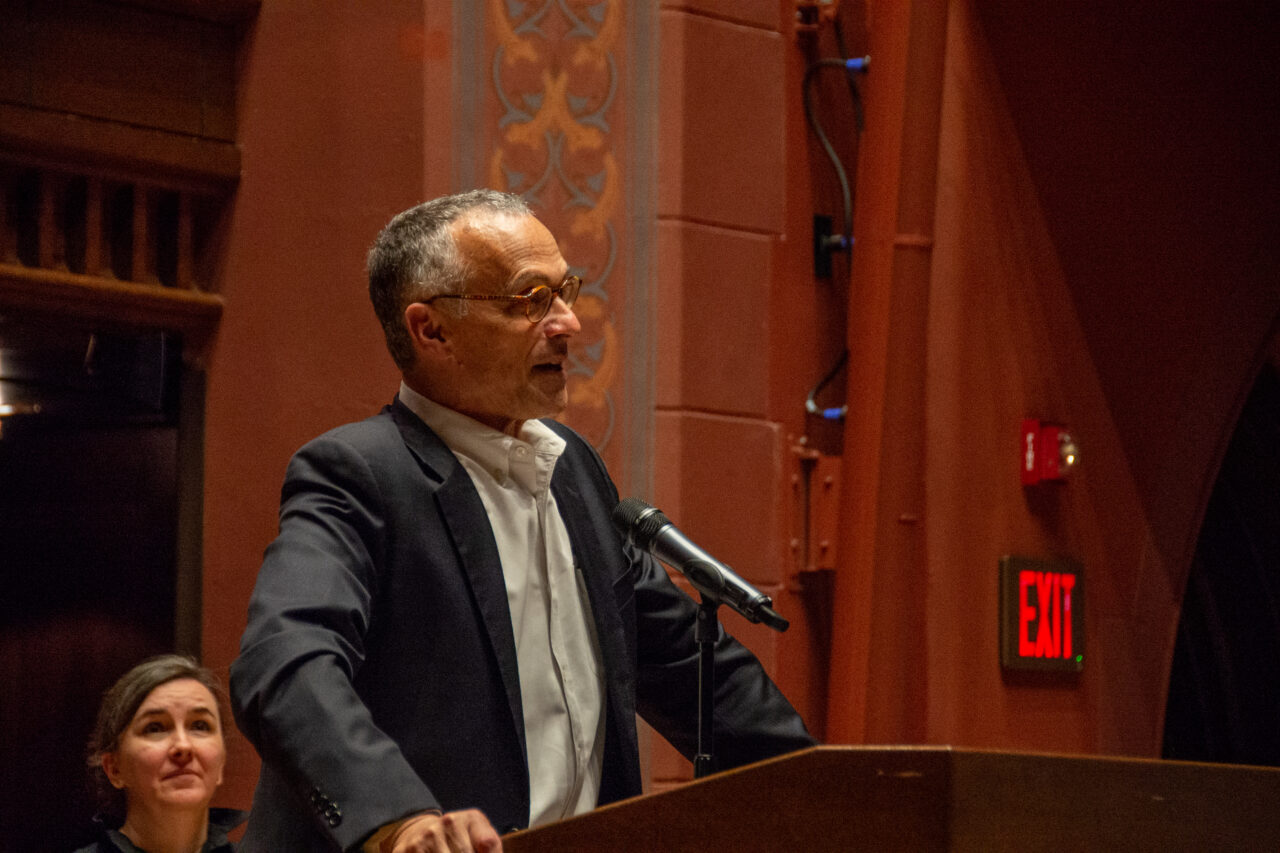 To earn an induction into the nation's oldest scholastic honor society, students must be nominated by the department of their major, have completed their general education expectations, and must have an average grade of 93 or above.
"It felt like a nice bow on the whole Wesleyan experience of showing that I excelled in all the different areas and it was really a nice ceremony to honor that," Aidan Spencer Jones '23, a College of Integrative Sciences and molecular biology & biochemistry double-major, said. "I felt appreciated by the University."
Jones decided to attend Wesleyan for its academic curriculum. He said he wanted to explore a wide range of classes, despite coming in to study the sciences.
"I came to Wesleyan for the holistic perspective, I didn't want to be trapped in a college of arts or college of science or engineering," Jones said. He was officially inducted to Phi Beta Kappa last fall.
He will be pursuing a Ph.D. of Cellular Biology at Columbia University, another integrative sciences program, he said. He thinks his time studying an array of different subjects—like dance and history—at Wesleyan has prepared him well for his next step in his educational journey.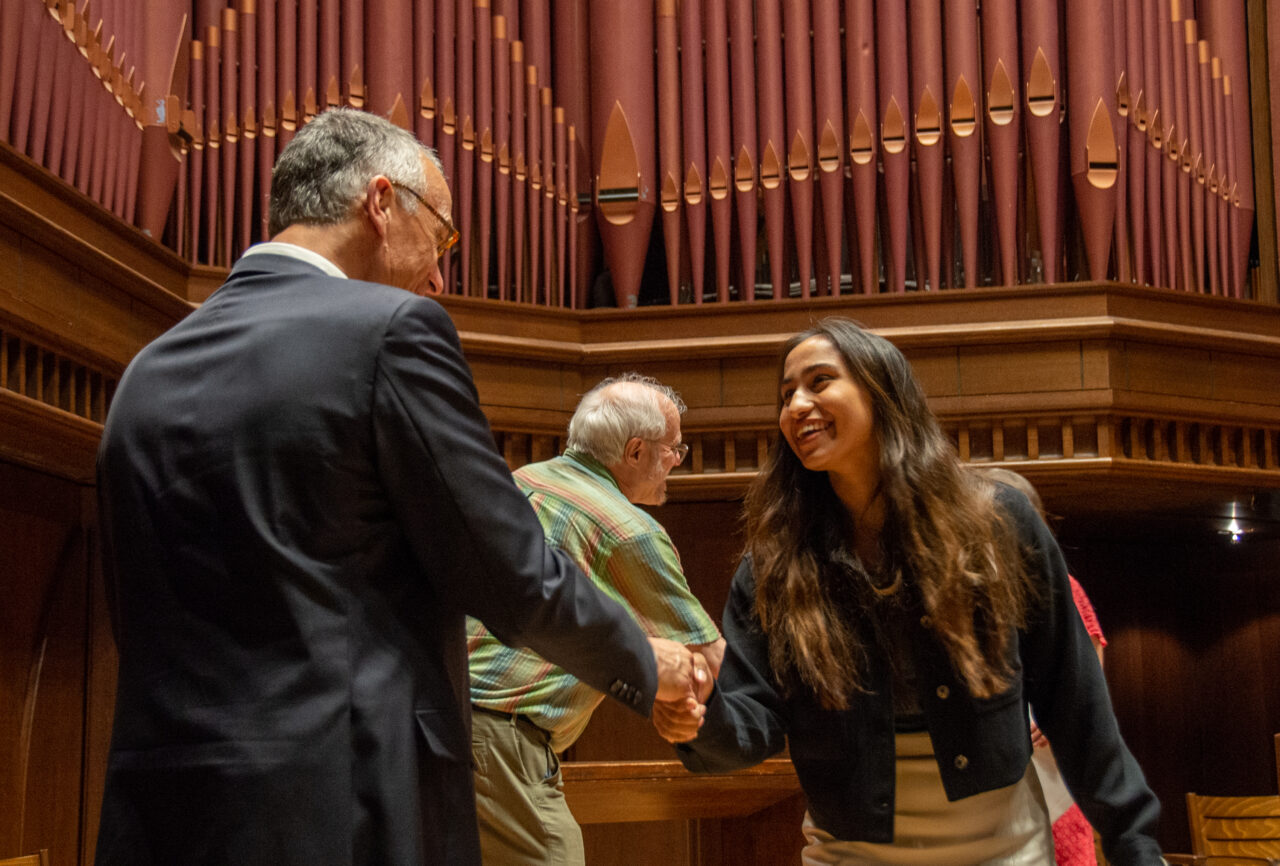 Kaya Zamil '23, a psychology major, said she likes that so many people love academics at Wesleyan and "it's nice to be in an environment that thrives off of that." Zamil was introduced to Phi Beta Kappa by her mother and said she felt like she "got this for her."
"I felt like I was living up to all the work my parents put in raising me over the past 21 years," Zamil said.
Professor Joseph Rouse, president of the Connecticut Chapter of Phi Beta Kappa, told students about the history of the organization and welcomed them into its midst. Former Board of Trustee Chair Donna Morea '76, P'06, Hon.'23 gave inductees several pieces of advice during her speech. She told them to remember that their career is a journey, to appreciate their contributions to the world no matter the size, and to remember the impact of the people at Wesleyan.
"Be ever grateful for what you've experienced here at Wesleyan," Morea said. "This is a magical place with special people of intelligence, wisdom, and character, all with a kind ethos. Living and learning among them has assuredly changed your life. I know it's changed mine."