Wesleyan in the News: June 2023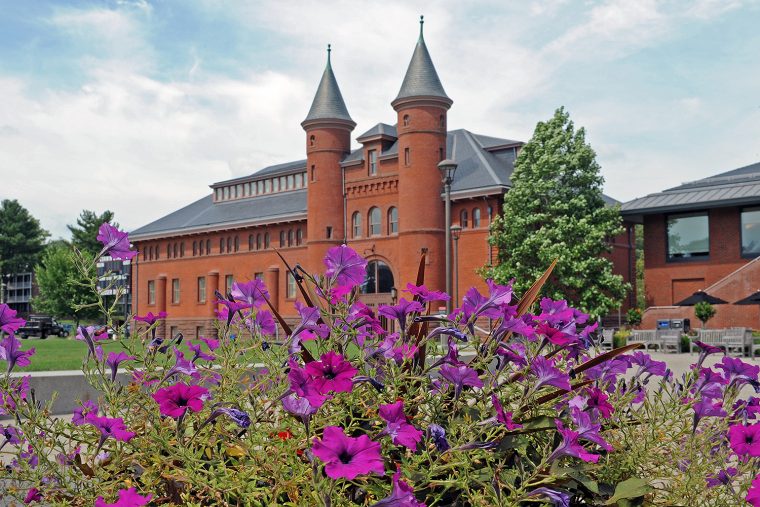 President Michael S. Roth '78 wrote a review of an anthology of the late Hayden White's works titled The Ethics of Narrative: Essays on History, Literature, and Theory, 1998-2007 for the Los Angeles Review of Books. Roth said White "was a consistently intelligent and engaging postmodern advocate for thinking about history as a form of imaginative reconstruction that could either constrain people or inspire their liberation."
Roth also penned an op-ed in The Boston Globe drawing parallels between education and democracy. "We must be on our guard against those who are afraid of that exploration; we must stand up against those who fear fluidity, who ban books, and who are frightened by free expression and creative transformation," Roth wrote. "Practicing education is like practicing democracy — both are collaborative, experimental paths of improvement."
Former three-year Wesleyan men's basketball captain Gregory St. Jean '13 was hired as an assistant coach by the Phoenix Suns. St. Jean had previously spent two seasons with the Dallas Mavericks as an assistant coach from 2021 to 2023 and was on the NBA Championship-winning Los Angeles Lakers coaching staff in 2020.
In a conversation with Rosie Perez at the Tribeca Film Festival on June 13, Lin-Manuel Miranda '02, Hon.'15 said he is back to writing songs following the death of his friend and decorated composer Stephen Sondheim in 2021, according to the Hollywood Reporter.
John Finn, Professor of Government, Emeritus, wrote a piece on two counties in Michigan that have declared themselves as "constitutional counties"—counties that vote not to enforce laws that restrict the rights of citizens in the U.S. Constitution—for The Conversation. Finn wrote that while these declarations are meant to uphold the ideas of the Constitution, he believes they undermine its authority.
Peter Rutland, Colin and Nancy Campbell Professor in Global Issues and Democratic Thought in the Government Department, gave his insight into the War in Ukraine in a story for The Conversation. Rutland wrote about Russian President Vladimir Putin's recent interactions with military bloggers and detailed some of criticism of Putin by political challenger Yevgeny Prigozhin.
Rutland wrote an op-ed for The Conversation detailing the mutiny in Russia by the Wagner Group and Prigozhin on June 24. Rutland said the coup-attempt weakened Russian President Vladimir Putin "strongman" persona and Prigozhin's words and action have "exposed the vulnerability of Putin's grip on power." The piece was also published in the Associated Press, Fortune, and Salon.
Rutland was quoted in Newsweek for a piece on Ukraine's push against Russian troops. He said Putin still has reason to be confident, explaining "only a major breakthrough that severed the land bridge to Crimea would be a grave concern for him, and unfortunately that is unlikely to happen. Attacks on targets inside Russia itself, such as oil depots and border towns, are a more immediate political challenge for Putin." Rutland also talked to Newsweek on May 24 for a story on President Joseph R. Biden's authorization of the delivery of F-16 fighter jets to Ukraine.
Legal challenges to the civil rights of transgender youth—policies restricting access to proper medical care, certain bathrooms, or the ability to participate in sports in association with their gender identity—have dominated headlines regarding trans people for years. California-based photographer Emily Monforte '18 has been working to highlight something different: the more mundane day-to-day life of trans youth through the stories of two trans girls living in Los Angeles. Monforte's photos were featured in a story for The Washington Post.
Professor of Music Eric Charry wrote an essay on the global evolution of hip-hop music and its different forms in local communities for The Conversation. The piece was picked up by several outlets, including the Associated Press, Yahoo! News, and the Connecticut Post.
Poughkeepsie, New York native Samuel Peek '22 was featured in The Poughkeepsie Journal in a story on his work outs with two legendary NBA franchises—the Los Angeles Lakers and Boston Celtics. Peek was the second National Association of Basketball Coaches First-Team All-American in Wesleyan's history for the men's basketball team in 2021-22 before grad-transferring to Stetson last year.
Every election season millions of homes and car radios are littered with negative advertisements pinning political candidates against one another. In September of 2022, KSFR reporter Mary Lou Cooper set out to find out how effective negative political ads were and solicited the help of Wesleyan Media Project Co-Director Michael Franz. The segment won first place in the Special Programming for Radio category from the National Federation of Press Women.
The Hartford Business Journal highlighted the University's major construction projects in a story on June 12. Andrew Tanaka, Wesleyan senior vice president, chief administrative officer, and treasurer, was quoted in the piece saying, "all these exciting projects share the goal of stimulating the interaction among students and faculty that is so key to the Wesleyan experience."
The documentary "The Pameacha Problem," created by students Lucas Buu-Hoan '26, Henry Kanlian '26, and Tracy Wu '25, was featured in The Middletown Press. The film documents efforts by locals to save a body of water that once powered a factory in Middletown.
The Wall Street Journal reviewed Associate Professor of the Practice in Letters Charles Barber's new book In the Blood. The book details the lengths and adversity that creators of QuikClot, a product that helps seal open wounds, had to go through to get their product in the hands of those who needed it. An excerpt from Barber's new book was featured in the Marine Corps Times .
Barber also wrote a piece for AARP about a Vietnam War veteran named Thomas "Doc" Eagles, who played a key role in the military's adoption of QuikClot.
Climate economist Gary Yohe penned two op-eds for The Hill on energy policy in recent weeks. He wrote about the benefits of the Environmental Protection Agency's (EPA's) proposed new regulations aimed at reducing carbon dioxide emissions from coal and new gas-powered power plants on May 25. A week later, he published another piece on the potential impact of the federal debt ceiling negotiations on climate change regulation.
Yohe wrote an op-ed on climate action for The Messenger. Yohe outlined the ways that progress has been made around the globe, including a breakdown of carbon pricing. Yohe also spoke to the Associated Press for a story on a recent study projecting the economic impact of El Nino storms. Yohe called the estimated figures in the study not credible.
Suzanne OConnell, Harold T. Stearns Professor of Earth Science and Chair of Earth and Environmental Sciences, spoke to PBS Newshour about the implications of climate change on the ocean for a story on its formation. OConnell warned against further greenhouse gas emissions and called for actions to reduce climate change.
Merve Emre, scholar, critic, and contributing writer for The New Yorker, wrote two essays for the magazine—on Susan Taubes and Susan Sontag. In April, Emre was named the director of the Shapiro Center for Creative Writing and Criticism, a position she will assume on July 1.
Robyn Autry, associate professor of sociology, wrote an op-ed for MSNBC on the life and legacy of the late Tina Turner, who died at age 83 on May 24. Autry wrote about the abuse Turner endured and spoke out about throughout her career, helping to create a platform for future victims of abuse to do the same.
Attorney Max Rodriguez '10 appeared on MSNBC's The Mehdi Hasan Show to discuss his representation of former Department of Homeland Security official Nina Jankowicz in her defamation lawsuit against Fox News.
The American Philosophical Society announced that Ellen R. Cohn '77, senior research scholar of history at Yale University, has been made a member of the organization, joining a wide variety of the industry's top scholars.
The American Academy of Pediatrics named Dr. Joseph L. Wright '79 as the first chief health equity officer and senior vice president, equity initiatives.
Trustee Bozoma Saint John '99 appeared at the Lancaster Chamber Annual Dinner on May 25 to speak about her management style.
Dr. Adrienne Green '87 was appointed as the new chief executive officer of the San Francisco Campus for Jewish Living. She will assume the position on July 18.