Wesleyan Partners, Walks with Middletown Pride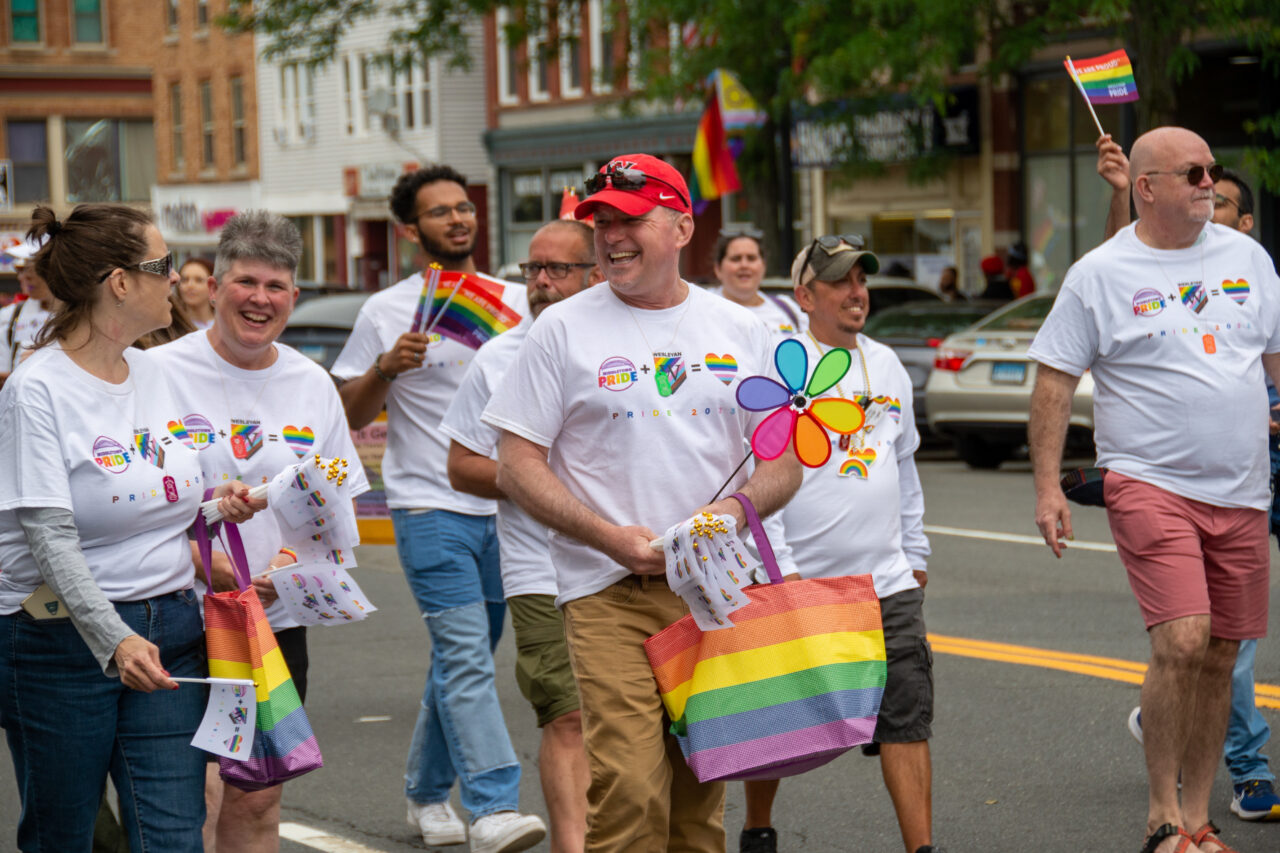 A day of celebration, demonstration, and love. Middletown Pride hit the heart of the city on June 3, as locals and not-so-locals joined together in support of love, equity, and inclusion.
Wesleyan was one of four partner organizations of the Middletown Pride event, alongside the City of Middletown, Middlesex County Chamber of Commerce, and Russell Library.
Andrew White, Caleb T. Winchester University Librarian at Olin Library, said that he has been attending Pride events since the 1980s and has been involved in Middletown Pride since the first event. He said it marks Middletown and Connecticut as communities striving to "be more inclusive and just."
"[Pride] is a way to show support for all forms of gender expression and identification, which to my way of thinking, is part of our responsibility as campus citizens and fellow humans," White said.
Among countless different organizations, several Wesleyan representatives walked in the Pride parade, holding two signs—one with Wesleyan-specific Pride designs and another with mental health and crisis resources. Organized by the Office for Equity & Inclusion, Wesleyan's walkers handed out Pride flags to spectators as they marched down Main Street on Saturday afternoon.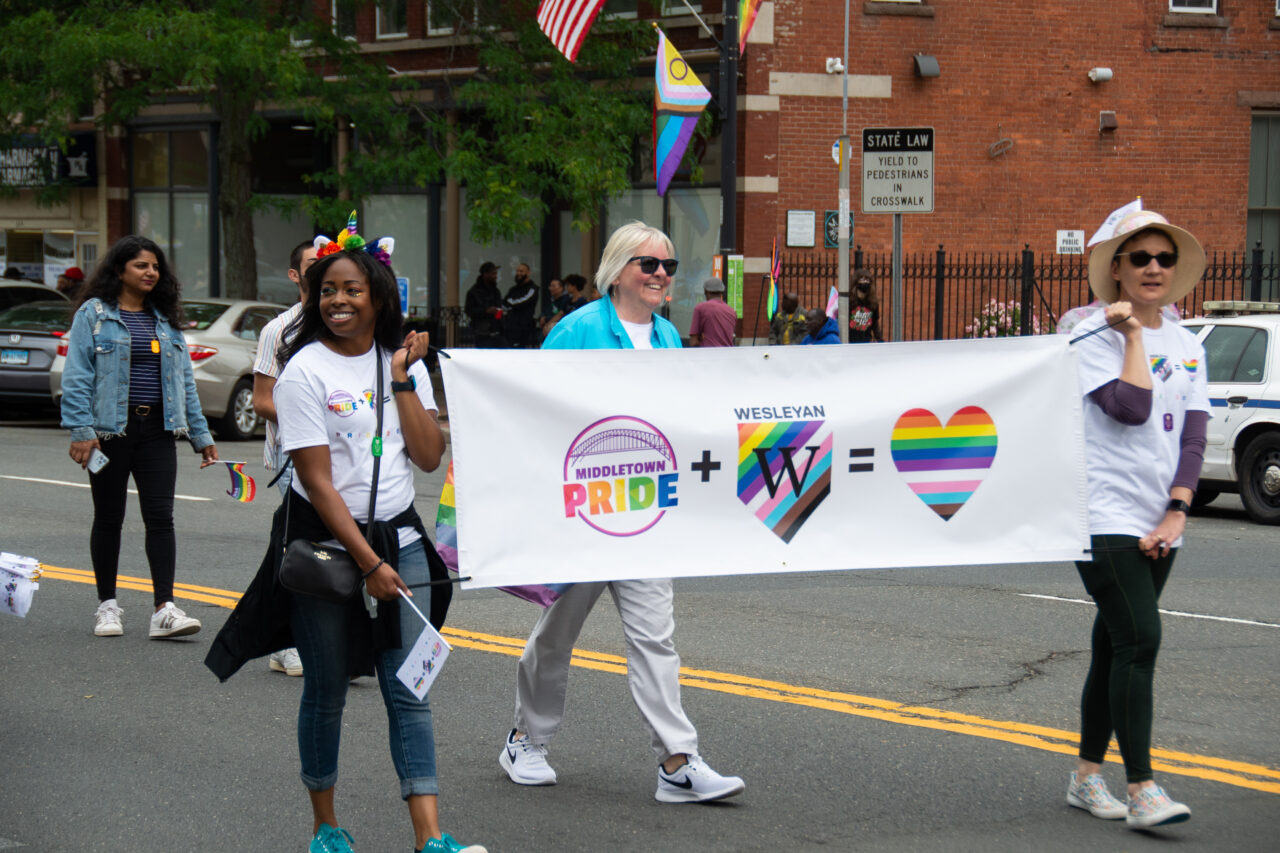 Deborah Colucci, assistant vice president for Equity & Inclusion and Title IX coordinator, hopes that Wesleyan's support and partnership in Middletown Pride shows the community that campus is a safe place where people can be themselves.
"I hope that it shows that Wesleyan walks the walk," Colucci said. "I hope that the message that gets sent to the larger community is that we're still a work in progress, but we have your back."
She said she was mostly looking forward to the energy of the crowd at the parade. She also said she was looking forward to seeing how Pride, which is traditionally a combination of celebration and demonstration, would come together at a time when there is pending legislation that would restrict the rights of the LGBTQIA2S+ community in certain areas of the country.
She hopes that the event energizes the Wesleyan community to stay engaged with the local community. There is an LGBTQIA2S+ commission in the city's government.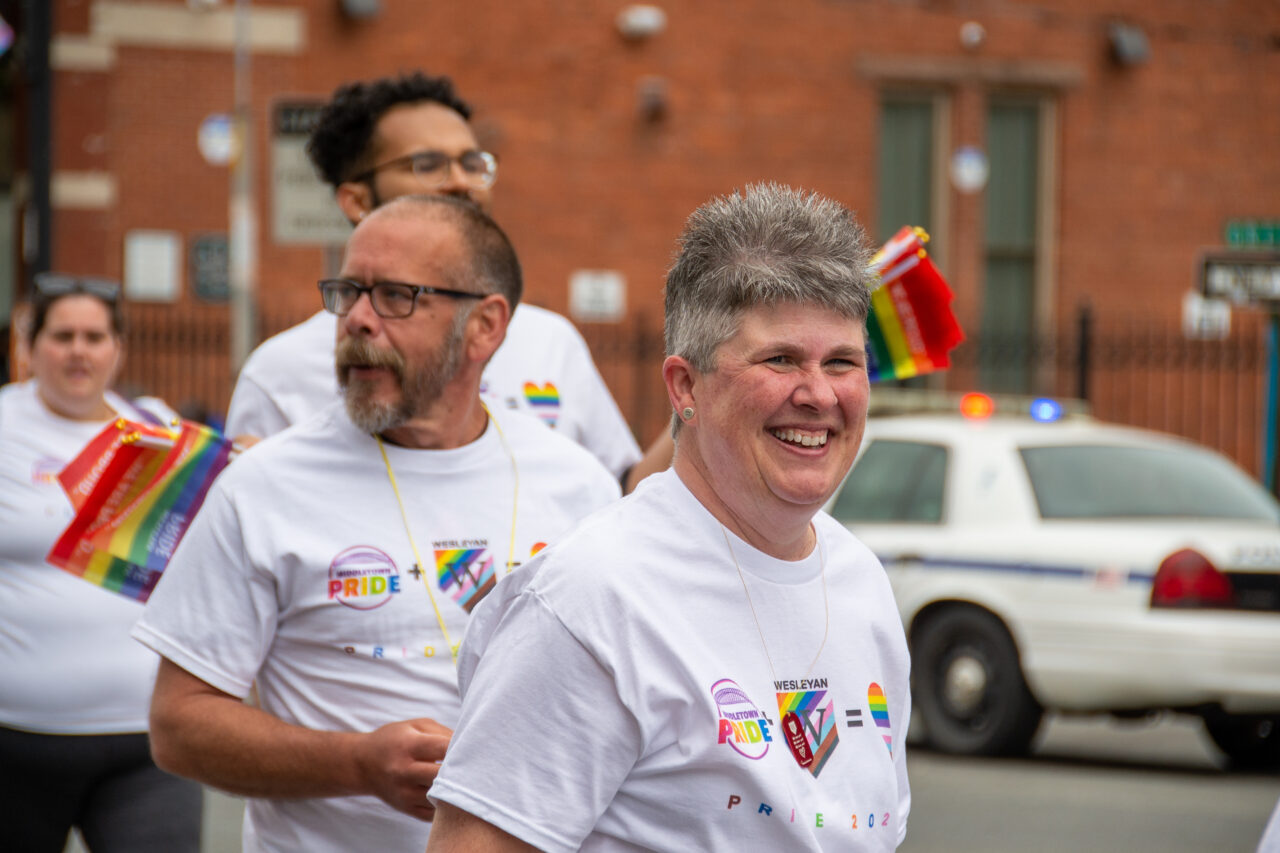 "Because we want a safe space for our students, we innately want a safe space for everyone in Middletown," Jose Pagan '22, assistant director of Alumni and Parent Engagement, said. "I think it's really important for us to be in solidarity with the people who we share such a close space with."
Vice President for Student Affairs Michael Whaley highlighted the many connections between Wesleyan and Middletown—like students tutoring in town and community service classes that partner with city agencies.
"Wesleyan and the city kind of rise together," Whaley said. "They're mutually supportive. Wesleyan's better when Middletown's better and vice versa, I think."
Dean for Academic Advancement Laura Patey has been involved in Middletown Pride since its inception, helping to plan the first one in 2018, she said. She said it is a way that the University can continue to build its strong alliance with the City of Middletown. "It is important to have the visual representation, bringing together faculty, students, and staff as we march together celebrating the diversity that makes us strong and vibrant," she said.
"It is an opportunity for the community to come together and for the people to be themselves, authentically," Patey said. "I appreciated the strong sense of community with parents and children participating in the Wesleyan contingent. I felt proud to be a part of the Wesleyan and Middletown communities as we celebrate and honor the diversity within the community."