Campus Construction Updates: Fall 2023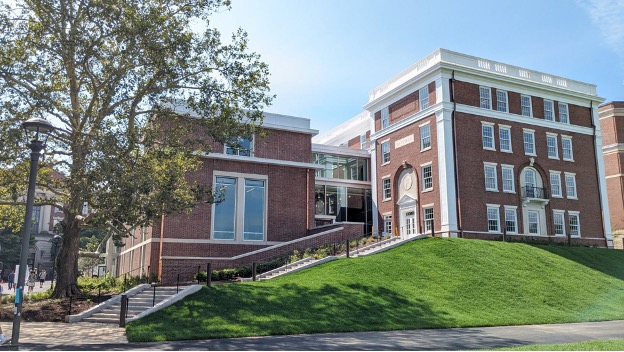 As Wesleyan University comes up on the final moments of its most recent round of campus improvements, eyes are already turning towards the future.
Staff and faculty members are working alongside members of the Board of Trustees to chart the future course of the University's infrastructure.
"Every other month we are meeting to talk about the progress of our campus planning … we are in the very early stages of this work," said Alan Rubacha, Assistant Vice President, Construction and Infrastructure.
Rubacha said the committee is working in three different areas—energy and infrastructure, academic and administrative facility needs, and residential life and student services. Over the next several months, Rubacha and the committee will meet with constituents across the University to determine departmental needs. The committee plans to set the next wave of priorities by May 2024, he said.
In the meantime, high profile projects continue to move forward—on time and on budget, Rubacha said.
Public Affairs Center and Davison Art Gallery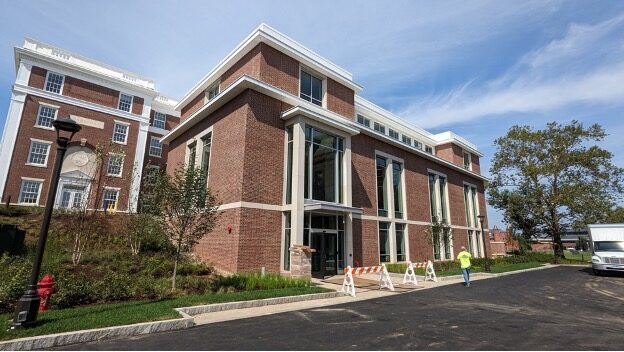 The new Public Affairs Center has shed the trappings of a construction site and is a welcome addition to the aesthetics of the center of campus.
The renovations added in 1954 were removed, stripping the building back to its 1927 core, Rubacha said. The new additions, which include increased classroom and gallery space, provide lovely aesthetic details, great views of campus, and most importantly, a pedagogical space designed for 21st century learning.
"If you look at the building, every detail is unique," Rubacha said.
The 76,000 square-foot building received its certificate of occupancy in September. Throughout the Fall furniture and audio-visual systems will be installed. Faculty members will select their office and the building will be in full use for Spring semester 2024.
In addition to being on schedule and on budget for the project, Rubacha pointed to other statistics with pride. The project had a perfect safety record, he said. He added that 43 percent of the workers on the project were people of color, eight percent were women, and 90 percent lived within 20 miles of campus. To give some frame of reference, the state of Connecticut requires that a total of at least 6.25 percent of the workers on a project be women and individuals from minority groups.
"We've blown those numbers out of the water," Rubacha said.
New Science Center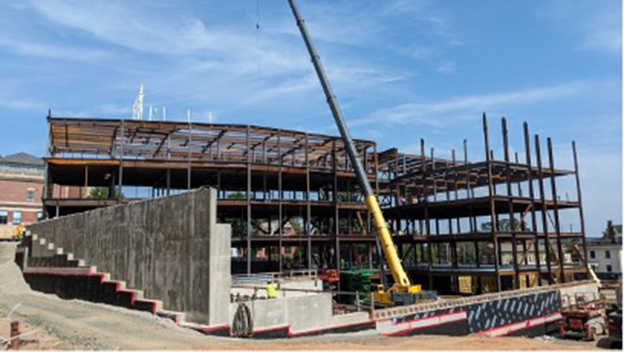 Since breaking ground in December 2022, construction teams have excavated 50,000 tons of dirt from the site and poured 5,000 cubic yards of concrete, Rubacha said.
Starting in June 2023, steel structures have started to rise on the site, located on High Street. Using a 300-ton crawler crane to put together 68 distinct sequences of steel framing allow the building process to move efficiently within the relatively small site. In October, they'll start to pour concrete floor slabs. By December, the structural steel framing comprised of 3,800 beams will be complete and walls will start to be installed. The exterior limestone, sourced from Germany, will be put in place in Spring 2024.
Between the careful planning and forgiving weather that allows for additional work hours, the project is eight weeks ahead of schedule, Rubacha said.
"We are so consistently ahead of schedule because we have an amazing team," he said.
Student Housing
Rubacha and his team are working closely with Residential Life to help refresh the University's wood frame housing stock. While students tend to like the houses' quirky nature, some have fallen into disrepair. About a dozen houses of the 165 on campus have been completed over the summer, he said.
"The students want buildings that will serve their needs but maintain their historic legacies," Rubacha said.
By improving the finishes—granite countertops, hardwood floors, accent walls—Rubacha believes the houses will be nicer places to live and easier to maintain. There are five different options for the new finishes. In addition, the process has begun of removing old fossil fuel heating systems and replacing them with heat pumps, a change that would allow for air conditioning in the houses.
"The (updated houses) are safe, they have modern conveniences. They are accessible. They are durable and they look good," he said.
Major Maintenance
In addition, Physical Plant staff have done upgrades in Exley Science Center, updating rooms in the building to accommodate newly hired staff and faculty, including the creation of new lab space. The University also continues its long-term project to convert from steam to hot water, creating a more energy efficient campus. Rubacha said they are mid-way through the conversion, which is scheduled to be completed in 2029.
"We appreciate the patience of faculty, staff, students, and parents during these renovations," Rubacha said.