Professor Creates Arts Festival in Tangier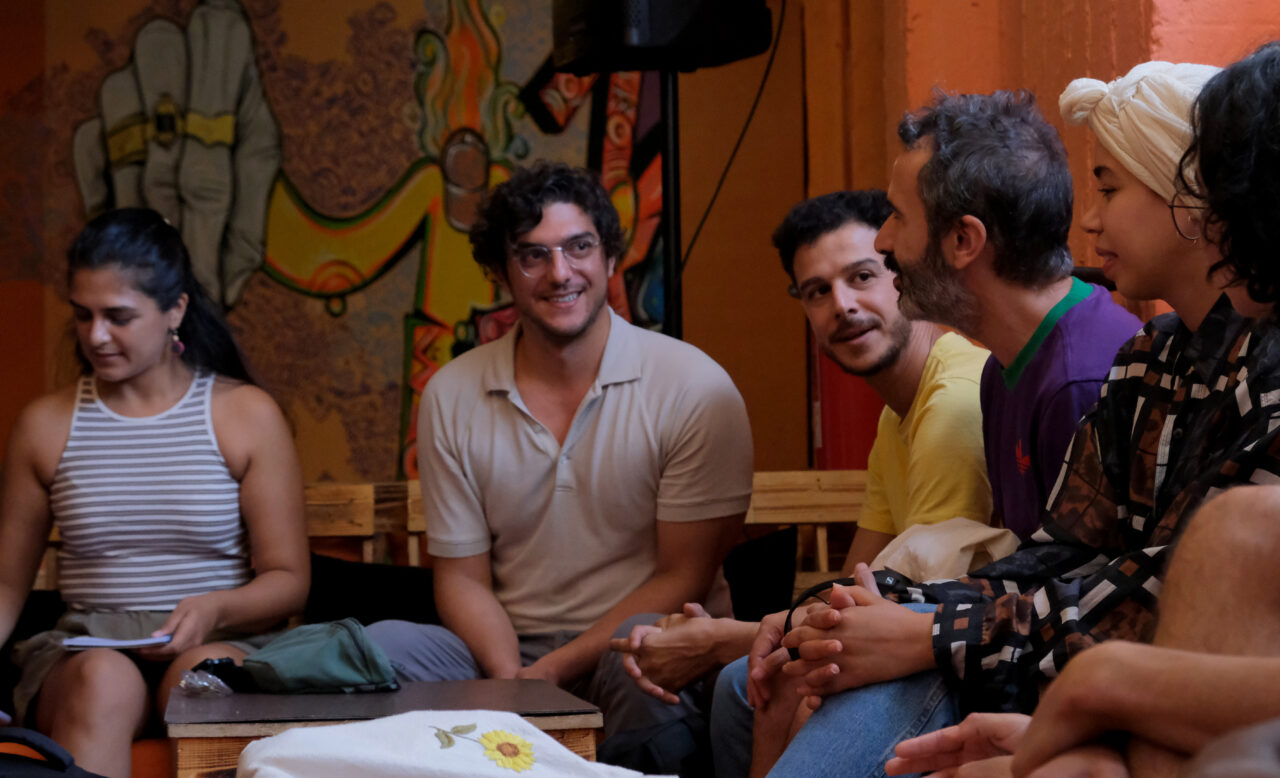 Each year A. George Bajalia, Assistant Professor of Anthropology, presents a multidisciplinary arts festival in Tangier, Morocco that is more than just a performance—it's a gathering place for artistic exploration.
Bajalia, along with cultural programmer Zakaria Alilech and theatre producer Tom Casserly, founded the Youmein Festival in 2015.
Several years before, the trio had worked on a Moroccan Arabic take on West Side Story, Romeo and Juliet, and the story of Tislit and Isli. Around the same time an old factory space in Tangier became available. Bajalia knew the local artistic scene was multidisciplinary it its approach and he began to think there might be a bigger opportunity than a one-off performance.
"What if we created something that is fully about process?" Bajalia recalled asking his colleagues. "We were really interested in artists who are doing new work."
Pooling together a bit of their own cash to get things going and getting support from local non-profits like the American Language Center of Tangier and the Tangier-American Legation Institute for Moroccan Studies, the festival was born nine years ago. This year's event, an eclectic mix of performances, artwork, and talks exploring the theme of "crossing," took place this year July 27 through 29.
Over a few days, artists from a variety of disciplines assemble to practice their craft based on the theme, which is picked by the organizers. Artists arrive in Tangier on a Wednesday, view the space where their work will exist on Thursday, and spend Friday and Saturday creating their presentation, which they will show the final evening. (Youmein means two days in Arabic.)
The process doesn't lend itself to polished presentation, Bajalia said, but that's not the point. The inspiration and work is everything. The festival is a place where people can explore ideas like human and non-human interaction. It's a place where a dancer slowly destroys a sand installation he constructed. Every piece of art at the festival is happening simultaneously.
It's also a place where Bajalia's academic work, the study of migration, melds with artistic inspiration present at the festival to help him come up with new ideas. "It's become important to me to set the priorities of my research by working with artists. I can learn what's bubbling under the surface," Bajalia said.
Tangier is a natural crossroads between the Mediterranean region, the Middle East, and Africa. The story of migration is deeply interwoven into the fabric of the culture and thus its artistic expression.
"This city has so many layers. There's something special about doing it here. People come to Tangier from all over the region. They bring their own stories and explore them here. They bring their borders here too. There's something special about that," he said.
Throughout it all, Bajalia is functioning as a combination of director, producer, and curator—helping to shape the event. In one moment, he could be considering how the placement of an art installation informs the performance piece alongside of it. In another moment, he could be helping an artist cut string.
"I am thinking about the production of the work as well as the audience experience, what is the narrative the audience is going to experience when they walk into the space," he said.
The festival has grown from 25 applicants the first year and playing to an audience of friends to over 100 applicants from across the world and almost 400 audience members on a single night.
In a sense, the final presentation has become its own kind of event, Bajalia said, with food and drink happening outside and a festive vibe informing the experience. Artists and curators mingle with interested audience members.
The doors to the space are closed before the performance and the audience waits outside. Bajalia and his colleagues swing open the doors and the crowd pushes inside. It's intense and hot. Some members of the audience move quickly, experiencing the rush of art. Still other take their time and wait for a moment for their own tour of the space. Afterwards, everyone hangs around outside for hours, talking about what they've seen and marinating in the atmosphere.
"It feels like you've entered an underground art world. You never know what you are going to see inside. That's what we are trying to cultivate," Bajalia said.
Each Spring, Bajalia teaches a course called "Producing and Performing Anthropology." "It takes the festival's methodology and brings it to the classroom. How can we use an anthropological lens to look at things, but to create objects that aren't necessarily the traditional products of anthropological resources, like articles or books. Students are making prints, collages, films, and sound projects," Bajalia said.
In addition to his class, Bajalia has also started a lab called Intersections: the Wesleyan Media, Ethnography, and Anthropology Lab. "My goal is to try and provide a physical space in the Anthropology building for students to work on multi-disciplinary projects in and outside of that class. We have a little bit of equipment now and I'm working on trying to schedule regular training sessions with guest artists, including those that I've brought to Producing and Performing with the support of the CFA's Creative Campus Initiative," he said. "I'm trying to interweave the work of the festival with these other spaces on campus."