Weiss Publishes First of Two Queer Studies Anthologies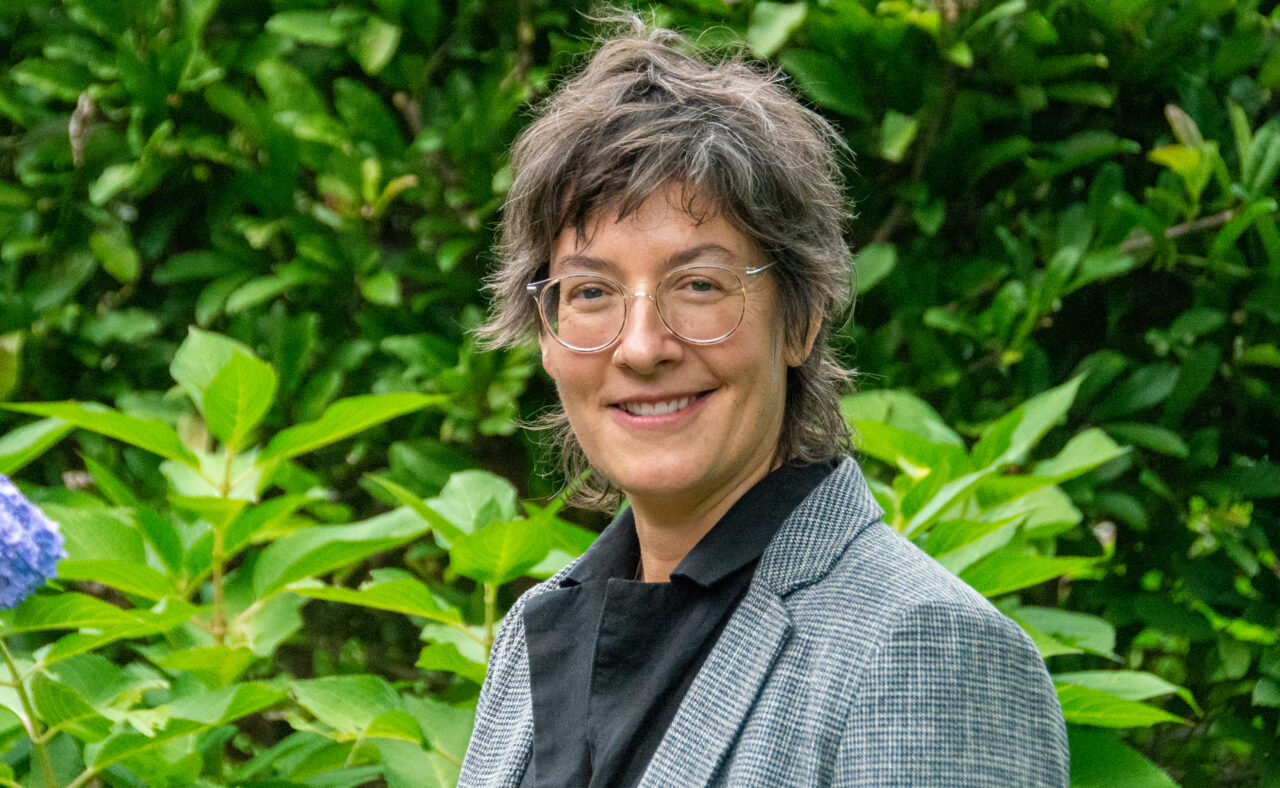 Margot Weiss, associate professor of anthropology and American studies, affiliated faculty in Feminist, Gender, and Sexuality Studies, and coordinator of queer studies, saw a gap in the world of queer anthropology—there was no central text compiling the leading theories and ideas of the field. So, she made one—well, two.
Weiss recently published Queer Then and Now, a collection of lectures given by the winners of the CLAGS: Center for LGBTQ Studies' annual David R. Kessler Award. CLAGS, which is housed at the City University of New York, gives the Kessler Award for lifetime achievement in queer and trans studies. The book builds on an earlier edition that collected the speeches of Kessler awardees from the Award's inception in 1992 to 2001. Queer Then and Now, published by The Feminist Press in August, continues this work, gathering lectures from 2002 to 2020 by distinguished scholars, artists, and activists in queer and trans studies including Sara Ahmed, Cathy J. Cohen, Roderick A. Ferguson, Isaac Julien, Jasbir K. Puar, Adrienne Rich, Gayle Rubin, Dean Spade, and Susan Stryker. Not only does the project serve as an archive for this crucial scholarship but adds current perspectives into the conversation by including new reflections from each speaker and two new scholarly roundtables to round out the dialogue with a lens toward modern problems and circumstances.
"The lectures are wonderful to revisit. These are the legendary people in queer and trans studies, so reading their lectures and reflections gives you an amazing, historical sweep of both what has changed in the field, and what has not—through all these political moments," Weiss said.
Weiss edited the collection alongside fellow CLAGS board members professors Joseph Donica from Bronx Community College, CUNY, and Debanuj DasGupta from University of California at Santa Barbara. The three took up the project following a CLAGS board meeting pre-pandemic, Weiss said. Initially she thought it would be a relatively minor archival project that would not take a tremendous amount of time, but as they began to work through the book, she realized it was a much bigger project than she had anticipated.
Many of the lectures were not readily available, it wasn't as easy as tidying up written lectures in Microsoft Word. Weiss and her colleagues had to rummage through the archives of the CLAGS office—when COVID protocols limited access—to find old VHS tapes with recordings of the lectures before getting each digitized and transcribed. Some lectures had to be hunted down in CLAGS newsletters, others required the resuscitation of old computers that contained lecture files. Then the trio combed through the transcriptions, editing to retain the feeling of the oral format but making them readable and adding necessary citations.
Weiss has another book, Unsettling Queer Anthropology, coming out with Duke University Press in May 2024. This project is a field-defining volume of queer and trans anthropology that advances decolonizing, abolitionist, Black feminist, transnational, postcolonial, Indigenous, and queer of color approaches to the field. It contains 14 original chapters by both distinguished and new voices that spans decades of scholarship in queer anthropology.
"It's important to have a foundational volume like this, and at the same time, I really wanted the foundation to be fully informed by newer queer of color, decolonizing approaches to anthropology—to represent the cutting edge of the field," Weiss said.
Weiss, who began studying queer anthropology while it was still in its infancy in the 1990's, had long felt that there was no available text that the field could point to and study from.
"This field has been going for, say, 30 years, but there hasn't yet been a volume that represents queer anthropology. This is the first volume of its kind," Weiss said.
This book is angled toward more recent work in the field, but factors in multiple histories of queer anthropology as the first of its three sections, Weiss said. The other two sections take up canonical topics in anthropology and newer, queer approaches to ethnography.
The second section shines a queer lens on some of anthropology's core problematics, including "cross-cultural comparison, language, kinship and family, gender and performance, the state, human rights, and the transnational turn," Weiss said. The last section takes a more relational and collaborative look at ethnography, with chapters on Black queer anthropology, trans vitalities, crip-of-color ethnography, more-than-human queerness, Indigenous sovereignty activism, and the queer ethnographic ordinary.
"I had been thinking for a long time that this was something we really needed. We needed it for teaching, we needed it to train graduate students in the field, and we needed it to show where queer anthropology is today," Weiss said.