Center for the Arts Celebrates 50th Birthday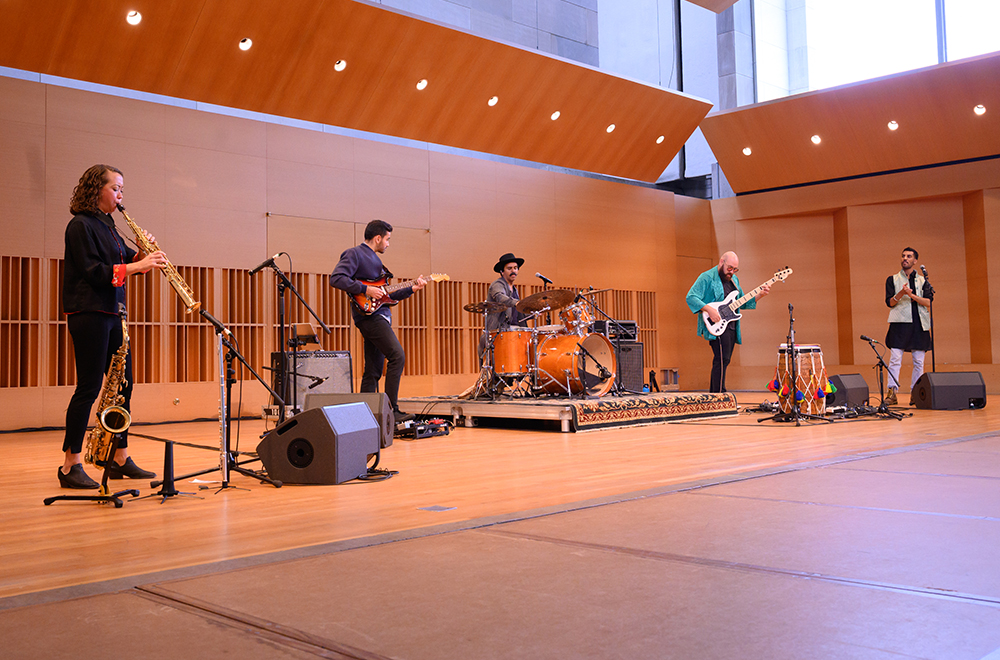 Wesleyan University's Center for the Arts (CFA) started the celebration of its 50th birthday with a joyous party featuring a dozen activities spread out across six of the complex's buildings on campus.  
"In a very Wesleyan fashion, we're not doing an anniversary," said Director Joshua Lubin-Levy '06. "We're doing a birthday party for buildings, and for the people that fill them and the art that has filled them over fifty years," Lubin-Levy said.  
Roger Mathew Grant, Dean of the Arts and Humanities and Professor of Music, said the CFA has never been just about its structures – it has a spirit that has been here since its origin, with pioneering artists from John Cage to Urban Bush Women incubating their work at Wesleyan. "It's always been a kind of notion that the arts might have something to teach each other if they found a common space to have a set of structured conversations," Grant said.  
A toast to the buildings' birthday featured 250 cupcakes for the crowd—50 cupcakes for each of the five arts departments that the CFA houses: Music, Theater, Dance, Art and Art History. And Middletown's Libations Farm, a Black family-led farm co-owned and operated by Wesleyan's Embodying Antiracism Initiative Community Fellow Sacha Armstrong-Crockett, provided 25 apple pies for the festivities.
The afternoon of performances and participatory art experiences kicked off with the headlining concert by Brooklyn-based composer and drummer Sunny Jain's "Wild Wild East" in Crowell Concert Hall, the group's Connecticut debut. Ben Parag sang soaring melodies in unison with Alison Shearer on saxophone and flute, winding over up-tempo riffs by guitarist Shubh Saran and bassist Almog Sharvit.  
During their generous seven-song set, Jain told the audience that "Immigrant Warrior" was his sonic journey exploring his parents' pathway from India to Rochester, New York in the 1970s, and mentioned the influence of rock groups Rush and The Police on his formative years. During the introduction of their fourth tune "Sialkot," named after the Punjab city which his family had left in 1947, Jain created electronic loops of his solo on the double-headed drum called a dhol. "This drum is synonymous with Punjabi culture, it's synonymous with the food and the music and dance of our region," Jain said.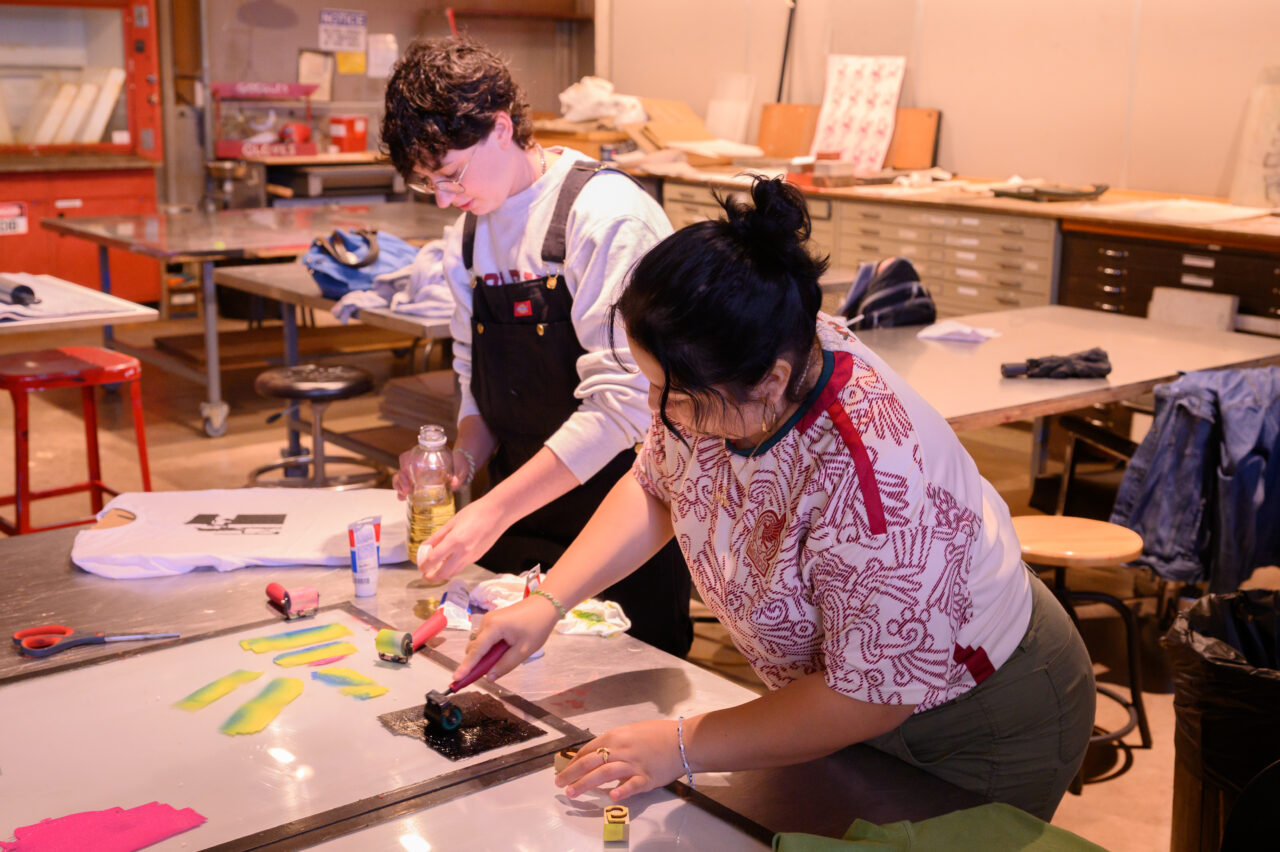 A line of students spilled out of the door of the Print Shop as they waited to create their own screen-printed t-shirt using one of four archival CFA images, an activity developed by Noah Shacknai '25 and Spencer Klink '24. Hundreds of designs with wet black ink on upcycled clothing from WesThrift were hung to dry in the CFA's underground connecting tunnels.  
An exhibition in the tunnels, curated by Helen Townsend '24 with Miles Allen '24, showcased student work from introductory courses in drawing, sculpture, photography, painting, design, architecture, printmaking, and time-based media. And Emma Bella Bass-Lawrence '24 organized a jam inside World Music Hall, while Rebeca Trevino '24 led a salsa dance workshop on the CFA Theater stage.  
In keeping with the CFA's long reputation as a place where art can grow, Jain will be an artist in residence at Wesleyan during the 2023-2024 academic year, developing his new music theater project "Love Force." "I'm going to be around a lot this year, so I hope to see many of you and meet many of you," Jain said.  
State Senator Matt Lesser, who represents Middletown in the Connecticut General Assembly, congratulated the CFA in recognition of fifty exceptional years. "Today, Wesleyan continues to make its interdisciplinary arts programming possible through the Center for the Arts," Lesser said. "Residents and alumni alike are immensely proud to have Wesleyan University's CFA in our Middletown community."