Designer Stuart Weitzman Spotlighted in Career Conversation at Wesleyan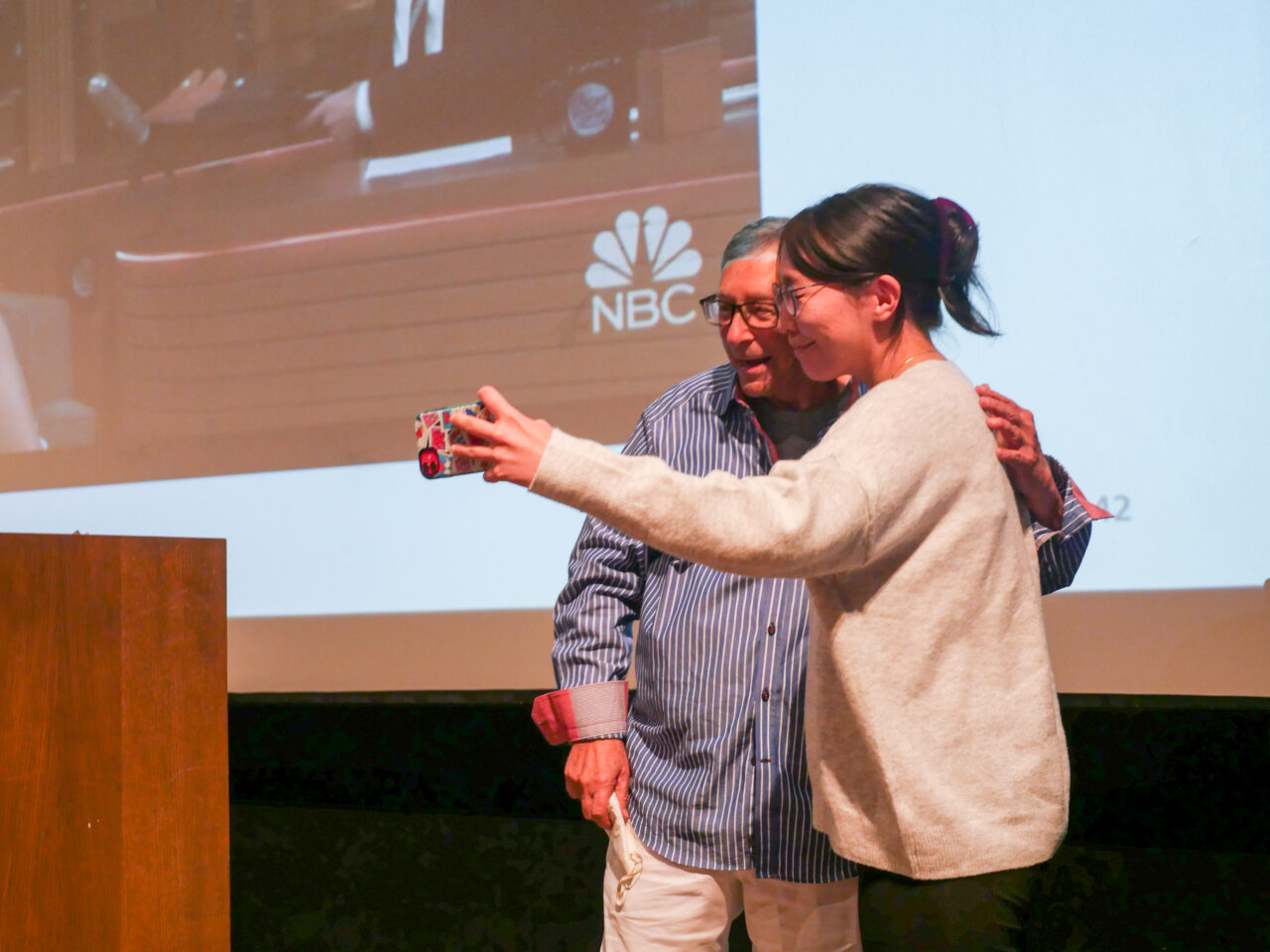 By Rose Chen '26
Renowned designer Stuart Weitzman visited Wesleyan on Thursday, Oct. 12 to share the inspiration behind his highly successful high fashion and luxury shoe company and give students advice from his 45-year career on entrepreneurship, risk-taking, creativity, and imagination. His talk was part of the Gordon Career Center's Career Conversations and was hosted in Ring Family Performing Arts Hall. 
"The chief goal of events like this is to show students the myriad opportunities that are available to them with a liberal arts education," Gordon Career Center Executive Director Sharon Belden Castonguay said. "Students are going to come to an interest like this from broadly different majors and backgrounds."
Weitzman emphasized the importance of learning from experience, particularly for students looking to start their own business, citing it as the key to finding capable partners and avoiding industry pitfalls. He also spoke about risk-taking as integral to progress and creativity, telling the story of his design for Aretha Franklin during the 1983 American Music Awards which launched his brand to fame.
Having noticed that on any given red carpet many female celebrities were wearing the same shoes, Weitzman contacted a stylist he had met through a previous job and was offered the chance to design a few shoes that Franklin could decide between, including the pair that she ended up shouting out after the ceremony, holding the bespoke d'Orsay pumps up for a photo. "She's carrying the [American Music Award] she won," Weitzman said. "Now I couldn't plan that she was going to win… but can you win the lottery if you don't buy a ticket? You can't. And I can't win Aretha on national television if I don't get in the game."
Weitzman also spoke on his iconic advertising campaigns and his similarly innovative approach to design and resulting success in creating footwear that is both comfortable and stylish. Throughout the course of his talk, he invited three students, including Maya Alicki '24 and Naya Jorgensen '24, from the audience to model some of his iconic shoes.
"I attended the Stuart Weitzman talk because I am interested in both fashion and business and thought that going would be a good way to learn about the both of them from someone who is successful in the industry, and has been a part of it for so long," Alicki said. "His talk provided lots of advice to young artists and entrepreneurs, such as to not be afraid of going big, like the million dollar shoes he designed with diamonds I modeled."
Alicki references one of the first major red-carpet moments for the Stuart Weitzman brand, where actress Laura Harring wore heels adorned with 464 diamonds valued at $1 million total at the 2002 Academy Awards. Weitzman himself underscored innovation as critical to a business's success, as well as the daring to capitalize on the opportunities offered.
"That's the kind of thing that creates heritage about your company, noise about it, publicity about it," Weitzman said. "We took a shoe that I only intended to get some noise on TV, and when I saw how powerful it was, took it around the world, and it opened those doors for us."
Students applauded Weitzman's clear passion for his career, as well as his focus on his consumer base through constant product development, brand modernization, and philanthropy.
"Hearing Stuart Weitzman's life story was incredibly inspiring and proved that there's always another way to get to something when you work hard and think creatively," Celeste Borletti '25 said.