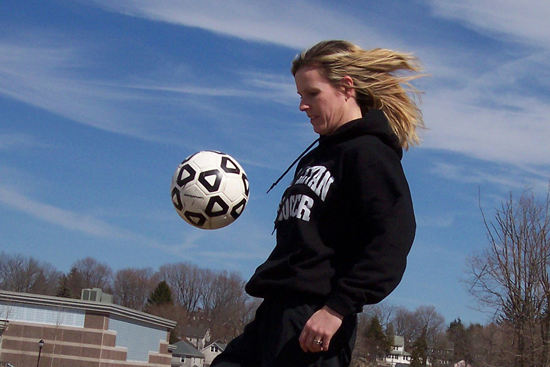 Eva Bergsten-Meredith, adjunct assistant professor of physical education, is the women soccer team's head coach and lacrosse team's assistant coach.
Posted 04/15/05
Q: When did you join the Physical Education Department as an adjunct assistant professor and what are your responsibilities?
A: I came here in July 2004. I'm head coach of the women's soccer team, assistant coach of the Lacrosse team and I teach physical education classes.
Q: What is your educational background?
A: I have a bachelor's degree in graphic communications from Franklin Pierce College in New Hampshire, and I'm currently taking classes through Wesleyan's GLSP program in social sciences.
Q: Why did you make the switch from graphic design to athletics?
A: I worked as a graphic designer but realized that sitting behind a desk, in front of a computer 10 hours a day under constant time pressure and stress was not for me. My college coach had moved from New Hampshire to Hartford and asked me to work for him at the University of Hartford. I jumped at the offer and decided to trade the money for a much healthier work environment. That's how I ended up coaching and teaching phys ed instead.
Q: And what did you end up doing at the University of Hartford?
A: I was the assistant soccer coach for three years and the head coach for three.
Q: You're a former member of the Swedish National Soccer Team. Tell me more about that experience.
A: I played most of my career in Sweden with a couple of years on the Swedish National team and six years in the Swedish Premier League, which is the highest women's league. I moved to the U.S. in 1992 and started college at the age of 24, more for the overall experience than the education at first. I ended my soccer career with my four years at Franklin Pierce where I was named the 1992 National Player of the year and was a three time All-American and two-time Academic All-American.
Q: What attracted you to Wesleyan?
A: I liked its diverse student population, academic reputation and athletic facilities. It makes my job of bringing in talented student-athletes much easier when you have brand new state-of-the-art facilities to show them. The new Freeman Gym is very impressive.
Q: When you're not working, do you continue to watch the sport?
A: I like to watch games live, or on television. But when there's not a game on, I enjoy reading books and working around my house. I live in Meriden with my husband, Rudy.
By Olivia Drake, The Wesleyan Connection editor