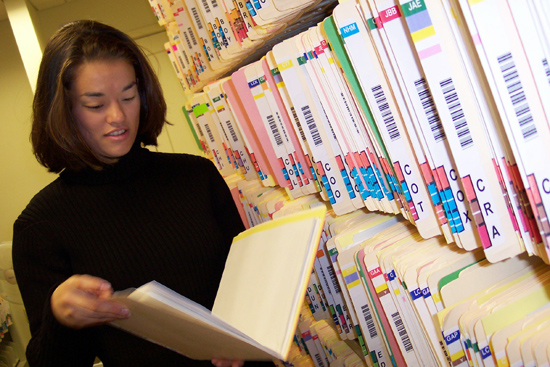 Leah Kelley, assistant dean of admission, looks through a student's file in the Office of Admission.
Posted 05/02/05
Q: When did you come to Wesleyan?
A: I came to Wesleyan as an assistant dean last fall after graduating from Yale in the spring.
Q: What led you into working in an admission office?
A: I have a bachelor's of arts in psychology, but in college, I became very involved in college awareness and SAT prep outreach programs. The different programs that I worked with opened up my eyes to the complexity of admissions. After working with high school students for three years, I knew that I wanted to work on the inside as well to get a better understanding of the process before returning to the advising/counseling side again someday.
Q: What are you enjoying most about working here so far?
A: Wesleyan is a wonderful place to work, but what I enjoy most about this job is the opportunity to travel and interact with students at their schools and in their communities.
Q: Working in the Office of Admission, do you get to work face-to-face with the students and parents or are you behind the scenes?
A: Both. All of the deans in the office spend time meeting students and parents at college fairs, school visits and information sessions. But of course a lot of the work in admissions goes on behind the scenes. We spend a lot of time reading applications, coordinating alumni outreach, planning travel and putting special programs together just to name a few duties.
Q: And what about that successful WesFest?
A: It was a community wide effort that Wesleyan can be proud of!
WesFest is our admitted student's weekend, and I was involved with the planning of it. It could be thought of as a celebration of all things Wesleyan and requires coordination between the Office of Admission and dozens of faculty and student groups on campus. Around 400 admitted students visited that weekend and I've heard nothing but wonderful things from both parents and students.
Q: What are your thoughts on the Wesleyan students?
A: I absolutely love working with both our prospective students as well as our current students. One of the greatest parts of this job is getting to meet so many individuals and hearing their stories and plans for the future.
Q: What are typical questions that high school students or parents have about Wesleyan?
A: Our information sessions are driven by the audience's questions so we get asked almost everything and anything about Wesleyan. Some common themes are social life on campus, study abroad opportunities, campus culture and academic programs. One of the neat things about our information sessions is that a current senior sits on the panel with an admissions dean. Having a student on the panel is invaluable to families that are trying to find out what it's really like to be a student at Wes.
Q: Students are also tour guides, correct?
A: Yes. Our tour guides are also excellent and we get a lot of great feedback about them. The Cardinal Key Tour Guide Program is a volunteer program and so the students who give tours really do it for the love of the university, which makes for a wonderful tour. 
Q: How does your job change throughout the year?
A: Admissions is a cyclical process, so I'll describe the different seasons of admissions. In the fall, the deans in our office travel all over the country — and the world — to visit high schools, meet students, work at college fairs and host receptions. It's a hectic schedule where we visit up to five schools during the day and then host a reception or attend a fair at night. In the winter, you will find most of the deans reading applications. Once decision letters go out in the spring, our office gets busy planning for WesFest, reaching out to admitted students though phone-a-thons and recruiting the next year's class. Throughout the year, we hold daily information sessions and answer questions from students, parents and counselors.
Q: Is reading applications a pretty intense process?
A: Yes. Last winter, I often found myself reading applications six days a week, sometimes from 9 a.m. to 11 p.m. Most of the deans work at home to avoid office distractions.
Q: Are you involved with any Wesleyan activities?
A: The on-campus activity that I am most heavily involved in is varsity softball. I played in college and jumped at the opportunity to volunteer with the team here at Wesleyan. It's a great way to spend more time interacting with students and sharing a passion that they have. 
Q: What are your hobbies?
A: Probably the most interesting "hobby" of mine, if you can call it that, is football. This past winter I joined a women's professional football team here in Connecticut called the Connecticut Crush (www.ctcrush.com).  Few of the women on the team have played full-contact football before, so we put in a lot of time practicing and learning the sport. I'm also active in my church in New Haven, Christ Presbyterian, and can often be found spending time with that family on the weekends.
By Olivia Drake, The Wesleyan Connection editor