Drennan All-American and NESCAC Player of the Year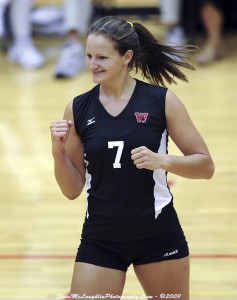 In 2008, Lisa Drennan '09 accomplished something never done by any Wesleyan athlete: she became a two-time New England Small College Athletic Conference (NESCAC) Player of the Year. She was also named a second-team All-American by the American Volleyball Coaches Association (AVCA). She was the only player from a New England College to be named to any of AVCA's three All-America teams.
"This season was by far Lisa's best," says 24-year Wesleyan head coach Gale Lackey. "Repeating as NESCAC Player of the Year is no surprise. By receiving the second-team All-American honor, Lisa set herself apart from most athletes here at Wesleyan. This is a tremendous recognition for her as a team-sport athlete. There are over 420 Division III volleyball programs nationwide."
Drennan was first named NESCAC Player of the Year in 2006, joining Alexis Keeler '02 as the only Cardinal volleyball players to earn the award.
While Drennan closed out her four years 35 kills shy of the all-time Wesleyan career record with 1,865, her total came in only 379 sets for an average of 4.92. Wesleyan's career leader, Eliza Allen '03 had 1,900 kills in 488 sets, an average of 3.89. Drennan has been ranked among the top-five in Division III for kills per set each of the last three seasons. Her 4.70 mark in 2008 ranks third nationally.
This year, Drennan also helped Wesleyan end a 12-match losing streak vs. Williams dating back to 2001. Drennan established a team record for kills in a match during the victory with 34.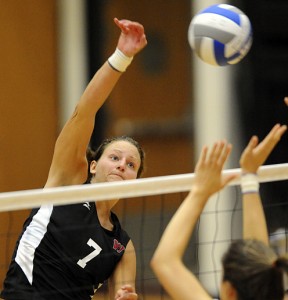 "We had about 250 fans, and we beat Williams in five sets," Drennan says. "We were so confident, and even when we were down and the fans were getting nervous, you could tell that the whole team knew we were going to win. The fans were incredible, and there was just so much energy in the gym."
Drennan was also named to the second team of the  College Sports Information Directors (CoSIDA)/ESPN the Magazine Academic All-America squad. To qualify the psychology major needed to have a cumulative GPA in excess of 3.35.
Regionally, Drennan was an AVCA all-New England pick, a New England Women's Volleyball Association (NEWVA) first-team all-star and was chosen to play in NEWVA's Senior All-Star Classic contest November 16 at Wellesley College. Her team won the event by a 3-0 count.
While many Division III athletes find their competitive playing careers end with graduation, Drennan is hopeful her volleyball ability will lead her to a professional opportunity.
"Right now I am making serious plans to tryout for professional volleyball in Europe," Drennan explains. "I would like to play in Spain, since I already know a significant amount of Spanish. I am planning on going on an 'Exposure Tour' through an agency called Bring it on Promotions. The tour is in January and begins in Prague, and ends in Venice. I will be traveling around Europe playing volleyball with others trying out, while scouts watch and hopefully sign me to a team!"
Story by Brian Katten, sports information director