Student Team Makes Smart Investments during Economic Struggle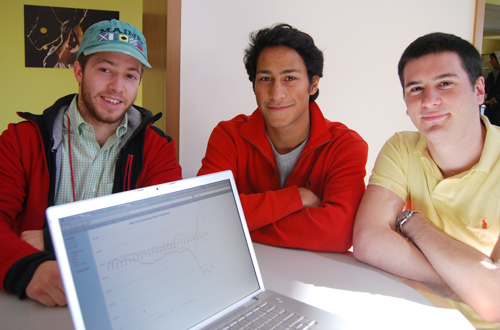 While the financial markets continue to decline, a group of Wesleyan students is proving that there's always a way to defy the current trend.
This fall, the student-run Wesleyan Investment Group increased their portfolio from $27,500 up to $44,000.
"We're very selective in our stock purchases, and we analyze each company very carefully," says Wesleyan Investment Group co-chair Ramanan Sivalingam '10.
Sivalingam and the group's other two co-chairs Dan O'Brien '10 and Mike Levin '09 manage the group. It has about 20 active members and 40 subscribed to the club's list-serve. Participants are from all currently matriculated class years.
"We're a diverse group when it comes to general knowledge of the stock market," Levin explains. "We have freshman who are just starting to test out the market, and seniors who read The Wall Street Journal every day."
The Wesleyan Investment Group began in 2000 under the leadership of Ben Paradise '01. They secured a $50,000 gift from James D. Oelschlager, the founder of Oak Associates. Oelschlager started several student investment clubs at colleges around the country with the goal of providing an opportunity for portfolio management experience.
In 2006, the group earned with an annual return of 20 percent, enough to take a second-place finish in the Oak Associates' competition of its investment clubs. In 2007, transition in the leadership of the group during turmoil in the financial markets, led to a decline in performance. After sorting through multiple issues, Levin and Sivalingam suggested the group switch from service provider Ameriprise to a new broker: TD Ameritrade.
By April 2008, the group actively began managing their new account, then valued at $36,000. They opened a margin account which allows investors to borrow money to buy securities. They also hedged their positions with call options and put options, which give the student investors the right to buy or sell specific securities at a stated price within a specified time.
Recently, the Wesleyan group has owned stocks in J.P. Morgan, Apple Computers, Burger King, Burlington Northern Santa Fe Railway, Qualcomm, Genzyme, Transocean Inc. and Devon Energy. JP Morgan has been their most profitable stock this year. Due to the extreme market volatility, the group has turned over their portfolio holdings a number of times, moving in and out of positions as they become profitable and adopting a trader's mentality.
While the S&P 500 Index is down approximately 40 percent, the Wesleyan managed fund is up a little under 10 percent, an absolute and relative performance the group is proud of. They also keep between 20 and 40 percent of the portfolio's value in cash.
"We've never lagged in the market, or been down more than the market over any period of time," Sivalingam says.
Although the group encourages input from all its members, the co-chairs of the investment club make the final decisions. Typically, the group makes one or two trades a day.
"We're always texting, instant messaging or e-mailing each other with ideas," Levin says. "We have to stay nimble in this market."
Levin, who has accepted a position with Deutsche Bank's New York, N.Y. office, says the group has been an invaluable experience.
"This is so much better than an internship," he says. "We're making executive decisions in the real market every day. We're not using play money."
During the upcoming holiday break, Sivalingam, O'Brien and Levin plan to develop a training session for younger students interested in investments. In addition, the group is encouraging more cooperation with Wesleyan's Quantitative Analysis Center and current interns in the Investment Office.
"We need to provide education for our successors," O'Brien says. "They are, after all, the ones who will take over the account once we graduate."
Their goal is to eventually donate 5 percent of the fund's profits to the Wesleyan endowment each year.
"We are primarily focused on capital preservation, until there is further clarity on
global credit and economic conditions," Sivalingam says.
The investment group holds meetings at 6 p.m. every Sunday in Public Affairs Center room 421. Wesleyan students from any major are welcome to attend the meeting.