5 Questions With . . . Steve Collins on Filmmaking, Teaching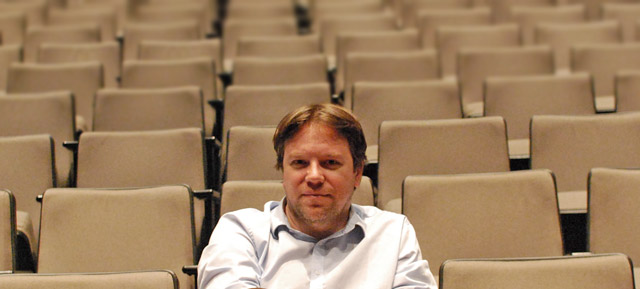 This issue we ask "5 Questions" of Steve Collins '91. Collins is an assistant professor of film studies. He recently completed a new feature film, You Hurt My Feelings. His first feature, Gretchen, won the $50,000 Target Filmmaker Award for Best Narrative Feature at the Los Angeles Film Festival and has been shown on the Sundance Channel.
Q: What courses do you teach at Wesleyan, and what have you learned from working on films that you share with your students?
A: I teach an intro to 16mm film production class called "Sight and Sound" where we focus on how to tell a story without dialogue. For seniors I teach a year-long thesis film class, where the students develop, shoot and edit a 12-minute narrative. I also teach a course in screenwriting, where we focus on the short film form.
Films are dynamic living organisms. I try to pass on the rigor, passion and care that goes into their construction. As someone who makes films in addition to watching them, I can offer the firsthand proof to them that yes, directors do think very carefully about what they're doing, where to place the camera, how to use sound, light, composition, editing, etcetera, to evoke the desired response from the audience. I also try to model for them that it's okay to not know the answer, that filmmaking is like trying to plane a log into a 2 by 4, you have to constantly be asking, is this right? Is this right? Does it look like a 2 by 4 yet? Even Scorsese doesn't cut it in one swoop. It's a constant process of comparisons and decision making, whittling away towards the desired form. I'm trying to give them a process for finding answers rather than just the answers themselves.
Q: You finished a feature film recently. What is the film about?
A: My new film is called You Hurt My Feelings. It's a love story about a man who's taking care of two small children to prove to his ex-girlfriend that he's grown-up and ready for a relationship. It's sort of an arty Mrs. Doubtfire — less cross-dressing, more crying. It follows the love story through its peaks and valleys across four seasons in Connecticut. I'll be touring around with it at film festivals this year. Hawking my wares.
Q: Last fall, you participated in the Project Forum for Emerging Narrative, part of IFP's Independent Film Week in Manhattan. What happened there?
A: I have a comedy script called The Garden about passive-aggressive relationships in a yoga center. The Project Forum sets you up with a series of meetings with potential producers and financiers and exhibitors of films. It's a very nice service they're providing, and you feel very fortunate as a filmmaker, especially one who's not living in NY or LA. It also doubles as a film school reunion — most of the major film schools have alumni attending and we socialize and try to help each other get projects going.
Q: How has your Wesleyan education influenced your career and your teaching?
A: I met my wife in Butterfield B. And I met Jeanine Basinger in the Art Workshops. In a one-mile radius, two of my favorite ladies in the world! From my wife, I got my liberal arts education. She taught me that though film is the most important of all things in the universe, there are some other things out there, too, and wouldn't you know it, these are the things people make movies about. Through my relationship with her, I stayed engaged with all the exciting ideas from psychology, anthropology, religion and astronomy (all my gen ed requirements!) that we were immersed in during our time at Wesleyan. My mind was fixed on film and her mind was open to the world. She was a lot happier than me, and I was attracted to that; I did what Wesleyan is supposed to make you do: I questioned my belief that I knew everything, and got a girlfriend.
Jeanine's commitment to her teaching is inspiring. Her mind is so clear and unconfused. I learned from to her be precise, to work harder than I had ever worked, to think for myself, and to see film authentically, to put aside what other people have said and listen to the film itself. It is very rare in this world that you find someone with her combination of intellect and sensitivity. She's sensitive to the feel of a crane shot pulling out and up, sharp enough to see that it doesn't fit in the overall construction of that particular film, and courageous enough to say the film doesn't work even if it's directed by someone lionized by the canon. On top of all that, she takes her students and their work seriously, and if they are honest and committed, returns with a commitment to them that lasts far beyond their four years here (I'm still calling for advice). I've responded by stealing as many of her moves as I can.
Q: Who are some of your favorite filmmakers and why?
A: My particular soul lines up with Frank Borzage, Nick Ray and Douglas Sirk the most. I just identify with the yearning in their work, the mix of pain, melancholy and wanting something deeper, more beautiful. They are all masters of the medium, and are able to get their particular content across at the deepest, most resonant level because of that mastery of form. That's what we try to teach at the film department — the complexity in construction behind a medium so effortlessly simple to watch.