Gale to Host Internet Radio Show on Reiki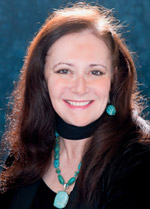 Priscilla Gale, private lessons teacher for jazz and voice in the Music Department, will host a show on "Sacred Song Reiki" for Internet Radio – VoiceAmerica.com. The show will be aired at noon on Saturday starting April 23.
VoiceAmerica features more than 200 hosts talking about a variety of  topics—from sports and finance to health, hobbies, pop culture and business. It has more than 2.5 million listeners.