Budding Architects Design Wildlife Viewing Station Under Huge's Wing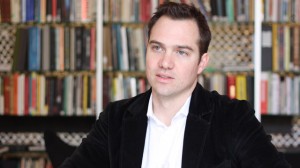 Assistant Professor of Art Elijah Huge and 11 of his students have designed four proposals for a bird-viewing observatory for a 700-acre nature preserve in Southbury, Conn., and plan to build one by the end of April.
It is the third major design-build project for North Studio, the faculty-student design collaborative Huge established in 2006. The students are all members of his Architecture II class.
Previous North Studio projects have included a bird-viewing platform for an Audubon Society sanctuary in Portland, Conn., and a Sukkah, or temporary Jewish ritual structure, at Wesleyan.
Audubon wildlife sanctuary Bent of the River is expected to pick one of the four designs by the end of March to allow for April construction.
"Everyone involved in the studio – the students, the teaching apprentice, the instructor, the clients – are all working together to leverage individual talents and creativity," says Huge, who returned to Wesleyan this semester from a sabbatical at The University of California-Berkeley. "The studio offers students an opportunity to engage a 'real-world' architectural project."
The design-build projects undertaken by North Studio are unusual for a university primarily engaged in educating undergraduates. Huge, a practicing architect and graduate of Yale School of Architecture, adapted the concept from graduate schools of architecture.
"Architecture II is unquestionably a beneficiary of Wesleyan's liberal arts curriculum," he says. "To my knowledge, Wesleyan's is the only ongoing undergraduate research-design-build studio outside of a professional architecture program."
All students in North Studio (which takes its name from the Center for the Arts building housing Wesleyan's architecture and sculpture studios) have previously taken Architecture I. Some are art majors, many are not. This semester, about half the students are majoring in something other than studio art or art history, including history, math, sociology and German studies.
"I would argue that because students enter the studio without focused professional training or strong preconceptions of what architecture is, the collaborative structure of the studio draws on their other strengths and yields highly innovative and ambitious projects," Huge says. "As the design work gets underway, there is a wonderful period of suspension that is possible because the students are bringing ideas from everywhere else into the studio."
Nature preserves work well for the purposes of North Studio, which tries to balance three objectives – producing relevant design research, testing ideas in the real world, and implementing situation-specific, environmentally responsive work
"The possibility that architecture and landscape could be more continuous than tangential is an idea I think conservation groups are particularly attracted to," he says.
Bent of the River encompasses forest, grasslands, meadows vernal pools and red maple swamps. The nature-viewing structure designed by North Studio will be located near a sharp turn in the Pomperaug River, in a flat grove of large sycamore trees where a seasonal meadow meets a hillside forest.
In producing design proposals, Huge and his students have considered the unique demographic aspects of Bent's constituency: Southbury has one of Connecticut's oldest populations, on average, while its immediate neighbor, Oxford, has one of the youngest. The nature viewing structure must accommodate the needs of both.
"It is being designed as an intergenerational experience," says Huge.
Huge worked in the New Haven, Conn. office of Pelli Clarke Pelli, led by the celebrated Argentine-born architect Cesar Pelli, before joining the Wesleyan faculty in 2006. Huge also runs an architectural design practice, Periphery Architecture.
Read more about Elijah Huge in a past Wesleyan Connection article.