On the Stages of Bucharest, Kordonskiy is a Familiar Name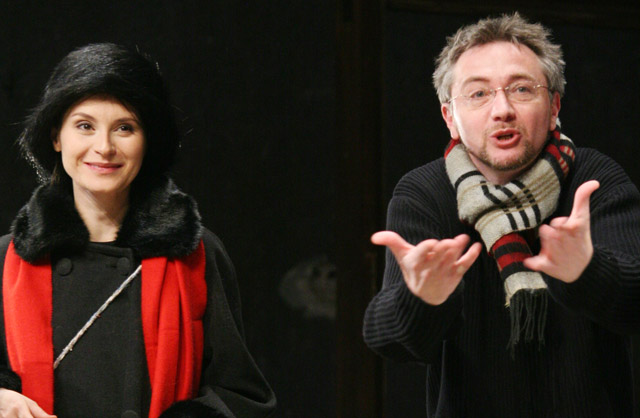 Even when he's in Connecticut, Associate Professor of Theater Yuriy Kordonskiy never really leaves Romania – his work is almost always on display there.
During a fall sabbatical from Wesleyan, Kordonskiy returned to Bucharest to find that "Uncle Vanya" – the Anton Chekhov classic he directed there in 2001 – was not only in performance, but still had its original cast.
"They didn't replace a single actor," he says, 10 years later. "And the shows are still sold-out."
Today, no fewer than five Kordonskiy productions are in rotating performance at the Bulandra, Bucharest's top repertory theater, including his latest, "Bury Me Under the Baseboard." It opened in January with one of Romania's best-known actresses, Mariana Mihut, in the lead role.
Kordonskiy adapted "Bury Me" from a best-selling contemporary Russian novel of the same name by Pavel Sanaev. Professor of Theater Jack Carr, an expert in lighting design, also went to Romania to collaborate on the project. Carr had previously worked as a lighting designer for Kordonskiy's 2006 Bulandra production of Dostoyevsky's "Crime and Punishment."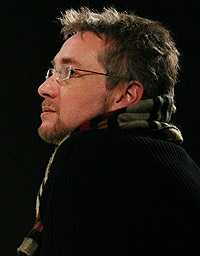 Set in Moscow during the 1980 Olympics, "Bury Me," a tragicomedy, tells the story of a nine-year old boy who lives with his oppressive grandparents after abandonment by his mother, and the mother's subsequent effort to get him back.
The grandparents' behavior is "rooted in love, but distorted," Kordonskiy says. "It turns into something that hurts the boy."
Mihut – whom Kordonskiy calls "a legend in Romania," equally capable of high tragedy and slapstick comedy – plays the grandmother.
"I was looking for the text that would offer her something great," says Kordonskiy. "In a way, she is the King Lear of this story."
While in Romania, Kordonskiy decided he could manage more than mounting a professional production of a brand new play from scratch. So he used some of his time to freshen "Uncle Vanya," which had lost some of its vigor, by leading the veteran cast through a rehearsal.
"It took the first half hour for actors to remember who their characters are," says Kordonskiy, now back in Middletown. "They were saying the lines, but they were not actually seeing each other, they didn't have relationships. It became mechanical. You don't take half an hour to wake up; it has to happen immediately. I had to remind them of why they say this or that line."
Romanians love theater, and Romania has a thriving repertory-based theater scene, despite the country's serious economic problems. Doctors and cabbies alike know all the plays in performance, Kordonskiy says, and often go to see the same production several times. A physician he saw there in the fall had attended "Bury Me" twice already, and had tickets for a third performance.
"Theater is big in Romania," Kordonskiy says, noting that prime seats at top theaters cost as little as $6 (USD). "The audiences are full. People speak about theater. There are hundreds of blogs about theater. Every single important newspaper has a theater page and reviewers that are highly educated, not dilettantes."
Kordonskiy, who was born in Russia and holds dual Russian-U.S. citizenship, found his way into the inner circle of Bucharest's theatrical community after meeting an admiring Romanian director in Germany. More than a decade later, Romanians have ample choice of Kordonskiy productions.
"Bury Me Under the Baseboard" opened Jan. 14 at the Bulandra, one of Romania's best known theaters.
As for how long it will run – no one knows, Kordonskiy says.
But Romania's use of the repertory model, in which theaters employ a company of actors full-time to perform numerous roles in many plays, helps productions endure.
"It means the shows live for years," Kordonskiy says – even when the director is far away, teaching a new generation of theater artists in Middletown.