Casper '90 Confirmed as Federal Judge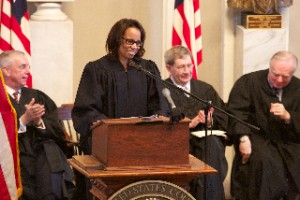 In late December, Denise Jefferson Casper '90 was confirmed to a United States District Court Judgeship in Massachusetts. She had been nominated last April by President Obama, and an American Bar Association panel had rated her as "unanimously well qualified" for this lifetime appointment.
Casper was previously the Deputy District Attorney for the Middlesex District Attorney's Office, overseeing the daily operations of one of the largest district attorney's offices in New England.  Prior to that position, Casper taught legal writing at Boston University School of Law.
She had served as an Assistant United States Attorney in Boston from 1999 to 2005; she was promoted to Deputy Chief of the Organized Crime Drug Enforcement Task Force in 2004.  Casper also practiced as a civil litigator in the Boston office of Bingham McCutchen LLP (formerly Bingham, Dana & Gould) from 1995 to 1998.  After law school, Casper clerked for the Honorable Edith W. Fine and the Honorable J. Harold Flannery of the Massachusetts Appeals Court. At Wesleyan she majored in history and African-American studies. She received her J.D. in 1994 from Harvard Law School.