98 Students Present Data Analysis, Statistical Research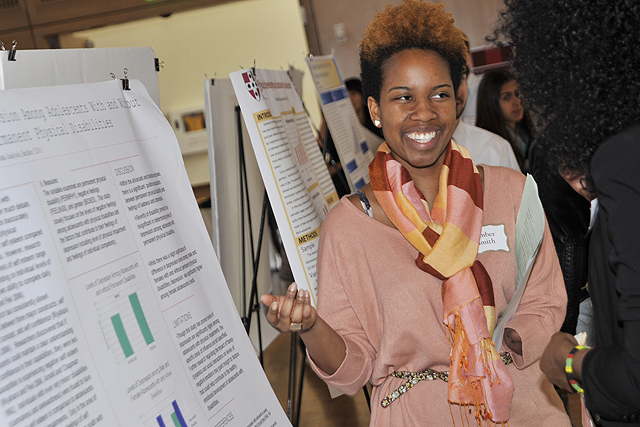 Does participating in combat sports (like martial arts and wrestling) or playing contact sports (like football and hockey) influence aggression outside of the sport? According to a study by Zander Parkinson '13, the answer might be, yes.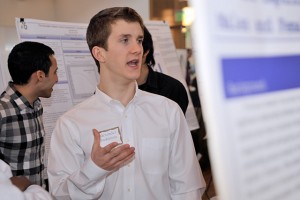 "I found that among male adolescents there was a significant association between activity level and increased likelihood of getting into a physical fight," Parkinson explained during the Quantitative Analysis Center's Fall Poster Session Dec. 9. "Adolescents who played an active sport three or more times a week were significantly more likely to get into a physical fight than non-active adolescents who played an active sport two or less times a week."
Parkinson and 97 other Wesleyan students enrolled in the hands-on course Applied Data Analysis (QAC 201) presented posters as their final exam. More than 30 guests, who use and teach applied statistics, attended the event to speak with students and judge the posters. (View a photo gallery of the poster session online here.)
The interdisciplinary course QAC 201 provides experience in data management and applied statistics. Students develop skills in several aspects of the research process including generating testable hypotheses based on extant data; conducting a literature review and evaluating the content of scientific literature; preparing data for analysis;selecting and conducting descriptive analyses; and presenting research findings. The class is cross listed with SOC 257, GOVT 201, PSYC 280 and NS&B 280.
"By providing opportunities for training in major statistical analysis software, this course aims to empower students to manage and analyze large data sets," explains the course's instructor, Lisa Dierker, professor and chair of psychology. "The end-of-semester poster presentation provides an important opportunity for students to share their work with each other, and interact with outside experts."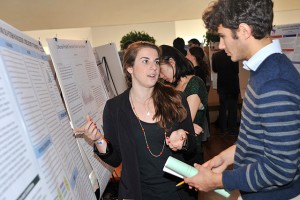 QAC 201 student Allison Greenwald '14 focused her semester-long project on the relationship between exercise and self esteem in adolescents. She examined whether or not group activity (team sports) might be more beneficial to participants than individual activity (individual sports).
Greenwald, a potential sociology and studio art double major, completed her research by exploring previous studies and using a public dataset and a data analysis and statistical software program. Her results revealed an association between exercise and self esteem,with individuals who exercise having higher reported levels of self-esteem than those who don't by an average of .18 points on a 5 point scale.
"If the relationship is indeed a causal one, the findings might suggest exercise as potential treatment for adolescents with low self esteem," she says.
Other QAC research topics included parent relationship and adolescent sexual motivation, adolescent suicide, the association between alcohol use and impulsive behavior, economic conditions and presidential executive orders regarding foreign policy, the association between race and academic achievement and more.
The poster presentation also gave research newcomers experience speaking about their work.
"I haven't presented anything at Wesleyan before, so I found the poster presentation exciting," Greenwald says. "It was really great to hear the findings of what everyone had been working on all semester."
For more information on the Quantitative Analysis Center, visit the web site, or contact Emmanuel Kaparakis, director of centers for advanced computing in the QAC.