Varekamp, Students Study Volcanic Products, Waters in Argentina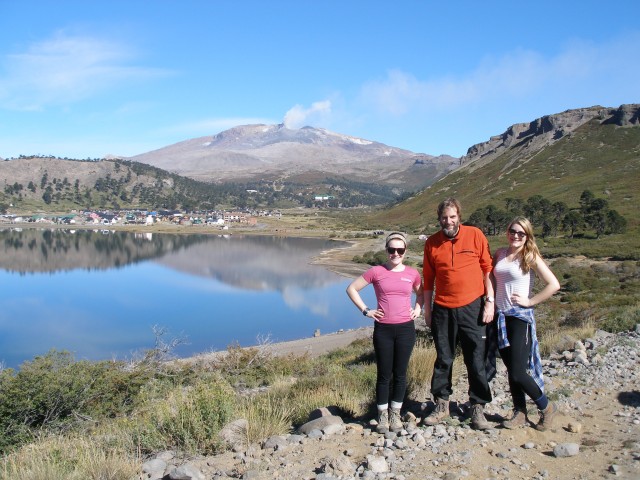 Ellen Alexander '14, Professor Joop Varekamp and graduate student Lauren Camfield recently returned from Argentina where they studied the eruptive products of the Copahue volcano March 7-March 19.
Varekamp, the Harold T. Stearns Professor of Earth Science, professor of environmental studies, has studied the volcano since 1997. It erupted in 2000 and again in December 2012.
"Many Wesleyan students have done their senior theses and grad theses on Copahue. It's exciting stuff for us volcanology types," Varekamp said.
Camfield sampled the products of the most recent eruption of Copahue, which included ash, pumice and volcanic bombs. She will analyze her samples at Wesleyan for major and trace elements on a X-ray fluorescence machine and analyze any melt inclusions at the American Museum of Natural History in New York on an electron microprobe.
"This information can give us insight on what is happening in the magma chamber of the volcano as well as depth of crystallization of minerals," Camfield said.
She also sampled the Caviahue Caldera and various cinder cones and lava flows in the Las Lajas-Zapala area of the Neuquén Province in Argentina, which will be similarly analyzed.
Alexander worked on four depth profiles of nearby Lake Caviahue to examine the chemical stratification of the lake, as well as sampling from the upper and lower Rio Agrio. She studied several flow cross sections of the river at different locations along its reach.
Alexander will be analyzing the samples at Wesleyan, looking for major anions (i.e. fluoride, chloride and sulfate), major cations (i.e. iron, aluminum, silica, sodium and calcium), as well as trace contaminants (i.e. arsenic, vanadium and thallium, among others). These elements are all related to the hydrothermal and magmatic system in Copahue.
"My goals are to calculate the export of these elements as well as understand the response of the lake to these element pulses during the eruptive cycle," Alexander said. "We're not necessarily focused on using this data for forecasting eruptions, so much as understanding the chemical signature of magma recharge events as evidenced in the acid fluids from the volcano, and the greater geochemical picture of how the volcano's eruptive cycle relates to the surrounding watershed."
The research is supported by the National Science Foundation.