Latin American Studies Major Lewis '13 is Passionate about Reducing Inequality, Poverty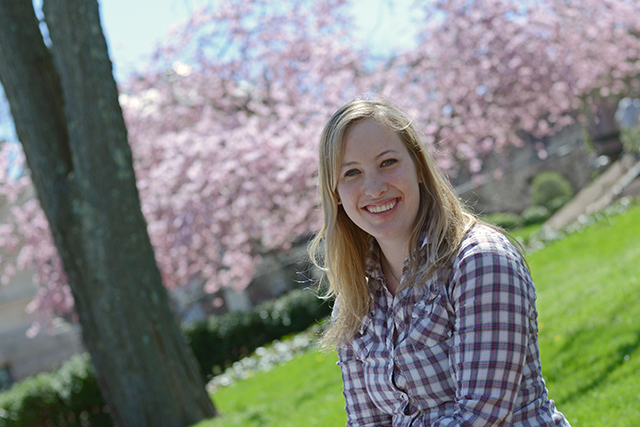 Q: Hannah, what are you majoring in and what are some of your research interests?
A: I'm a Latin American studies major, with a concentration in Spanish. I'm really interested in exploring different avenues regarding community development, poverty alleviation, and social policies in Latin America. For my major's research requirement, I wrote a paper analyzing Ecuador's human and social development progress from 1990 to 2010.
Q: What is your personal interest in Latin America?
A: I grew up in Texas, where I was surrounded by Hispanic influences and debates on immigration. But I first fell in love with the culture, language and people of Latin America after spending a summer in Nicaragua when I was 16. I go back whenever I get the chance! I've been lucky enough to spend the past two summers working for Amigos de las Americas, coordinating community development and youth leadership projects in the Dominican Republic and Ecuador. Besides meeting some amazing people, I've also learned to make delicious tostones and dance bachata. I studied abroad in Ecuador my junior year and learned about Andean and Afro-Ecuadorian cultures. And after living in Latin America and collaborating with the people there, I've become really passionate about exploring ways to reduce inequality and poverty in the region.
Q: You'll be graduating May 26. What are your plans after graduation?
A: About five days after I graduate, I'll be heading to Coclé, Panama, where I have a summer job as an associate project director with Amigos de las Americas. I also recently received a Princeton in Latin America (PiLA) Fellowship to work as the Program Director at an amazing non-profit called Building Dignity next year. I'll be moving to Lima, Peru in September, which I am very excited about!
Q: So you're from Texas. What attracted you to Wesleyan? What will you miss most about campus life?
A: I was born and raised in Austin, Texas, but I really wanted to go somewhere new for college. As a pre-frosh I came to WesFest, sat on Foss Hill, and talked with random students about their experiences here. Everyone I met had so much passion, humor and creativity. The people who go here are my favorite part about Wes, and I will definitely miss the inspiration and energy that I am surrounded by daily. So many students here want to—and will—change the world for the better.
Q: What are your favorite classes this semester?
A: I've enjoyed all my classes this semester, especially "Sites of Memory and Resistance: Theater, Performance and Political Consciousness in Contemporary Spain" with Professor Bernardo Gonzalez and "Latin American Economic Development" taught by Professor Melanie Khamis. I'm also really enjoying a student forum that I'm taking called "Yoga Theory and Practice."
Q: Tell us about your current internship with the think-tank non-profit organization, Criterion Institute?
A: I'm interning for Criterion Institute, which is run by Joy Anderson '89 and focuses on shaping markets and systems to create social good. I'm working on Criterion's Women Effect Investments initiative, which focuses on building the field of Gender Lens investing. While my work varies weekly, my main project has been creating a compendium about stories of power regarding gender identity in the world of finance.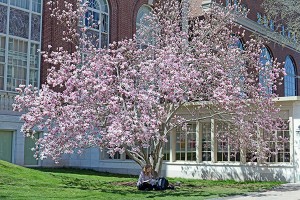 Q: What is your favorite season?
A: Spring at Wesleyan is my absolute favorite time of the year—trees are blossoming, the sun is out, and there's just this amazing sense of energy, excitement and possibility in the air. That magnolia tree is my favorite tree on campus because it's so beautiful. I see it whenever I'm walking through Olin Library throughout the year, and when its buds begin to emerge I know that spring is almost here!
Q: Are you involved in any student organizations and extracurricular activities? Also, what are your hobbies?
A: I've been involved with WesESL for the past three years, which is a student organization that provides English lessons to janitorial staff and Middletown residents. I'm also on the Latin American Studies Majors Committee, in Ebony Singers, try to attend any Patricelli event I can, and took a hiatus from Terpsichore this spring to focus on my Bharatanatyam dance class. I like to attend yoga and Acro-Yoga events on campus (I got certified to teach Kids Yoga this semester!). In my free time, I like listening and dancing to reggaeton, reading, and sneaking in some gym time.
Q: What is your advice for the Class of 2017? How do you make the most of your Wesleyan experience?
A: The incredible people that surround you at Wesleyan will teach you just as much, if not more, than you will learn inside the classroom. Be sure to take advantage of all the amazing opportunities that Wesleyan has to offer—from the Patricelli Center for Social Entrepreneurship to research opportunities to West African dance. Get to know your professors outside of the classroom. And study abroad—I promise you won't regret it!