Come Home to Wesleyan during Homecoming/Family Weekend Nov. 1-4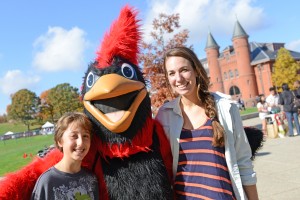 Homecoming/Family Weekend celebrates some of the best and most enjoyable aspects of life at Wesleyan. It brings people together from across the university's extended community—including students and their families, faculty, and alumni—to enjoy an array of academic, cultural and athletic events.
During HCFW 2013, held Nov. 1-4, students' families gain a sense of the undergraduate experience by sitting in on regularly scheduled classes, attending WESeminars, and by meeting faculty and administrators in both academic and social settings. Alumni reconnect with Wesleyan and with each other at a host of special seminars and social gatherings.
This year, attend an all-college dinner, a Homecoming Day lunch, a Dar Williams '89 concert, Friends of Wesleyan Library book sale, the Alumni Art Show II, the Center for the Arts 40th Anniversary Celebration Concert with songwriter/vocalist Amy Crawford '05, the annual Dwight Greene Symposium and Where on Earth Are We Going symposiums, several athletic contests, a family swim, a cappella concert, and so much more.
In addition, WESeminars will be ongoing throughout the four-day event. Topics include community archeology,  service learning at Wesleyan, senior research projects, natural resource management, food justice and urban agriculture, seriality in American prints 1960-180, teaching film as a liberal arts major and more.
View the full HCFW schedule online here.
Register online before Oct. 18.