Mukerji Elected to Connecticut Academy of Science and Engineering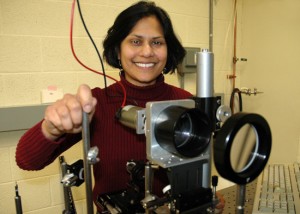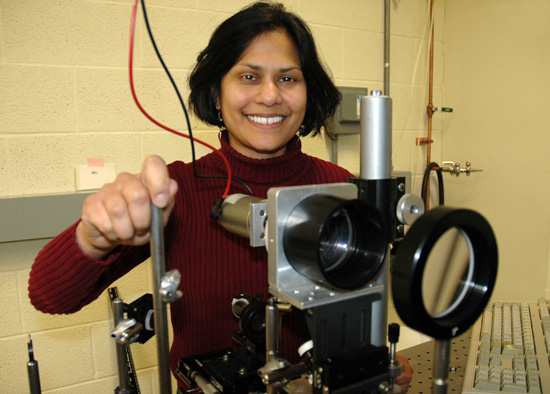 Ishita Mukerji, dean of the Natural Sciences and Mathematics division, is one of 50 local scientists to be elected to the Connecticut Academy of Science and Engineering. Mukerji also is professor of molecular biology and biochemistry and is an expert on fluorescence and vibrational spectroscopy.
Mukerji is the 10th Wesleyan faculty to be elected into the academy. She will be introduced at CASE's 39th annual meeting and dinner on June 5 at the Crowne Plaza in Cromwell, Conn.
Election to the Academy is on the basis of scientific and engineering distinction achieved through significant contributions in theory or applications, as demonstrated by original published books and papers, patents, the pioneering of new and developing fields and innovative products, outstanding leadership of nationally recognized technical teams, and external professional awards in recognition of scientific and engineering excellence.
"I'm thrilled and honored to join the academy! This is a great recognition of the hard work my research group, consisting of undergraduates, graduate students and post-docs have put in over the years and the strong support that Wesleyan gives to scientific research. This type of recognition really underscores the excellence of the sciences at Wesleyan and the scholar-teacher model that we embrace," Mukerji said. "I look forward to working and networking with other scientists throughout the state and helping the academy do it's work to advise the people and government of Connecticut on scientific issues."
Mukerji's research interests focus on the use of spectroscopic tools to investigate challenging problems in biology by exploring the structure-function relationship of biomolecules. Her current research areas include understanding the mechanisms of high affinity binding and recognition in protein-DNA interactions, structure and dynamics of DNA and the mechanisms of fiber and plaque formation in Alzheimer's disease.
Other CASE members from Wesleyan include Sonia Sultan, professor of biology, professor of environmental studies; David Beveridge, the Joshua Boger University Professor of the Sciences and Mathematics, professor of chemistry; Gary Yohe, the Huffington Foundation Professor of Economics and Environmental Studies; Albert Fry, the E.B. Nye Professor of Chemistry; Laura Grabel, the Lauren B. Dachs Professor of Science in Society, professor of biology; Anthony Infante, professor of molecular biology and biochemistry, emeritus; Lewis Lukens, professor of molecular biology and biochemistry, emeritus; Jelle de Boer, the Harold T. Stearns Professor of Earth Science, emeritus; and Robert Rosenbaum, the University Professor of Sciences and Mathematics, emeritus, and chair of PIMMS.
The Connecticut Academy of Science and Engineering was chartered by the Connecticut General Assembly in 1976 to provide expert guidance on science and technology to the people and to the state of Connecticut, and to promote the application of science and technology to human welfare and economics well-being.